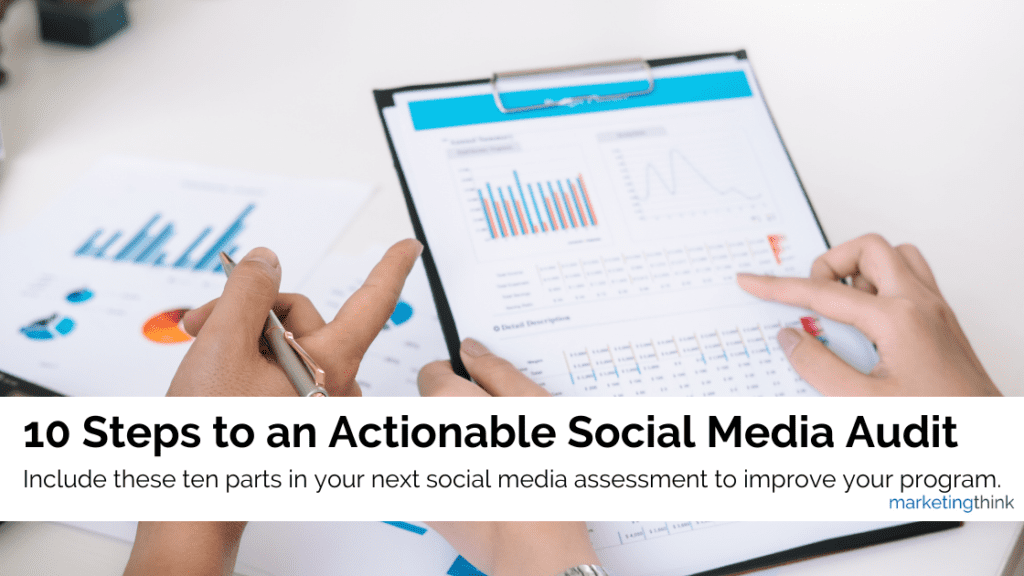 Why is a social media audit important? If you run a social media program, you cannot manage and leverage it unless you can measure it. And you cannot measure it unless you have goals and baseline assessments.
Only with a social media audit can you begin to evaluate, elevate, and evolve your social media strategy. It's like a report card for creating content and running your social media channels.
If your social media channels and program aren't a well-oiled machine, then your messaging and content marketing will not work as hard as possible for you!
Biggest Considerations When Auditing Your Social Media
Based on my hands-on experience doing hundreds of social media baselining projects, I've found two issues to consider before you begin.
First, you need to establish a goal. You would be amazed how many B2B brands activate strategies without a purpose! With a goal, you can determine where you sit in the best-practice and competitive-set comparison continuum.
Second, you need to understand your resources to close the gaps between your current-state assessment and your future state. Once I know my resources, I can make a case for improving my operating budget from $25,000 to $1 million. A way to set yourself up for success is to establish good-better-best or today-tomorrow-next-week recommendations with relative funding requirements. This tiered approach shows you are thinking about the possibilities yet understanding that you must prove your ideas.
What is a Social Media Audit?
A social media audit evaluates a brand's social media content and channels. It baselines them against best practices and a competitive set. A set of tools, interviews, and processes helps establish the gaps which need to be closed. Only with a social media audit can a brand truly create a social media and content marketing strategy.
Here're some facts to validate why you need to assess your social operations continuously.
Social Media and Content Marketing Facts Supporting Importance of Social Assessments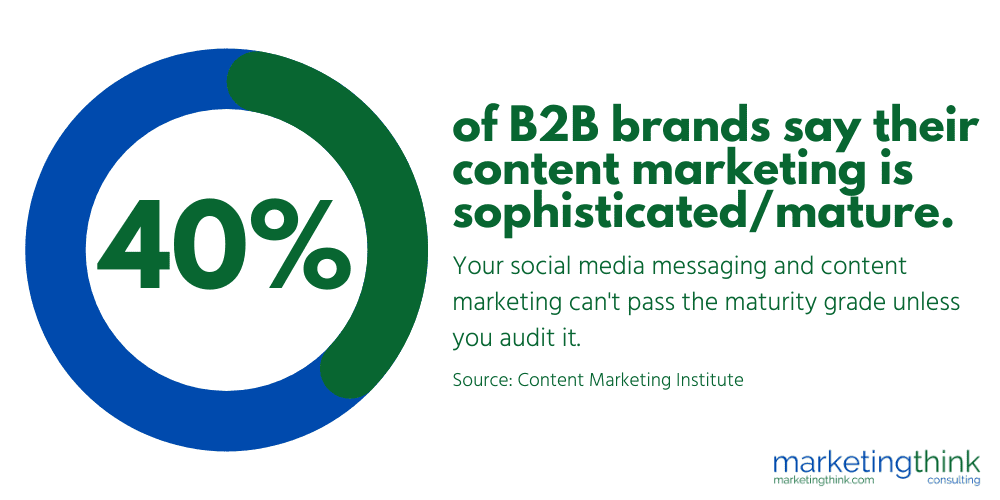 Your Social Media Audit Needs to Include These 10 Things
Here's a walkthrough of the essential components of a social media audit to baseline your current plan. The key to a successful assessment is using an experienced-based framework. Its deliverables need to be easy-to-understand and have actionable takeaways, whether you hire someone or do it yourself.
1. Key Questions to Answer. A usable audit needs to answer questions around editorial focus, the types of content used to drive engagement, hashtag usage, social media channel management, the reader's user experience, influencers, employee advocacy, and paid media.
2. Primary Opportunities Identified. Assessing baseline activity is one thing. Culling opportunities from the report is another. One of the essential components of any social media audit is the takeaways. You should be able to answer the question, "Now, what should I focus on from this audit?"
3. Social Media Channel and Ecosystem Evaluation. This section will help you refocus your social channels and ecosystem on your business goals. It will show you how well you are using your channels, what you should change, and how well your team is equipped (or not) to use social media to expand your narrative. It reviews the presence and activation of your social media channels (including branding), internal touch points, and leadership/SMEs.
This evaluation ensures that all your content marketing and social media activations are on-brand. It allows you to understand if all your social and content-related information on your virtual wall belongs in the same neighborhood!
4. Evaluation of Your Brand's Competitors. This part should assess your company's and competitors' influencer activity — the leadership and subject matter experts. It should outline each influencer's social media channel presence, follower counts, activity levels, and narrative focus. Once you see how a competitor's CMO or subject matter expert is actively engaged in their brand and yours are not, you will likely rethink your influencer strategy. But before you close that differentiating gap, you need to know where you should be.
5. Brand and Competitive Social Media Channel & Ecosystem Audit. This part surveys how well your competition is doing with its set of social media channels. This assessment will identify gaps that can be closed or expanded. It recaps your competitive followers, posting cadence, branding execution, executive voice, and paid social media usage.
6. Social Media Feed Assessment. From grammar and punctuation to the diversification of the posts to message cadence, your feed needs to be assessed against best practices and your competitive set. A quick review of you and your competitive set's followers and post cadence will give you an idea of what you are up against and may reset your expectations.
You often cannot compete (with resources) against the 800-pound gorillas, but you can learn from how they do things. This section also reviews what hashtags are used across your brands and competitive set so you can better understand their content amplification strategy. It should include branded, thought leadership, industry-focused, and company hashtags.
7. Editorial Review of What You and Your Competition Deliver on Your Social Channels. This editorial evaluation identifies focus areas for your company's and competitors' messaging. This call-out will help identify content areas where you can differentiate or improve your narrative.
One way to accomplish this review is to outline the percentage of messaging focused on key narrative areas (e.g., thought leadership, hiring) and the focus of the messaging (i.e., brand vs. audience). Picking through your brand's and your competition's posts help to understand who's focusing on what. It also allows you to identify messaging whitespace that you can own or a danger zone where you need to pick up the pace. You can also determine if the focus is on adding customer value or promoting products and services.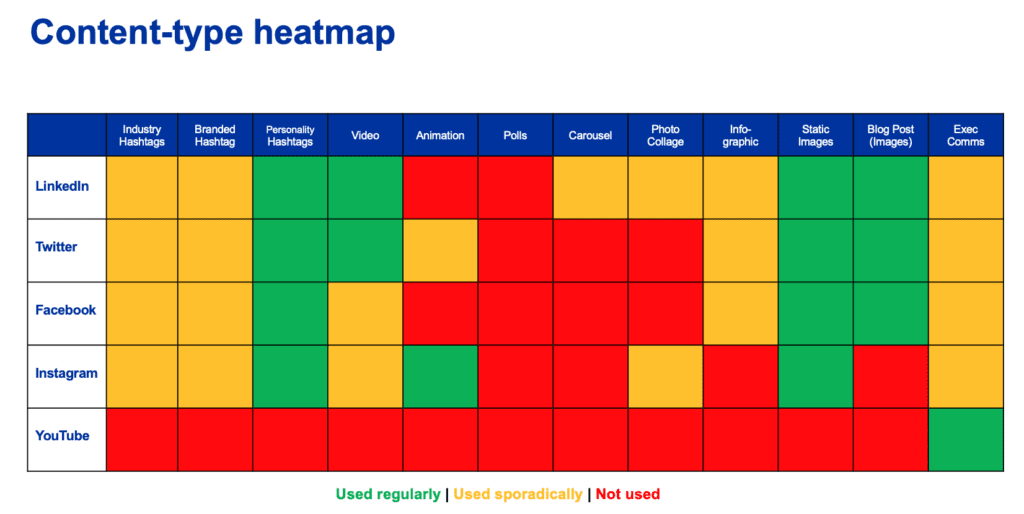 8. Content-Type Assessment. It's essential to review the types of creative used on both your and the other brands' social media channels. This identification will help identify creative execution opportunities. Each brand should use hashtags, video, animation, polls, carousels, static images, blog posts, and exec communication.
9. Content Creation Evaluation. This part of the review considers the request process, the technical approach to creating posts, and the voice and tone your posts maintain. How are you developing your messaging from idea to creation? This understanding will help you identify close gaps to create compelling content more efficiently — from request to copywriting. It outlines how stakeholders engage with the social media team, how your tone and voice manifest in your posts, and how well your posts are written according to best practices.
10. User-Experience Assessment. This section recaps the typical click-path a user takes after clicking on a social media-served message. This call-out helps tighten up the user experience to lower the website bounce rate and improve site content consumption and engagement. It reviews messaging over a month-long span to identify gaps in delivering against user expectations after clicking on a social media post.
Let Us Help You Plan to Improve Your Social Media Strategy
Multiple paths can get you to the same destination of an actionable social media strategy. A plan that you can actually execute. However, too many B2B marketers create these plans that just cannot get off the starting line. We want to help you avoid these useless plans. We're here to help. Here are a few blog posts from marketingthink.com to jumpstart your social media strategy:
15 Ways to Be a Better B2B Influencer on Social Media. In almost all of my speaking engagements, I use a saying: "A fool with a tool is still a fool." Without training and enablement, a B2B company's most valuable asset cannot harness social media. Building an internal influencer program (and this includes Executive Voice) is a crucial component of a social media strategy. These steps will help your internal subject matter experts, leadership members, and sales teams amplify their expertise on one of the virtual trust-building platforms you own.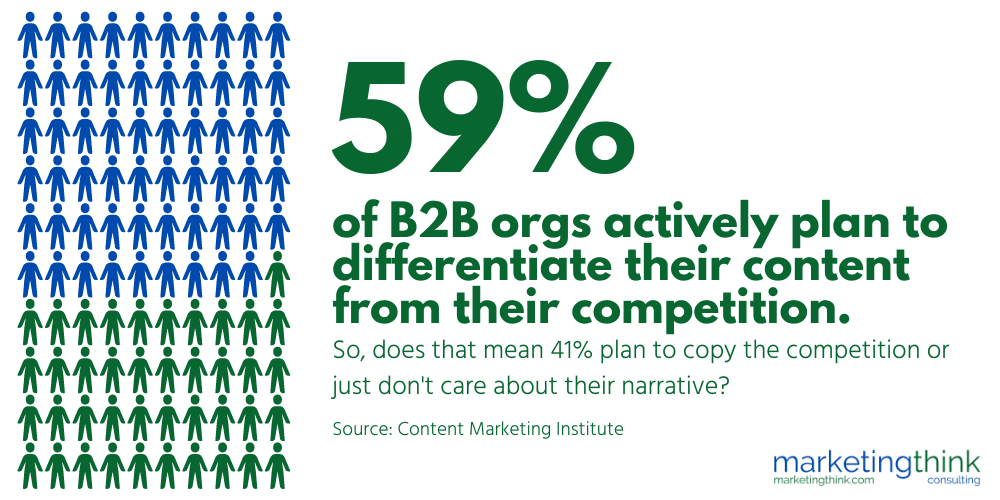 3 Key Questions to Ask About Auditing Your Social Media
During my ten years at SAP and Cognizant, plus the two years running Marketingthink Consulting, I created hundreds of audits and baseline reports. On the brand side, I worked with my team to develop competitive assessments to identify the weaknesses and gaps we needed to close. Also, we reviewed our content and channel performance weekly to understand how it performed against the goal. Every year we created a state-of-social-media report to audit our program and baseline against best practices and our competitive set. My hands-on leadership experience taught me to make sure you ask these questions when creating your social media audits:
Do you have the right audience for your social media assessment? I find there are two audiences for an audit, meaning you need to create two different plans. The first audience is the social media team, so they can course correct or double down on the day-to-day strategy. The second audience is the leadership, executive sponsor, and business unit leaders. Developing an audit that shows how the competition is kicking butt (e.g., I worked for one brand where our team started with four members and quickly grew to 14, given the results of this approach.) However, the competition still had over 60 people on its team. One oblivious manager referred to us as the 'little train that could.'
Are you on top of the best practices and accurate competitive set? If you don't have the best competitive set or an understanding of the ever-changing best practices, you'll never know how to close the gaps. And if you cannot prove that you need to close the gaps, you will never get the budget to improve your program.
Do you have the resources to correct and scale a plan resulting from your social media review? It's one thing to identify your gaps, but if you don't have the budget or do not have the credibility to back up your argument, you will never succeed. Understanding your immediate resource potential will help you to craft your audit results–so small wins can work up to bigger ones. I always had luck presenting recommendations or asks in a "today, tomorrow, and next week "(figuratively) format. It's as if you are requesting support but realizing you can't get to next week until you get to tomorrow first.
Your Next Move to Do Your Social Media Audit
So, now you have a few ideas for your social media audit. You should also understand why doing an audit is key to building a successful social media and content marketing strategy. If you want to make that next move to complete your assessment of your current operating model and content but need a partner to help get you there, we'd love to hear from you.
About 60% of B2B organizations do not document their strategy, so doing an audit will be the first step to honing your plan. So, what are you waiting for?
Marketingthink Consulting, LLC has years of hands-on leadership experience helping B2B companies assess and baseline their social media and content activation. We want to show you what we can do for you. Make your next move by reading about our Social Media Audit or proceed to our Social Media Playbook creation service.
Schedule a quick 15-minute meeting with Gerry Moran to move ahead with completing your social media and content marketing audit.