Welcome to MarketingThink.com,  a social media and marketing coaching blog. I've created MarketingThink.com to help big brands, small businesses and anyone who sells by showing them how to map social media tactics to strategies and goals.
Much of my content and coaching comes from hands-on experience at SAP, IKEA, HBO and several award-winning digital agencies. I try to set much of my coaching advice within a story and to provide easy to implement instructions. I hope that you enjoy my blog and find my posts useful.
Here is the infographic from a recent blog post … Social Selling. It's A Piece Of Cake.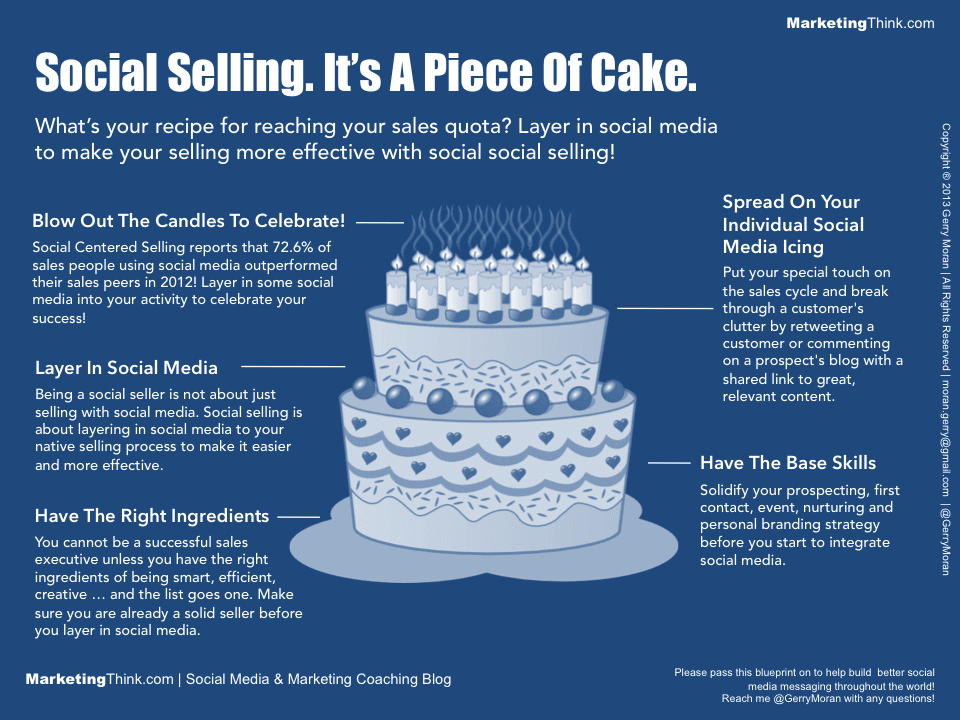 The following two tabs change content below.
Gerry Moran is Head of Social Media Marketing for SAP in North America, where he leads social demand generation, channel management, social intelligence and social selling strategy. He is a marketing strategist, entrepreneur, educator and mentor with close to 30 years experience with iconic brands like Purina HBO, IKEA, and SAP. He's also worked for award-winning digital advertising agencies like imc2, Whitman-Hart and Digitas. Gerry also founded a boutique marketing agency and has been an adjunct professor for over 10 years for St. Joseph's University.
Gerry Moran
Latest posts by Gerry Moran (see all)