Flo, the infamous Progressive Insurance spokesperson inspired me to rethink my personal content marketing strategy.
Every now and then you need to tweak your approach to your content marketing strategy to help you reach your business goals. Sometimes a 'jump-start' is in order!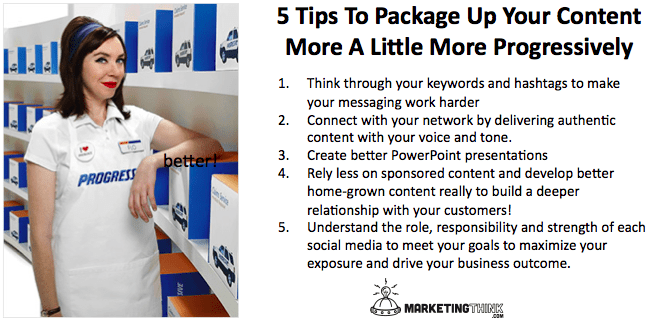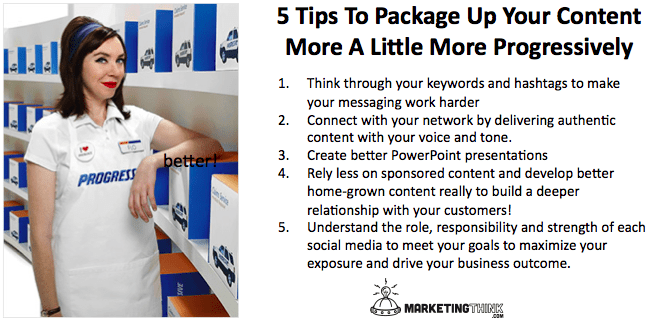 You see, I just installed the Progressive Insurance Snapshot in my car to get a discount, which will help me reach my personal financial goals a little bit quicker. Hey, who doesn't like 25% discount on their car insurance! The Snapshot encouraged me to fine-tune my driving to help me reach my goal. I am driving a little slower, breaking sooner and just paying attention more.
While sitting at a red light that I slowly eased into, I thought to myself, what I fine tuned my personal content marketing strategy? Would a similar approach to content can help to deliver a better message to my network (and yours) – including adjustments to timing, channel, wording, etc.?
5 Tips To Improve Your Content Marketing Strategy
1. Think through your keywords and hashtags to make your messaging work harder and find your network more naturally
Embrace the #hashtag to get your content to work harder! http://t.co/qzbCy6rr3p #contentmarketing pic.twitter.com/c6cVeISZ7m

— Gerry Moran (@GerryMoran) July 27, 2014
2. Connect with your network by delivering authentic content with your voice and tone. And most of all, think if Big Bird would be annoyed! 
Avoid robotic tweets and don't tick off Big Bird. http://t.co/c35PhR92F7 #cotentmarketing pic.twitter.com/JzXnqFSXto

— Gerry Moran (@GerryMoran) July 25, 2014
3. Your content marketing strategy is not always activated through a social media channel. Think about how you socialize your ideas on a 1-1 or 1-few basis – which means start making your PowerPoint presentations better!
Stop creating wordy, boring and Powerpoints that don't tell a story! #contentmarketing pic.twitter.com/eh1vmDbs57

— Gerry Moran (@GerryMoran) July 25, 2014
4. Rely less on sponsored content and develop better home-grown content really to build a deeper relationship with your customers!
Customers are less likely to click on sponsored content #contentmarketing pic.twitter.com/3xzeZh0XHn

— Gerry Moran (@GerryMoran) July 23, 2014
5. Understand the role, responsibility and strength of each social media to meet your goals – sometimes you'll need to get a little crafty to maximize your exposure and drive your business outcome.
Craft #Beer Lover's Guide To Social Media Super Power http://t.co/FvdGz6TKXS #craftbeer pic.twitter.com/aOgX636a12

— Gerry Moran (@GerryMoran) July 23, 2014
Do you have some progressive social media and content marketing tips to share? If you do, please share them below. Or, contact me directly on MarketingThink, LinkedIn, Twitter or Google+.
You can decide to go with the flow and not change anything with your content strategy. Or, go with the 'Flo,' for added insurance to make your content marketing strategy work a little harder.