This blog post will help you understand how to use customer-centric content marketing to make a quicker sale and build a better relationship with your client.
While wearing see-through clothing is sometimes risqué, doing see-through marketing is always risky.

Clients don't want to see through messaging that is truly a sales or marketing message—especially when they are initially looking for help. You know, the upper-funnel kind. They want information that will start an authentic conversation to help solve their problem or act on an opportunity.

By clouding up the selling and marketing approach, you are obfuscating the customer's buying journey and delaying your selling process. So, it's time to introduce a little clarity into your messaging strategy—delivering the right message at the right time on the right channel.

Three Statistics Supporting Your Customer's Need For Customer-Centric Content
65 percent of senior executives feel that preparing to make a purchase decision is "hard," "awful," "painful," "frustrating," and "minefield," as reported in the Harvard Business Review—indicating less pitching and more up-front education might lessen their pain.  (Source: CEB)
86 percent of B2B decision-makers say a proactive, prescriptive approach that guides them through decision making increases the likeliness of purchase ease and decreases the likeliness of purchase regret—suggesting the role of providing the right content at the right time.
A Content Marketing Report (CMI) report shows that 68 percent of tech content marketers say creating content appealing to multiple customer roles is their top challenge. 
So, what's the answer? Take a look at these ways to sell better with content and messaging.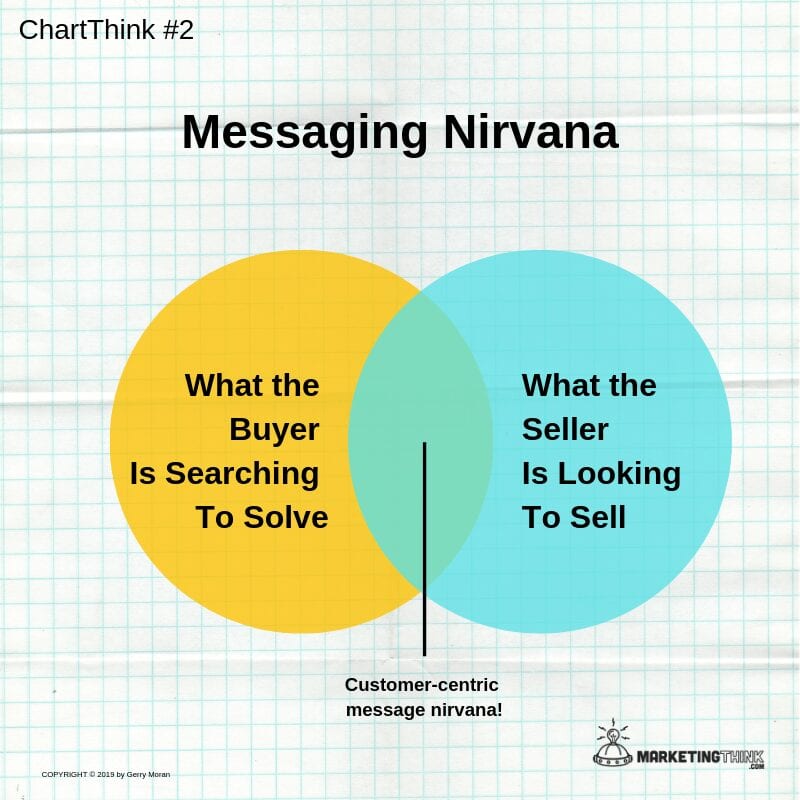 13 Ways To Win Your Client's Heart with Transparent and Buyer-centric Marketing Messaging
Consider the following comparisons the next time you work on your sales and marketing message. Whether you deliver your ideas via email, thought leadership content, or social media, it has to be helpful and authentic. This list will help you determine the most effective approach to provide customer clarity and close the sale with content.
Selling vs. solving
Advertising vs. advice
Commercials vs. thought leadership
Pitches vs. questions
"I think" vs. "I know"
Proposals vs. discovery
Audience vs. community
Always-on messaging vs. one-off sales campaigns
You-centric vs. customer-centric
One-off posts vs. conversations
Entertaining vs. being smart
Talking to vs. talking with
Listening vs. hearing
Well, it's about time to strip down your sales and marketing messaging to be a bit more helpful—especially early in their buying journey. Or, you'll find it's risky business out there.
I'd love to know how you use content marketing to break through to your clients. So, please comment below or reach out to me gerry@marketingthink.com.