If a subject matter expert or B2B influencer marketing strategy expert speaks and no one hears them, are they really a subject matter expert?
Well, yes and no. They may be an expert. However, the expertise is going to waste.
There are many ways to unleash your subject matter expertise with social media. You just have to start building your reputational footprint by talking your insight-based talk in the social watering holes where your customers frequent!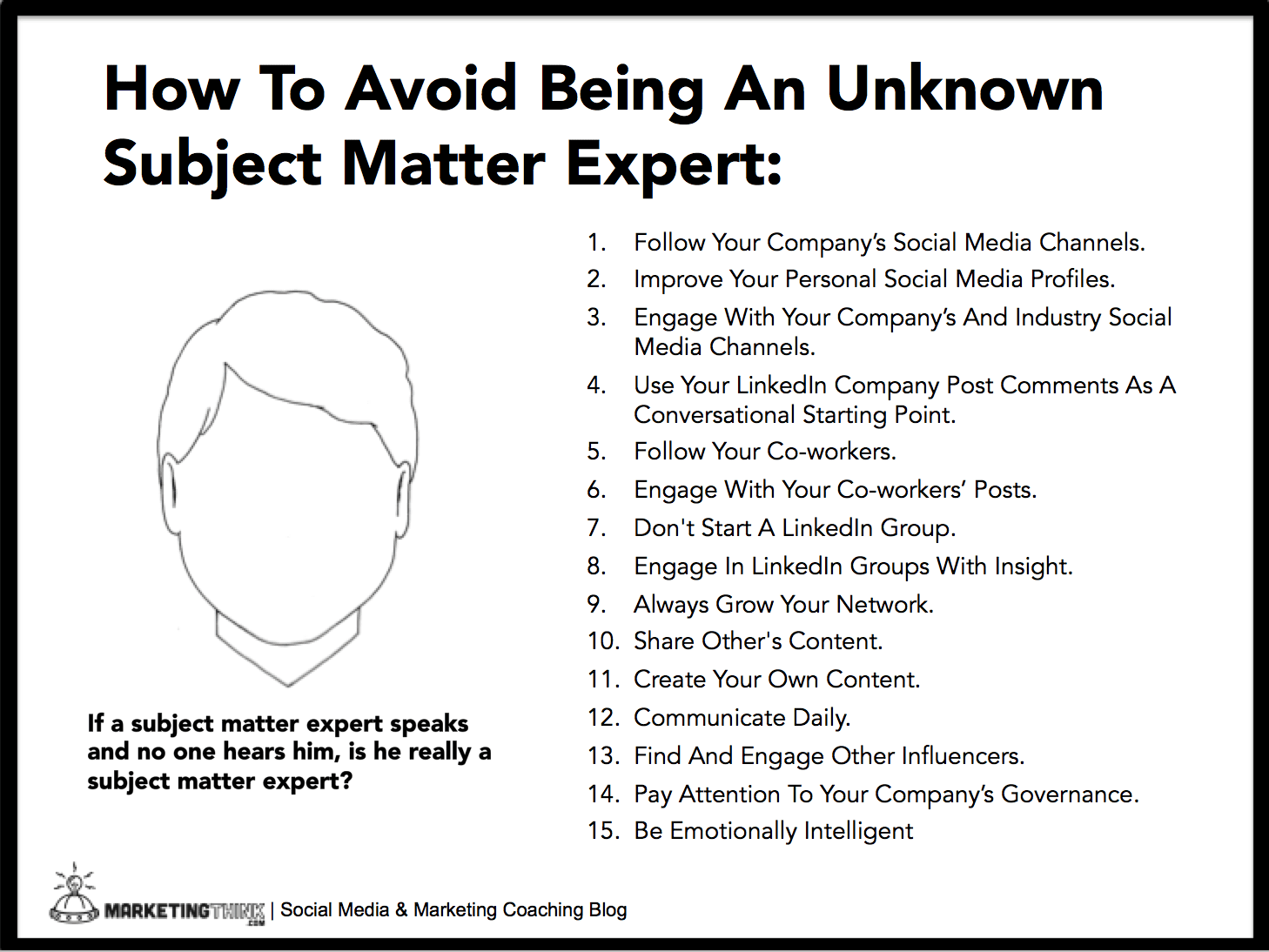 2 Key Facts Supporting A Subject Matter Expert Strategy
92% of B2B decision-makers want to engage with a thought leader. This fact suggests the more you place yourself in front of others with your subject matter expert strategy, then the more you will have the opportunity to engage (Source: LinkedIn)
Expert content has an 88% greater impact than brand content and 50% better than the user-generated reviews, indicating investing in a subject matter expert strategy will pay out for your relationship building. (Source: Nielsen)
15 Ways To Excel at B2B Influencer Marketing
1. Follow your company's social media channels. Follow your company's and industry key corporate channels, so you can begin to offer a real-time POV and amplify key messaging to which others may not have access.
2. Social media profiles of internal and external B2B influencers. Improve your LinkedIn and profiles. When people check you out you show the credentials and reputation of a true subject matter expert who understands and can help an individual or an enterprise!
3. Engage with other brands, media, and B2B influencer social media channels. Share, like and comment (when appropriate) on your company's and key industry social media channels – so your incremental audience can receive your company's insight and messaging.
4. Comment on your company's LinkedIn update posts. Regularly check comments on LinkedIn company posts. This activity will help position you and your company as a client partner. You will be perceived as a helper and not a seller.
5. Follow your co-workers on LinkedIn and Twitter. Follow relevant coworkers – so you can learn from each other and build a unified solid social community.
6. Engage With co-worker's LinkedIn and Twitter posts. Share, RT, and comment on relevant posts from coworkers – so you can jointly build up everyone's credibility and reputation.
7. Don't start a LinkedIn Group. Do not start a LinkedIn group to increase the awareness of your expertise. Your customers and influencers don't join these communities so that you can sell them your products and services. Join the same groups as your clients to add value.
8. Engage in relevant LinkedIn Groups. Find 3 active and relevant LinkedIn groups to join and engage in weekly – always offering subject matter expertise that does NOT sell your company. This action helps position yourself as a problem solver instead of a problem seller.
9. Increase your B2B influencer network. Think of yourself as a publisher with the need to increase your subscribers. Always say yes to someone who wants to join your network to understand your POV.
10. Share others' B2B marketing content. Share content to network with your network. Curating content helps you remain top of mind with your community.- showing you understand their industry, category, business, and position (e.g., CIO).
11. Create your own content to differentiate yourself. Create content like blog posts on LinkedIn and your own blog site. This sharing will foster conversation on a current issue or an off-shoot of other thought leadership content.
12. Communicate to your network daily. Communicate daily to sustain your relevancy – at least 5x on Twitter, 1x on LinkedIn. This editorial calendar will expand your reputation's footprint and be a part of your community's conversation.
13. Build relationships with other B2B influencers. Create and sustain relationships with outside influencers. You are not relevant in space until other influencers validate you – with interviews, lists, social sharing, blog post mentions, keynote speeches, etc.
14. Pay attention to your company's governance and social media policies. Always adhere to your company's social media governance policy since we never bite the hand that feeds us!
15. Post with emotional intelligence. Always be emotionally intelligent in presenting your subject matter expertise, so you build up your personal brand instead of knocking it down. So, no ranting, politicking, or being religious!. If these non-SME topics are important to you, open up a private account to separate your company or personal brand!
Do you have another B2B influencer marketing tip to add to this list? If so, then please share it below. Or contact me at gerry@marketingthink.com.
Subject matter expertise too important to waste. When you have something to say to help yourself or your company, you need to set yourself up for success! Are you an unknown subject matter expert? If so, then put a face to your knowledge. Be present. Be relevant. Be heard!
NOTE: This blog post was originally titled How To Avoid Being An Unknown Subject Matter Expert and was updated on January 25, 2021.