Do you know the most important part of your social media marketing funnel? It is organic social media.
Organic social is the most significant gear in the demand generation machine. The bigger the gear size, the harder the funnel works. And the harder the gear works, the faster and more productive the funnel will work to create revenue.
Do you remember riding a bike and trying to pedal as fast as possible to make your bike go faster? You ensured you worked the highest gear to make the wheels get you to your destination more quickly. The same physics applies to the marketing funnel machine. You need to operate your most significant gear, social media, to ensure you successfully reach your goals.
I want to explain why it is crucial to integrate social media into your B2B demand generation strategy.
What is a Social Media Marketing Funnel?
A social media marketing funnel is a metaphor to describe the customer journey through the sales and buying process. It is a structure to provide content and message to generate the client's awareness, consideration, and conversion. The brand offers different content at each part of the marketing funnel to move the customer to the next part of the sales process and buyer journey.
Organic Social Media Is Critical for Marketing Funnel Success
1. The buying journey experience is taken digitally through the marketing funnel
In many demand-generation environments, many B2B marketers only use paid media and email. Unfortunately, the new buyer journey tells us that decision-makers use search and social channels to find their content. They are starting the demand generation process without the seller! Gartner reports only 17% of buyers spend their time meeting with potential suppliers. A good part of the rest of the time is spent digitally! So, we all need to figure out how to be a part of that digital and social selling experience, huh?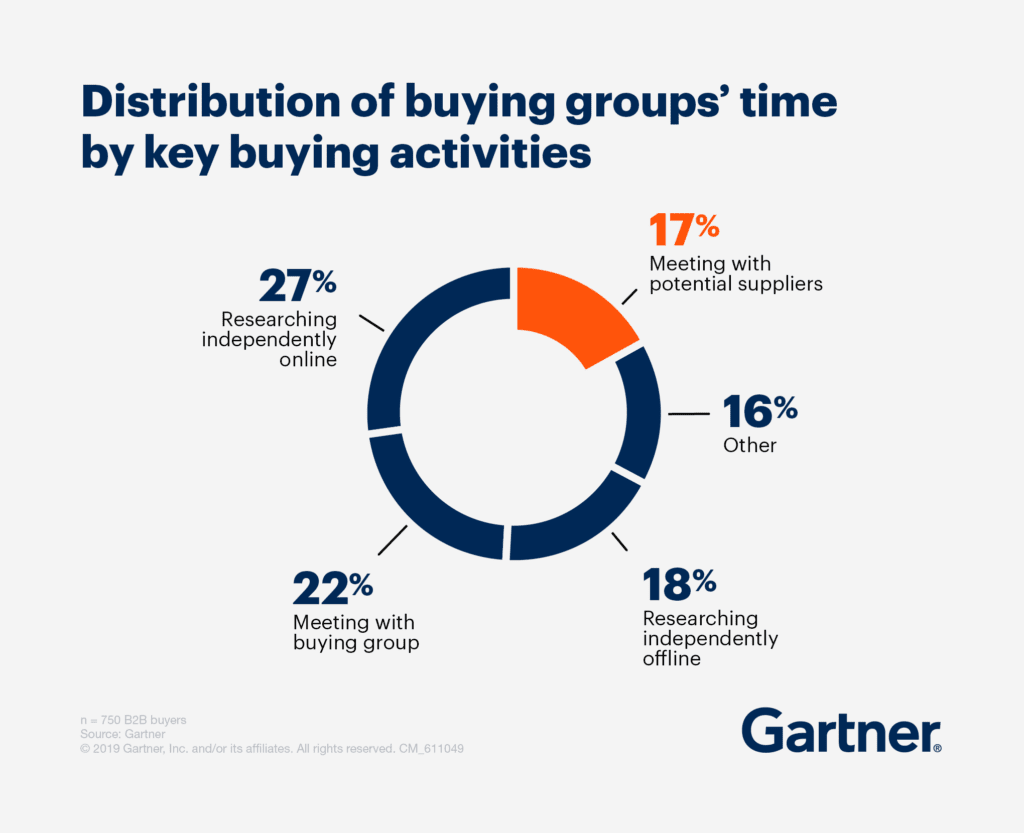 2. Inbound marketing delivers lower costs than paid social media
Invesp reports that inbound marketing provides 54% more leads than outbound marketing, making sense to layering the demand generation strategy on social media to build awareness, engagement, and influence. They also report that inbound marketing delivers these inbound leads at a 50% lower cost, so getting them into the funnel is cheaper. And in my book, more and cheap is good.
3. Inbound leads take longer to convert — but are worth the wait
Organic social leads still convert. And they are likely additive. The big difference between inbound and outbound leads is that inbound leads take 30-40% longer to advance through the sales pipeline, reports Gleanster. With this lag, marketers need to figure out how to nurture these customers without bombarding them with email and telephone calls.
5 Social Media Gears In The Marketing Funnel Machine
1. Reach = Getting Your Targeted Message Out To Your Target Audience
Demand generation is a numbers game. The more awareness a brand creates, the bigger the reach. It's like casting a large net using relevant content as bait. But reach and impression metrics are only BIG VANITY METRICS unless we get customers to take a step closer to the brand by 'voting' on-demand gen-related information and content.
Organic social media makes the marketing funnel work harder.

Gerry Moran
2. Engagement = getting people to indicate they approve of your content and messaging
B2B marketing professionals must do more than get people to consume and view messages. A single 'read' might work for many, but you can't really identify its impact on the business. Measure the efficiency of this social media engagement gear by counting the shares, comments, and likes. These numbers are THE BEST INDICATOR to tell if social media delivers engaging content. Customers will vote with their 'like' button. Engagement is one step closer to building a deeper relationship, and this is not really a linear or a cause-and-effect experience. We need to keep feeding the customer with a great experience to make our influence with them.
3. Influence = nurturing
Influencing the customer sits between the engagement and conversion stages. Remember, 57% of the buying journey is done before the customer reaches out to vendors, reports Corporate Executive Board. This "57%" means customers find, consume, and vet information and content. 85% of B2B tech buyers say it takes three or more pieces of content to help make a decision, reported by Act-On. So, brands can affect nurturing and delivering content on the customer's terms instead of 'pushing' for email registration. This sign-up activity will eventually happen at the 'conversion' stage.
4. Conversion = getting your customer to take a step toward buying
The demand generation machine is only as efficient as its weakest gear. This conversion experience is often a landing page where customers register. HubSpot reports that landing page conversion rates (for non-PPC lands) should be 20%. And they have coached many to convert up to 50%. If your lead generation conversion rates are languishing around 5%, then you may be making one of about 20 different mistakes – too many to talk about in this post! Take the time to audit your conversion experience to ensure your social media and other tactics work hard for a payout!
5. Pipeline Acceleration = staying close to your customer by delivering the right content at the right time
Social media touches on pipeline acceleration in the form of social selling. At this point, sellers use their LinkedIn network, Twitter selling skills, and content marketing expertise to stay in touch and communicate with customers on their terms.
Additional Posts to Help You Maximize Your Social Media Marketing Funnel
Do you have a demand generation machine story to share? How do you make your social media gears work as hard as possible? If so, please share below. Or, reach out to me at gerry@marketingthink.com.
Get geared up to make social media work as hard as possible for your B2B marketing funnel machine, so you 'won't be pedaling uphill for sales.
NOTE: This blog post was originally published on April 20, 2014, as Social Media is the Biggest Gear in the Demand Generation Engine. It was refreshed on February 15, 2021.