Do you know how to create the perfect LinkedIn profile? It's your reputation destination that builds your personal brand!
For many professionals, executives, and sellers, their LinkedIn account is the front door to their personal brand. If you understand the 25 steps leading to that front door, you're on your way to inviting your community in and providing them with the value you have to offer.
Biggest Issue to Consider With LinkedIn and Your Personal Brand
I've found the biggest challenge for most LinkedIn members is using the platform as a resume. That's the wrong approach. Your resume is supposed to be your resume. If you use your job title as your Headline and offer the same information as your resume, others will think you are looking for a job vs. demonstrating your expertise. We're all salespeople, yet people insist they don't like to be "sold to." Instead, use your profile to highlight your value to make the sale, no matter how that sale manifests.
What is a LinkedIn Profile?
A LinkedIn profile is your reputation's destination. It's the landing page to your unique story told via the different chapters of your experiences. It can provide resume-like information targeting hiring companies. Or, it can be the springboard to start conversations with industry peers, coworkers, and connections of your connections. Through a mix of visual assets, experience descriptions, and active participation on the platform, you can connect with others, or they can find and connect with you. It's the mission control of your personal brand.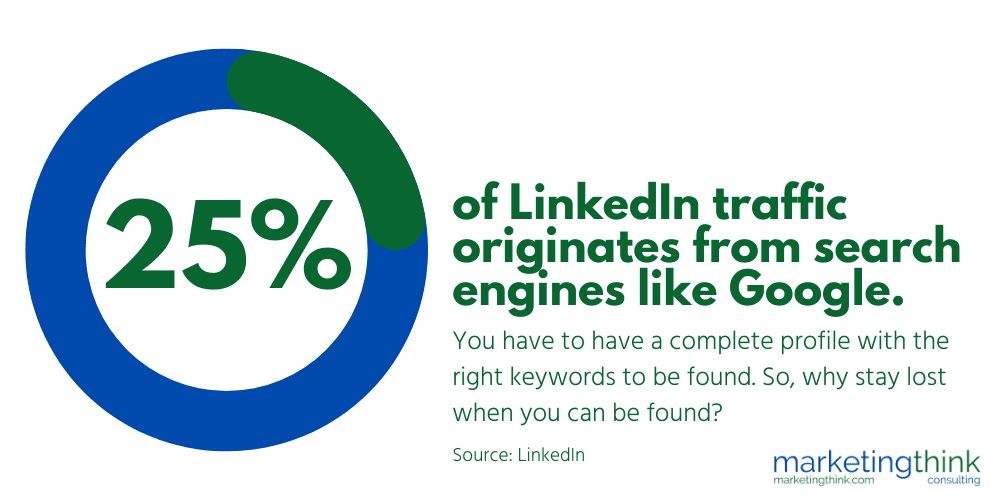 Personal Branding Facts You Should Know About LinkedIn Profiles
80% of LinkedIn users say professional networking is vital for success. (Source: LinkedIn)
LinkedIn viewing sessions grew by 31% in the first quarter of 2021. (Source: Business of Apps, Alexa)
100,000 articles are published on LinkedIn weekly; however, less than 1% of the user base is publishing these articles. (Source: LinkedIn)
Almost 25% of all LinkedIn traffic comes from search engines, over 99% of which is organic. (Source: LinkedIn)
33% of professionals on the planet use the LinkedIn platform. (Source: LinkedIn)
The average LinkedIn user has 400 connections. When you factor in companies, the count rises to 930. (Source: LinkedIn)
Almost 60% of LinkedIn users do not use Twitter. (Source: LinkedIn)
Nearly 40% of LinkedIn users pay for their premium services. (Source: WERSM)
85% of hiring companies use or plan to use LinkedIn to find the best candidate. (Source: LinkedIn)
Six people are hired through LinkedIn every minute! (Source: LinkedIn)

How to Improve Your Reputation Destination and Personal Brand
Name. Make sure to use the name people typically call you. The last thing anyone wants to read is a formal name only your mother uses.
Profile Photo. Open those eyes, smile, and look straight into the camera. If I ever meet you, then I want to recognize you.
Headline. Think of your Headline as the title of the book about your career. It needs to be attention-getting and informative.
About. The About section needs to read like an inside book cover, so people will keep reading and want to buy your ideas.
Experience. Don't think of this section as your resume. Build on your background to show its relevance today.
Education. While a fundamental inclusion, you can enhance it using correct phrases. Please take a look at how I reference my education.
Skills. Your skills are your superpowers and are the keywords the LinkedIn algorithm loves to choose. Pick the best ones that differentiate you from everyone else. Yes, everyone is hard-working and creative, so don't use them.
Industry & Location. Choose the best industry and location that best represents your current state.
Connections. A bigger relevant audience is always better than a smaller relevant audience. And relevancy varies across over 800 million LinkedIn users. Try to get to 500 connections, and your community will work harder for you.
Background Image. A picture tells the story of a thousand words, so find a great visual to say to yours.
Personal URL. Nothing is worse than a URL that does not contain your name or a variation of it–that is, a bunch of jumbled numbers. It's simple to change it to include your name.
Contact Info. The point of LinkedIn, from my vantage point, is communication. And if there is no way to reach out to connect with you, then what's the end game?
Public Website. Not everyone has a public-facing website, like a blog. Do list yours if you have one.
Creator Mode. The creator mode helps you get your posts, content, and profile in front of a bigger audience. However, it's not worth it if you don't post a lot (shame on you!).
Headline Hashtags. In Creator Mode, LinkedIn users use hashtags to follow niche conversations of interest. Adding these will help you and your post be found by an interested audience.
Follow Button. If you post regularly and don't want to be connected to everyone on LinkedIn, then use this button to encourage others to follow your narrative without linking to you.
Video Profile Pic. This nifty new feature gives you time to show you're introducing yourself with a video vs. a static picture. It's a way to differentiate yourself.
Featured. This section lets you highlight your best on-platform posts, external posts, or visuals that continue to tell your story.
Activity. An active profile shows you have empathy and can add value to the community and an organization. Stay engaged with posts so you can start the right conversations.
Articles. This feature allows you to share your expertise and POV. It's a great differentiating credibility builder.
Endorsements. Endorsements show that others agree with your self-assessment of your superpowers.
Recommendations. Receiving a recommendation is validation that you add value. And this feature enables you to highlight how you've added value throughout your career. The more you give, the more you get!
Accomplishments. Listing your external articles, awards, books, and acknowledgments is an excellent way to humble-brag and highlight your expertise.
Volunteerism & Causes. Non-profit activity is a great way to start conversations and to show you are part of a more significant altruistic movement.
Interests. Just another conversation starter, filling out the most relevant companies, influencers, and schools is brilliant.
Did you know we have a $199 LinkedIn Profile Audit service that reviews your profile, provides best-practice tips and gives you actionable recommendations? Click here to learn more.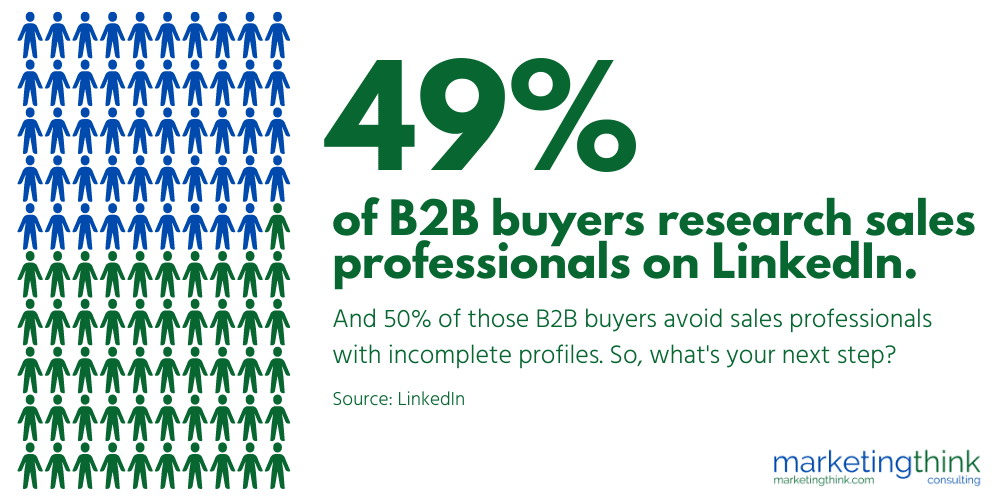 Let Us Help You Plan a Better LinkedIn Profile
The good news is there are many right ways to build your brand on LinkedIn. However, there are many poor ways, too. We're here to help. Here are a few blog posts from marketingthink.com to jumpstart your plan:
3 Key Questions to Ask Yourself About LinkedIn and Your Personal Brand
During my ten years at SAP and Cognizant, where I built and ran their social media programs and centers of excellence, I worked globally with thousands of executives, sales team members, and professionals on their personal brands. My hands-on leadership experience taught me to make sure you ask these questions when building your personal brand on (primarily) LinkedIn:
Does your LinkedIn profile position you as a job seeker or someone with a lot of experience who can help others? By slightly altering your approach to building your LinkedIn profile, you can position yourself as an individual who adds value. Someone with whom a hiring company, client company, or internal leader would love to do business.
Is your LinkedIn profile technically correct and optimized? Only when your profile is perfect and optimized will it be able to be searched for and found. And when people see you, you will be able to tell your story. The last thing you want is to receive a profile view and have your audience form an opinion based on typos, grammatical errors, incomplete information, and the lack of a story. I've seen too many execs miss press opportunities and sales professionals miss out on deals because of a poor and lackluster profile.
Can you commit to being active on LinkedIn? Working on your curbside appeal is one thing when you sell yourself. It's another thing to get people to visit your 'open house.' Your LinkedIn profile is your reputation's destination, but your posts and engagements with others are the fuel to get your audience to visit.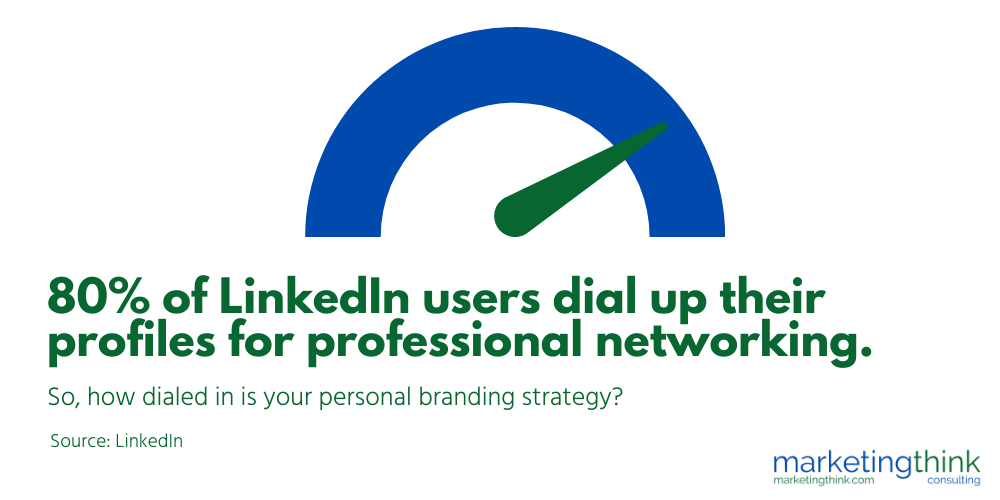 Your Next Move to Improve Your LinkedIn Profile
So, now you have a few ideas for improving your LinkedIn profile. It would be best if you also understood why these ideas are essential. If you want to make that next move to enhance your personal brand and need a partner to help you get there, we're here to help.
Over 51% of people like you who want to improve their personal brand have incomplete profiles, let alone high-performing ones. A better LinkedIn profile will help you get that promotion, improve your chances for that dream job, or get you noticed by clients. What are you waiting for?
Marketingthink Consulting, LLC has years of hands-on leadership experience helping individuals and teams improve their personal brands. We want to show you what we can do for you. Make your next move by reading about our LinkedIn Profile Makeover Service, or start with a LinkedIn Profile Audit.
Schedule a quick complementary 15-minute meeting with Gerry Moran to move ahead to refresh your LinkedIn profile!