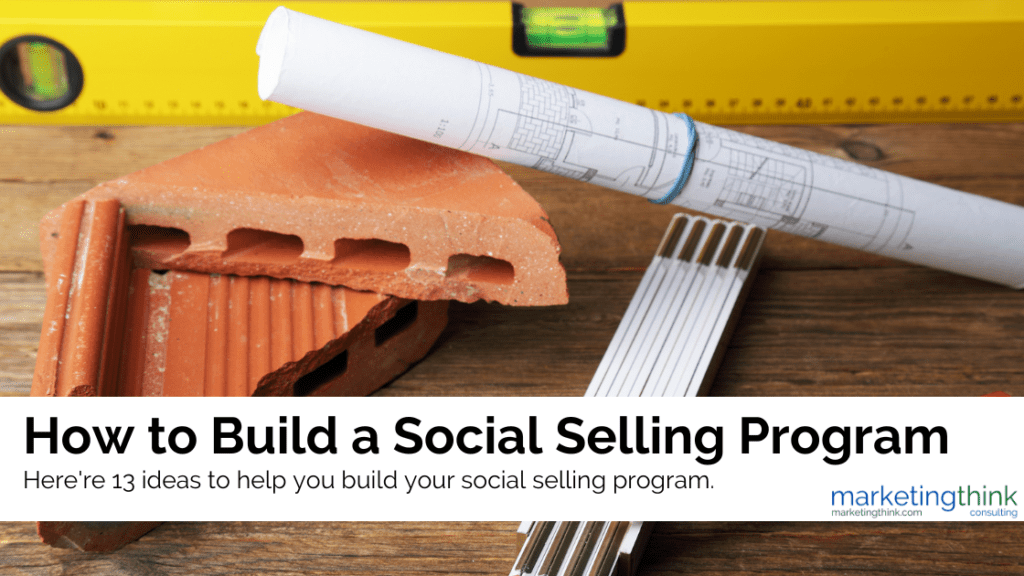 Do you know where to start building a social selling program? Your competition probably does.
Social selling started in 1997 when the first semblance of social media appeared. Early adopters of social selling just thought of it as using social media to connect with their buyers.
The first social selling program started a lot later than that. And it is still evolving.
While the B2B sales goal is to increase the pipeline and exceed quota, the social selling goal differs. It should be to increase your sales team's social media IQ, improve their understanding of the impact of social media on quota and sales success, and begin high-level adoption of a social selling strategy, especially with personal branding and content marketing.
In other words, It's about more conversations and warm leads. Get your sales professionals to improve their awareness and become valued partners by sharing value-add information and content to start more conversations.
Biggest Issue to Consider When Building Your Social Selling Program
By far, the biggest hurdle I have found when developing a social selling program is building adoption. If sales professionals don't use the program, then your program is going nowhere. Sure, you can 'KPI' sessions and training attendance, but you can't force them to use the strategy and tactics. From over ten years of experience at SAP and Cognizant, executive sponsorship, result-based case studies, and simple enablement sessions are the best way to drive adoption. Then, keep your eyes open for the gaps in the program and adjust as necessary.
So, before we get into the best approach to build your program, let's get on the same page to understand the definition of social selling.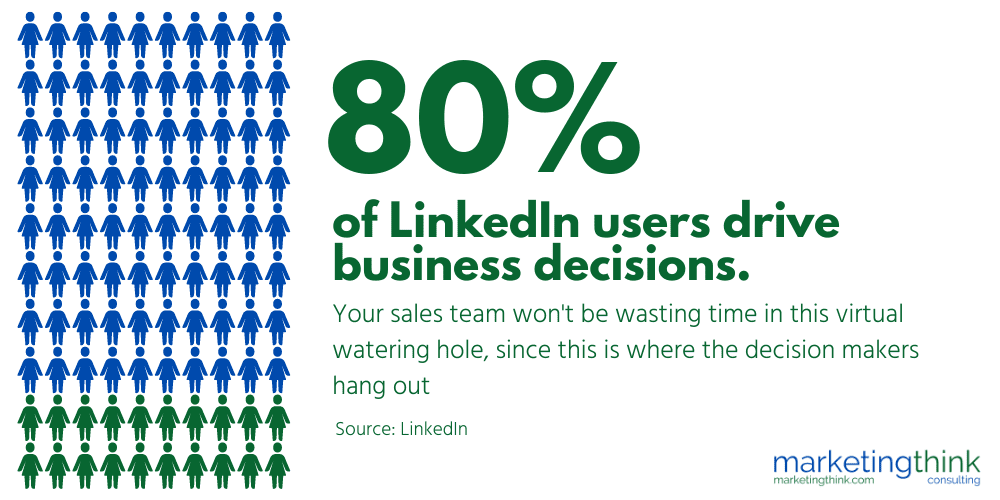 What is Social Selling?
Social selling is simply using social media and content marketing in the sales process. It uses content to help clients solve problems and identify opportunities without selling to them. No one likes to be sold when first dipping their toe in the buying journey. Social selling leverages an individual seller's LinkedIn profile and messaging to get on the client's radar to establish trust and credibility. Once created, the sales professionals use social media sales triggers (e.g., a post, like, or comment) to develop their relationship further to connect. This basically eliminates the cold call since a subtle sales touch has already been made.
While I have heard from many sales professionals and leaders, "I don't have time to use social media, I need to be selling," the facts point to the best sellers do use social selling—because that's where their clients are.
If you are looking to justify your recommendation to launch a social selling program, these facts will help support your case!
9 Facts that Will Convince You to Use Social Media as Part of Your Sales Strategy
50% of B2B decision makers and buyers use LinkedIn to help make a purchase, clearly indicating that LinkedIn presents the opportunity to fish where the fish are. (Source: LinkedIn)
Someone following your company on LinkedIn is 81% more likely to open your InMail than a non-follower, which means sales teams need to work in tandem with the marketing team. (Source: LinkedIn)
80% of LinkedIn users drive business decisions, validating that sellers will not be wasting time in this virtual watering hole. (Source: LinkedIn)
41% of B2B buyers view 3-5 pieces of online content online before they reach out to a brand or salesperson. Understanding how to post valued content will get you on the client's radar and start a conversation. (Source: LinkedIn)
Social selling professionals with a higher Social Selling Index (SSI) create 45% more opportunities than peers with lower SSI. Showing up is 50% of success and this score shows you if you really are showing up on LinkedIn. (Source: LinkedIn)
Social selling professionals with a higher Social Selling Index are 51% more likely to reach quota, which means they are using LinkedIn to its full potential. (Source: LinkedIn)
78% of social sellers outsell peers who don't use social media. We all want our sales executives to sell more, huh? (Source: LinkedIn)
31% of B2B sales professionals say social selling helps to build deeper relationships with clients, and building trust is what it's all about, right? (Source: LinkedIn)
75% of sales reps report not receiving ANY social selling training, a clear indicator that they could use formalized training as outlined below. (Source: LinkedIn)
Hopefully, these facts create a "holy smokes" moment for you. Maybe they get you to look in the mirror and say, "Why am I not using social media to bust my quota?" Whatever your response, there is a way to put a little structure to building your program. Building blocks, if you will!
13 Building Blocks for Your Social Selling Program
Now that you have set your program goals, what should you include in that program? Here are a few ideas to consider when building yours.
Start With a Pilot. Starting small and highlighting little wins with the sales and marketing teams and leadership is a great way to scale a program. Choose 10-15 people to participate. Keep the name catchy, like "100 Minutes Of Social Selling". Create a training plan and socialize it as part of a structured mini-program across a 4-8 week schedule.

Your pilot must determine the group's social media or selling skill sets. It's also a key way to determine how to increase their knowledge. With a 10-session, 10-minute format, you can determine what social selling awareness needs to be developed from the group interaction. Based on the pilot's success, you can roll out an expanded program or make adjustments and restart the pilot.
Develop a Go-to Social Selling Space on Your Company Intranet. Even before you have scaled your program, you still need a place to put your social selling information and 'stuff.' It can be used as a "Coming Soon" advertisement. This center of excellence should serve as a repository of all social selling materials, a source of social selling article links, case studies, and anything that can help your sales teams with their social media skills. Again, name it something catchy, like "Social First Sales Community".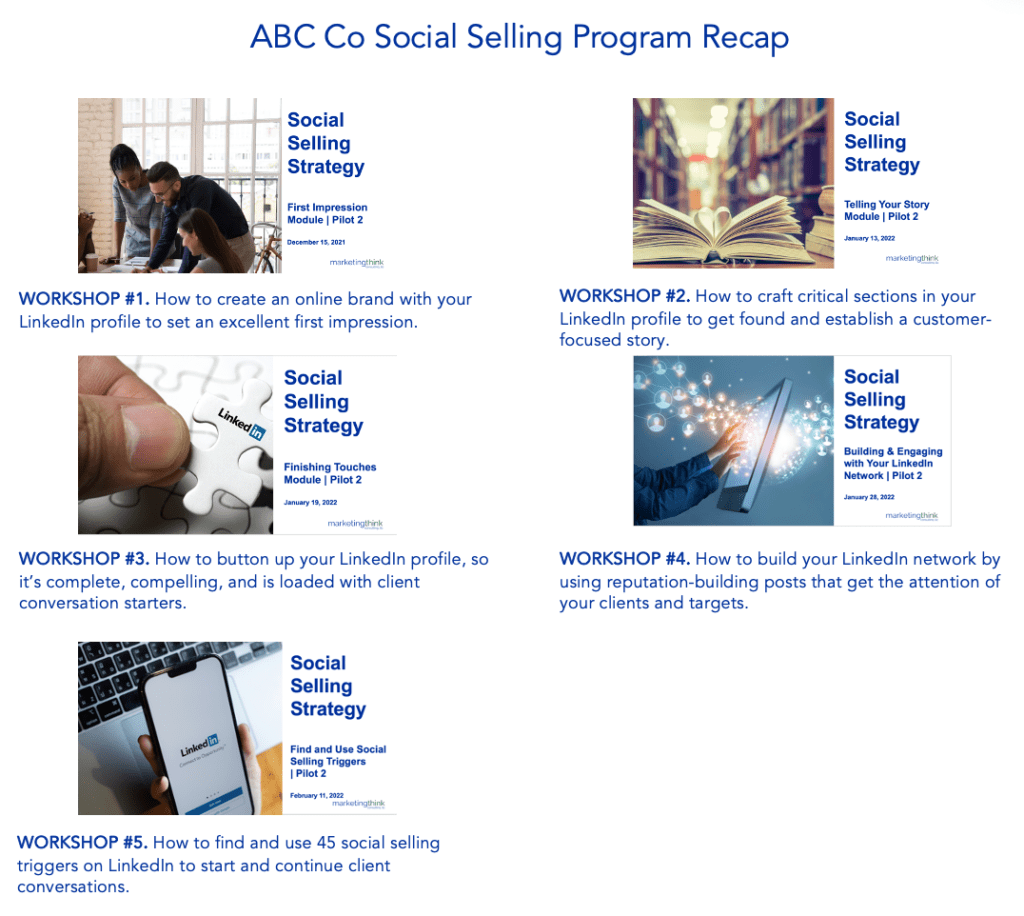 Set Up a Booth at the Next Sales Meeting To Share Easy Implemented Tactics. The idea that worked for me was activating an onsite destination called the "Social Media Genius Bar". (This idea worked so well that I rolled it out when I ran the social media program for Cognizant.) This initiative served almost 3,000 B2B sales professionals and their sales, marketing, and executive leadership. The Social Media Genius Bar service provided professional headshots for social media profiles and LinkedIn profile tune-ups to focus on the need to improve individuals' social brands.
Speak at the Sales Meeting. Get on the agenda of an upcoming sales meeting with an engaging social selling presentation. For example, sessions like "5 Social Media Tools For Your Social Selling Tool Kit" and "5 Social Selling Plays For Your Sales Playbook" (30-minute session) would capture the attention and value of your sales community. I did something similar and registered almost 1,000 sellers—gaining fans, users, and more interest! After those sessions, the program took off!
Develop a Social Selling Program-Lite Program for Executives. You will need executive sponsorship to make sure your program succeeds. It's like anything else. Executives control the budget line. Develop an executive version of the program, so they adopt it. I used a programmatic approach with sales leadership to improve the executive social media skill sets. This skill set improvement helped me explain social media's impact on the selling motion.

Plan on a Regional Social Selling Awareness and Roll-out. Once you activate the core and first phase social selling program, you will need to fan the fire and continue to amplify its availability. Whether you have global or local regions, you need a divide-and-conquer approach to drive adoption. Kick-off individual regional sessions to reach 100% of the sales team. In each kick-off session, focus on the importance of social selling within the buyer's journey, provide a workshop on improving personal social brands, and show the participants the steps to further their social selling knowledge.
Create a Foundational Skill Training Program. Once you execute your pilot and gather your learnings, you will figure out what you need to teach to scale the program and take it to the next level. I created a program called "100 Minutes of Social Selling" to make it more approachable. I wanted participants to understand that all they needed to commit was 100 minutes to learn how to become a modern seller–someone who uses social media to improve their chances of exceeding quota.

These enablement sessions will increase awareness of the impact of social selling. These sessions will focus on how to use Twitter, LinkedIn, and blogging for sales, how to improve your social media profile, and how to create your unique listening platform. The sessions will demonstrate the potential of using social media to prospect and prepare, make the first customer contact, and drive live event attendance. You can then schedule more profound one-off educational workshops.
Schedule Ongoing Social Selling Office Hours. A one-time training program is one thing. However, you need a way to answer endless questions and update the team. There will always be questions. Answering 10,000 emails (literally, it seemed like SAP had 8,000 salespeople) does not scale. So, hold monthly workshops to engage your selling community with current social selling strategies. At these meetings, answer social selling questions, provide a key selling strategy presentation (e.g., "How To Use LinkedIn To Prospect", "How To Use Twitter To Engage With Your Customers"), and current best practices with sales executive guest speakers.
Develop a Social Selling Case Study Story Book. Ensure your social selling-related case studies, best practices, and "wins" are passed on to the entire sales organization with a Social Selling Case Study Story Book. This book can take the form of a PDF or can be uploaded to your social selling community intranet page. Set an attainable goal, such as 100 new case studies by the end of the year.
Create On-Demand Social Selling Sessions. Record everything you present and turn it into on-demand lessons! Embed these social selling program training recordings into a repository that employees go to access education and training. This approach will help others to learn on their own terms.
Integrate Your Training Into Your Company's Education Platform. Most B2B sales organizations have something similar to a Sales Academy, a destination that trains new reps and refreshes the skillsets of the current sales team. Today, most sales academies equip sales executives with social selling skills at the beginning of their careers. In a way, they create the selling songbook, so everyone sings the same sales tune. Work closely with your sales academy to integrate Social Selling enablement sessions early into their training program.
Partner Social Media Office Hours. Partners are critical to many sales organizations. They feed much of the pipeline in software and consulting brands. To help scale your social selling program, develop a similar approach targeting your Partners. It's easy enough to reuse and syndicate materials for this ecosystem to enable increased use of social selling awareness adoption. I have hands-on experience which shows this pipeline-accelerating strategy works.
Leverage Social Intelligence with Account-Based Marketing. What's the best way to start a sales conversation? Add value and build trust. Consider tying in social media-driven listening to develop a social intelligence program. This type of program uses a listening dashboard to translate consumer-driven buzz based on company, industry, and category into seller conversation starters. This is a more advanced approach that can be built out in the third or fourth year of your program.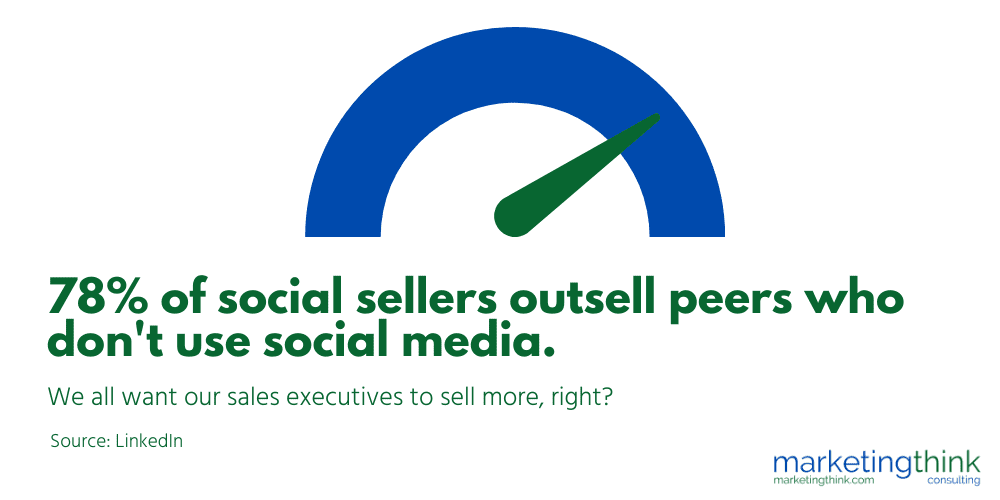 Let Us Help You Develop and Expand Your Sales Program to Include Social Media
There are many parts to building social selling experience. You don't need to add all of them, but you need to figure out which ones make sense for you to use. We're here to help. Here are a few blog posts from marketingthink.com to jumpstart your program:
Key Questions to Ask About Using Social Media to Sell
During my ten years at SAP and Cognizant, and the additional ones running Marketingthink Consulting, I worked with over 5,000 sales professionals, training and building scalable social selling programs. I was able to turn many 'this is not my job' to 'this program has helped me achieve quota'. My hands-on leadership experience taught me to make sure you ask these questions when building and running your social selling program:
Do you have executive sponsorship for your social selling program? Without support from a sales leader and another high-ranking company member, your program won't have legs. Walk this sponsor through the program. Get their input. Ensure the metrics make sense to them, even if they don't make sense to you initially.

Do you have a story to tell to sell your program to drive company adoption? I've found that simple goals (e.g., program participants, more sales professional LinkedIn profile visits, or higher LinkedIn Social Selling Index scores) are a great place to start. Report on these goals and call out key sales team stories.

Do you have a pilot group to hand-hold and establish as the gold standard? Working with a small team of 5-10 sales professionals with hands-on training will keep this team going quickly. Pick the strongest team that currently uses social media in their sales strategy. Then call out their success stories in a 'Success Book' using their personal stories, quotes, and results.
I built my first social selling program in 2011 and scaled it through 2015 when I ran SAP's North American social media marketing program. Why did it take four years? There was a lot of trial and error back then. There were few case studies to reference and even fewer people with hands-on leadership.
Your Next Move to Build a Social Selling Program
So, now you have a few ideas to build your social selling program. You also should understand why social selling is critical to your pipeline's success. If you want to make that next move to enhance your LinkedIn strategy by using the optimal character count in the right areas and need a partner to get you there, then we'd love to help.
Over 21% of brands do not have a program, and 51% of sales professionals have not been trained to use social media to sell. However, most professionals who use social selling improve their quota. So, what are you waiting for?
Marketingthink Consulting, LLC has years of hands-on leadership experience helping brands and sales teams improve pipelines and deals with social media techniques. We want to show you what we can do for you. Make your next move by assessing how your sales team is representing themselves and your company on LinkedIn. As I like to say, you cannot sell your house unless you work on your curbside appeal. Read about our LinkedIn Profile Makeover Service for sales professionals.
Schedule a quick 15-minute meeting with Gerry Moran to move ahead with building your social selling program or presenting a workshop for your sales team!