86% of customers say they would engage with vendors if they provided insights or knowledge about their industry, states LinkedIn. Blogging is an excellent selling strategy and platform to provide these insights.
You are in charge of your personal brand and your sales success. You don't have to be an expert content marketer. You don't have to be a social selling savant. You have to take ownership and find a way to connect with your customer on their terms. You are in charge of your destiny.
You Are In Charge Of Your Social Selling Destiny
When I was young, my dad told me that when I didn't get picked for the basketball team or didn't start in a game, I was in charge of my destiny. He said, "You are the only person that can get it done for you." He was right when it came to playing basketball. I only 'got so good' by relying on after-school practices, yet I was only going to get so far. Yes, I made the team, but never started a game, which quickly got very old. One day I decided to take charge and not rely solely on my support structure. I practiced more, learned more, and differentiated myself. I learned how to shoot with my left hand and dribble behind my back. I took charge of my destiny. I turned my results around – finally starting and then making all-star teams for 9 years straight.
Use Content Marketing and Blogging To Differentiate Your Social Selling Efforts
This same advice and set of results apply to today's sales organizations and your own efforts. Whether or not you use social selling techniques. You need to do what it takes to get it done. And, blogging is one key tool to help your personal strategy.
Hubspot states that B2B companies who blog generate 67% more leads per month than those who do not blog. This statistic alone should motivate sales teams to take control of their leadership development strategy by introducing blogging. They also state that 82% see a positive return on blogging efforts.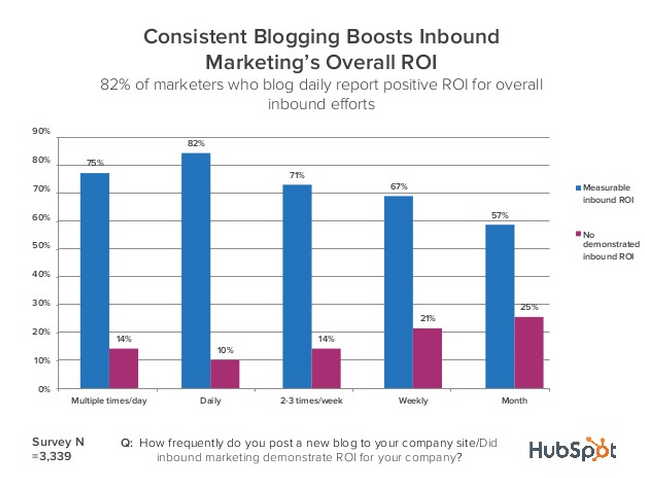 Can you imagine walking into a sales appointment or bumping into a client at a trade show and have them reference a great blog post you wrote? A blog post that addresses deeper customer issues and information. A blog post that does not sell. THIS social selling moment is nirvana … and will lead to a deeper relationship and a greater chance to help frame and close a more lucrative sale.
5 Ways to Use Blogging for Social Selling
Where do you find blogging ideas if you are a sales representative? Just look in your email inbox or your most recent customer conversations. TMG Custom Media reports 78% of consumers to believe that organizations providing custom content are interested in building good relationships. A sales representative-generated blog post is a great step toward generating custom content. Consider these five sources of content marketing for your social selling strategy:
1. Questions your clients are asking. Have you been asked the same question again and again by your customers and prospects? For example, "Why is cloud computing important to a non-profit company?" When a question is asked more than three times, it's time to write a blog post to answer it – backing it up with personal experience and research. This content destination can become your 24-7 relationship builder. TIP: Make a list of the 10 most popular questions you receive from customers and write ten 300-500 word posts to answer them.
2. Questions your clients should be asking. Many customers don't know what they don't know. When you can present the questions they should be asking, you have a consultative approach and help them vs. sell to them. This approach will help to position you as a solver vs. a seller. Pass on this blog content type before you meet a client or follow up for when you leave the appointment. TIP: Make a list of questions that support the benefit statements for the products or services you sell.
"Don't get me wrong, sharing content is a great thing. When you begin social selling, it's one of the first things you'll want to do to stand out," says Amar Sheth on the Sales for Life blog. "But at some point, you must create your own content. The power of your own thoughts on a subject matter is vital to your building a personal brand. In my mind, these two are inseparable."
3. Current industry research customers should consider. Read your email, review your Feedly feeds, or pull statistics from the Wall Street Journal and develop a 300-word blog post on why this statistic is important to your client or their industry. When you leverage secondary research, you build your credibility by explaining why someone else's statistics are relevant to your customer. TIP: A 300-word post takes no more effort than a well-crafted email.
4. Current trends in the industry or category. Current trends are always a great conversation starter, and many times customers are not paying attention to them or keeping up with them. Take the time to understand the current trends identified in trade publications or thought leaders to map them to your customers' needs. TIP: Create a Twitter list of thought leaders or trade publications to follow real-time trends quickly.
5. Explaining complex issues in an easy-to-understand way. Explaining a complex issue, like the cloud or big data, with a story or an easy-to-understand way is a gift that can keep on giving for you. If you take the complex and make it consumable with a simple blog post, then you can become a go-to resource that will move you into the circle of trust. TIP: Explain your POV to your significant other, your kids, or your grandmother to see if THEY understand it. If they do, then write it down.
These five buckets are only a starting point. Do you have other content sources you have used for your social selling strategy? If so, please share below. Or, contact me at gerry@marketingthink.com.
Writing content mapped to each of these buckets not only helps you help the customer but also trains you to be a master of your craft. Working on clearly articulating your POV and expertise will elevate you to a social selling winners circle. Take control of your own destiny and be an all-star on your sales team.