You can lead a customer to your brand with social media, but you can't make them buy from you using social media. This is my B2B marketing advice.
In other words, social media does not fit neatly into a B2B marketing strategy and last-touch attribution. So, don't think you can tweet and directly cause a million-dollar sale. However, you can get on the customer's radar and start to build a relationship with relevant content and messaging.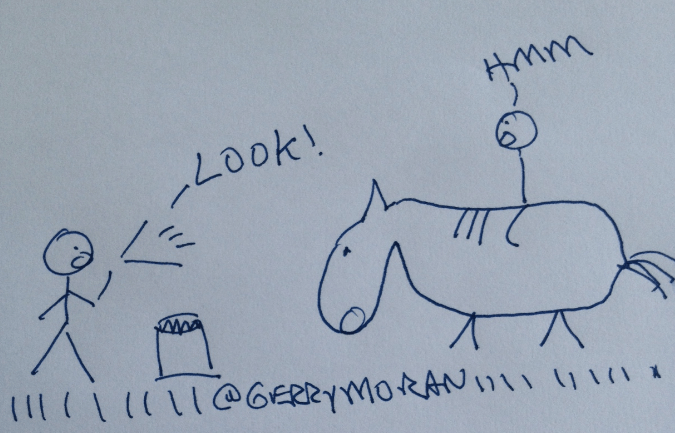 Get Your B2B Decision Makers To The Watering Hole
So, if you want your customers to start drinking from your fountain of knowledge, you need to get them to the fountain first. That's social media's job for B2B marketing and sales conversion; to make your customer aware of and consider your brand and solution. With 89% of customers using a search engine to start their buying process and 75% of decision-makers using social media as part of their discovery, we all need to focus more on delivering content via social media to increase awareness. Sales conversion is best left for social selling, and 1-1 interaction since email marketing and banner advertising do not work like it used to!
It's a Numbers Game. No Matter How You Look At It
The number of watering holes and digital touchpoints has dramatically changed over the past five years. B2B customers are no longer waiting for you to send an email or serve up a banner ad. They are learning on their own. Customers are investigating LinkedIn groups and networks, reading blogs, following Twitter accounts, and Liking LinkedIn posts. Amplifying your information and content in these watering holes will help you reach an audience on their terms. Think about increasing your message reach and impressions to get your customer to know that YOUR brand is relevant to them.
Some Brands Understand Social Media Content's Sweet-Spot. Why Don't You?
Some companies, perhaps yours, are picking up on doubling down on social media and its impact on awareness, engagement, and influence sweet spot. In fact, 47% of CMOs have stopped measuring social media success using a revenue-per-customer metric (source: February 2013 Business Intelligence CMO survey). And, this same report indicates that 16% fewer CMOs are tracking conversation rates. So why is anyone trying to attribute social media to driving a sale? However, social media is an important ingredient in the multi-ingredient conversion recipe.
With social media budgets expected to increase by 78% by 2018, the smart brands and CMOs are truly investing in social media. This increase will help direct digital marketing, social selling, and paid media to work more efficiently convert sales.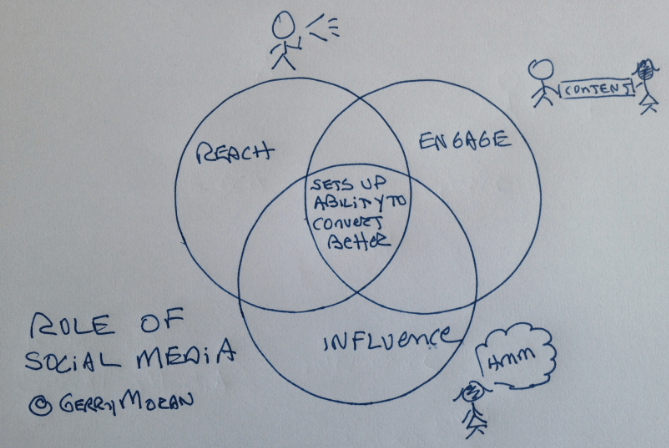 Measuring Reach, Engage and Influence For B2B Marketing
So, how do you measure if you truly connect with your customer? Once you choose to focus on using social media to reach, engage and influence, how do you measure it? The questions you need to ask before you begin to decide are the social media activity indicators like retweets, shares, clicks, etc. are:
Are your content and messaging reaching the most relevant and incremental audience?
Are your content and messaging engaging enough to keep your audience in a ready-to-act or ready-to-buy state?
Do your content and messaging deepen the relationship with your customer to help influence their purchase?
Where are you or your company landing on effectively using social media to drive demand, leads, and sales? Please share your experience or plans below. Or, contact me directly at gerry@marketingthink.com.
Remember, you can lead a horse to water, but you can't make them drink. However, you have to let them know where the water is to get them there, so they have to choose to drink. And, getting them to drink is another part of a B2B marketing integrated strategy!