Do you leverage your personal branding to position yourself as a subject matter expert? Your executive presence? Your messaging's reach? Your conversational engagement on LinkedIn and other platforms will elevate your expert positioning.
B2B buyers value subject matter expertise as the top consideration when evaluating professional services firms. These results have increased 56% since 2018. My experience shows these considerations are the same for software and other B2B products.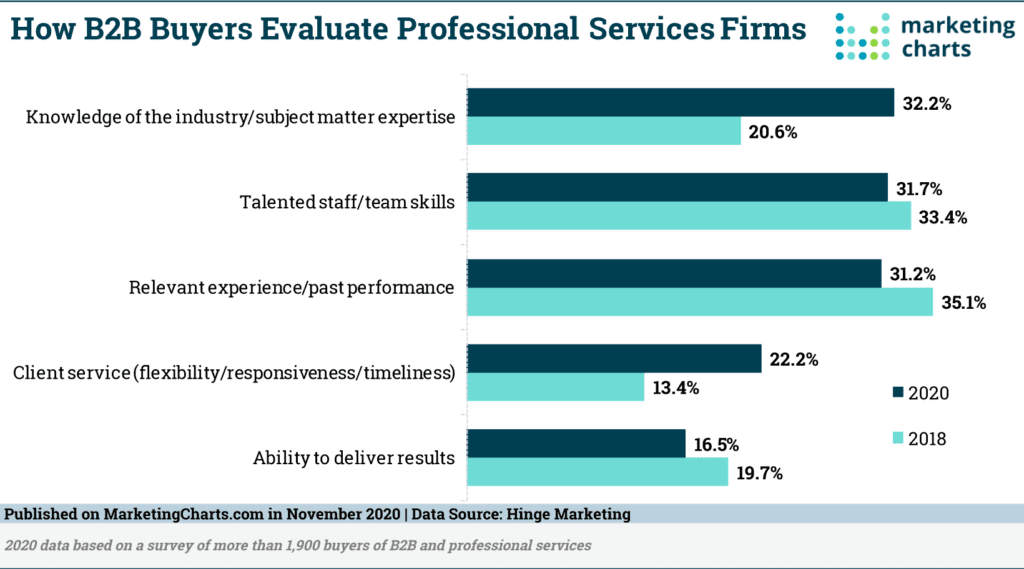 Source: MarketingCharts.com
It's interesting why some of the importance of some variables have decreased—perhaps attributed an increased reliance on subject matter expertise.
The power of your personal social brand impacts the effectiveness of your overall marketing, selling and social strategy and activity. The more visible and more acknowledged an expert you are, the greater your chance of achieving success will be. Forbes reports 44% of companies use buying teams to research and finalize purchases. So being a little more omnipresent with your expertise will help you be a force multiplier with an ROI!
An important start to establishing your presence and expertise is to use LinkedIn as your branding hub. Especially since 54% of B2B buyers 'shop' on LinkedIn. Being found and extending your content and messaging is key!
Your Personal Branding Strategy
Establishing your credibility and awareness is important to become part of the new buyer journey. You can't be part of that early-funnel conversation unless you can be found and have a value-add point-of-view. That POV helps a customer solve their problem vs. just selling a solution. 59% of B2B buyers prefer to do research online. They dislike engaging with a sales rep because they push their own agendas. So, changing the early sales-cycle approach is critical.
In a prior post, I reviewed how to keep a LinkedIn profile active and relevant to help establish and maximize your visibility and expert positioning. Here's how to measure how many times your LinkedIn profile shows up in search and the impact of your content and messaging.
The power of your personal social brand impacts the effectiveness of your overall marketing, selling, and social strategy and activity.

Gerry Moran
5 Ways to Measure Your Influencer Marketing Impact on LinkedIn
1. Get your LinkedIn Profile to show up on search more
The more times your LinkedIn profile shows up in search, the greater the chances of you getting noticed! LinkedIn reports that about 50% of user profiles are not complete! Don't be in THAT group! Keeping your profile's headline, summary, and job experience current and refreshed with relevant key words will increase the number of times you show up in search.
2. Increase the potential reach of your personal brand
Daily updates and LinkedIn Group updates will increase your potential brand impressions. When you send out a LinkedIn update, the more your followers will see your message. 2nd-level and 3rd-level network contacts see your "smart" posts and will potentially click on your content and ask you to connect with them!
3. Increase the number of times your LinkedIn profile is viewed and considered
Many things affect profile views, ranging from who you just may have met to the quality of content you distribute on LinkedIn. When your weekly profile views increase regularly, then you know you are doing something right on LinkedIn. If your profile views are not increasing, then you should be prompted to alter the quality or your content updates, profile, and group activity.
4. Increase the number of LinkedIn endorsements you receive
When your network sees regular updates with great content, then you are likely to come to mind when they have the opportunity to give you a Skills and Expertise endorsement. Skills & Expertise endorsements are key drivers that impact your search results, ranking you higher, in the consideration of the searcher.
5. Increase the number of LinkedIn invites you receive
People like to associate themselves with people who will both increase their knowledge base and connect with them with others. Your inside-LinkedIn activity and your outside-LinkedIn activity, such as thought-leader blogging, speaking or networking, should lead to an increased number of people who want to connect with you.
Here's Some Additional Insight to Help You Be Stronger at B2B Influencer Marketing
Do you have other measurable ways that impact your personal branding strategy on LinkedIn? If so, please comment below, or email me at gerry@marketingthink.com.
Follow these simple ways to see if people are finding you and if your expert positioning is valued. If you are not showing up in search, people are not reading your updates. If you are not receiving invites or endorsements, think about adjusting your approach. Believe me … this works!