B2B social media influencers can help small businesses, big brands and people reach an audience they cannot typically reach with their own marketing and messaging.
So, why wouldn't a marketer want to find and set up a relationship with influencers to help them reach their business goals?
Many brands focus on two sets of social influencers—bloggers and social media users (e.g., Twitter and Linked). By connecting with each type of influencer on their terms, you can amplify your story. You can connect with those people who may not know about your brand. This strategy is nothing new or spectacular. However, like a recipe, one might have the ingredients, but it's the way that the dish is cooked that makes it taste great! So goes executing an influencer program. Knowing how to mix the ingredients of seeking, finding and engaging with social influencers to strike a mutually beneficial relationship.
Forrester Research reports that no one influencer has more than 30% of total power through the (technology) purchase process. With the influence spread among many, it is important for your company to find a social influencer set and use them to help extend your message. It's inexpensive, authentic and powerful way to grow your business' footprint.
5 Tips Work With Your B2B Social Media Influencers
Here is an easy to implement social influencer plan infographic. You can start working on your influencer program today!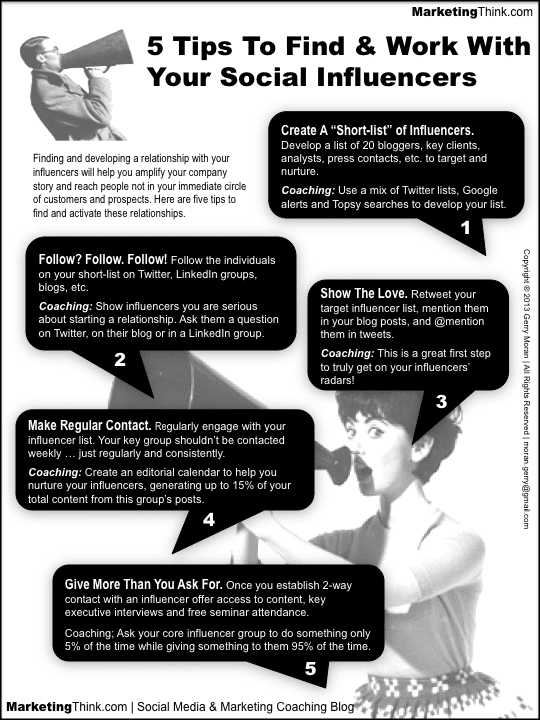 Do you have an influencer success story or a few tips for connecting with influencers? I want to add your tips to this infographic. If so, please share below! Or, reach out to me at gerry@marketingthink.com.
I hope I had some influence on you today to get you to start influencing your influencers! Good luck and please let me know if I can help!