The number one mistake you are making with LinkedIn is the generic use of LinkedIn invitations – invitations and responses to invitations. If you are not leveraging this feature, then you are leaving 'relationship currency' on the table. Using LinkedIn invitations is the best way to start, revive or expand your business connections to help you build your social brand.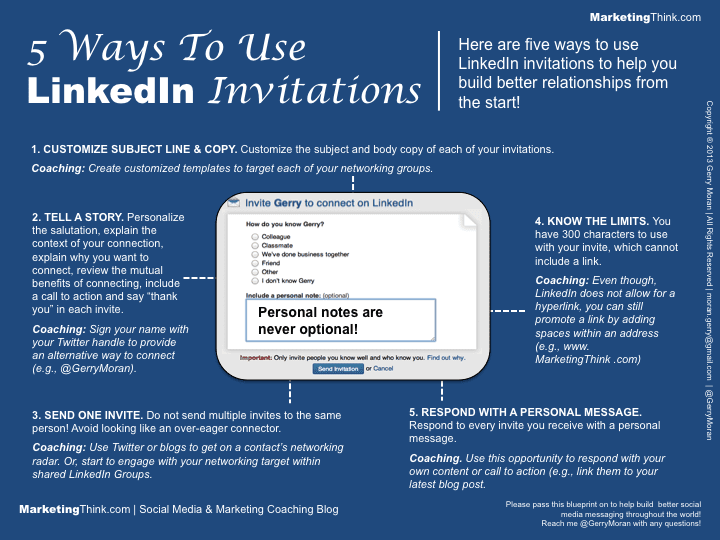 90% of the invites that I receive have generic LinkedIn-provided headlines and copy. Since LinkedIn provides each member with 3,000 invites to 'last a lifetime', you have plenty of chances to make a terrific first impression. With a 300-character limit on LinkedIn invitations, you have at your disposal, an essential social branding tool for your networking and social selling. Even with the new "Good to find you on LinkedIn", there is an enormous opportunity to make your LinkedIn invitations more personal.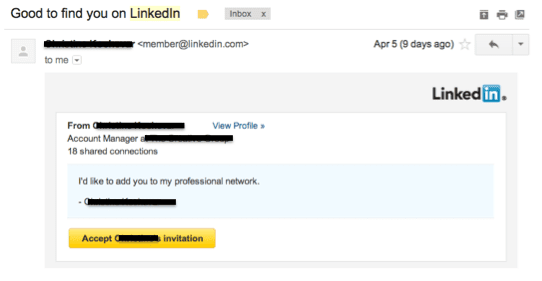 5 Ways To Use LinkedIn Invitations To Build Your Social Brand
1. Customize Your LinkedIn Invitations Copy And Subject Line. You need a "LinkedIn pick-up line" for each of your potential "networkees". Bosses, past co-workers, customers and others require a different networking approach. Customized invitations help provide context to your contact request and help you 'make the sale'.
Coaching: Create customized templates for each of your networking groups.
2. Tell A Story With Your LinkedIn Profile. LinkedIn invitations need to include a personalized salutation, an explanation of the context for your connection, an explanation of why you want to connect, a review the mutual benefits of connecting, a call to action and a "thank you".
Coaching: Sign your name with your Twitter handle to make sure your contact knows that you can be reached in other ways.
3. Do Not Send More Than One Invite. Do not send multiple LinkedIn invitations to the same person so you don't look like an over-eager connector. If you do not receive a response from your target, then use other social media platforms, like Twitter, to get on their networking radar.
Coaching: Start to engage with your networking target within shared LinkedIn Groups.
4. Work Within LinkedIn Invitations Limits. You have 300 characters to use in your invite. You can never include a hyper link in an invitation.
Coaching: Even though, LinkedIn does not allow for a hyperlink, you can still promote a link by adding spaces within an address (e.g., www. MarketingThink .com)
5. Responding To LinkedIn Invitations. Don't just click that accept button when you get an invite!
Coaching: Use this opportunity to respond with your own content or call to action to take people to your other social media accounts, blog or article they might find of interest.
If you liked this LinkedIn post, please enjoy these other posts to help you fine-tune your social brand profile for when your new contact checks you out!
Do you have other LinkedIn invitation tips and tricks to help you make a strong connection to grow your network? Please share your experience (screenshots welcome!) below or contact me directly at MarketingThink.com or tweet me @GerryMoran.
It is extremely easy to turn your biggest LinkedIn mistake around! Take the time to introduce yourself, explain why you are connected and why it would be good to connect. And, respond to each of your invites to move your business relationships to the next level! Oh, and please connect with me on LinkedIn … using your best invitation skills!
PS. Do you want to help your social tribe build their social tribe? Please pass on this blog post, Your Biggest LinkedIn Mistake Can Be Easily Fixed, to them!