I had an executive coach while working at HBO back in the early 2,000's. One of my key take-aways from my coach was that emotional intelligence (EI)  is one of the  keys to success. Social Media has since exploded and now has become native behavior for everyone, including big brands and companies. This explosion continues to challenge the limits of EI.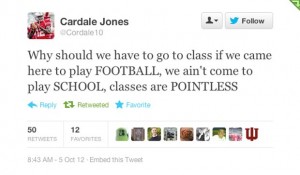 This week alone shows how Cardale Jones, Ohio State foot ball player, doesn't like to do homework and the Kitchen Aid social media manager likes to tweet from the couch during debates. Both "tweeters" were not respecting the power of Twitter or exhibiting EI!
Whether you are a social citizen or a social media manager for a brand, you need to embrace your responsibilty for the power of social media … or you will make it on the Today Show … perhaps your last gig for a while!
@GerryMoran
Follow @GerryMoran