With great social media power comes great social business responsibility! Clark Kent, Bruce Wayne and Britt Reid all used their super powers on some level whether or not they were wearing their cape, bat ears or green mask. You are a key part of your company's social business strategy. You must use your social media power to make your social business world a better place!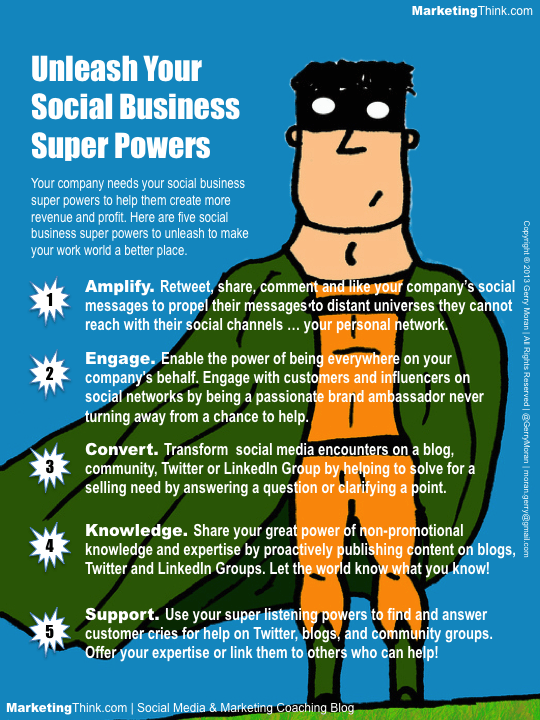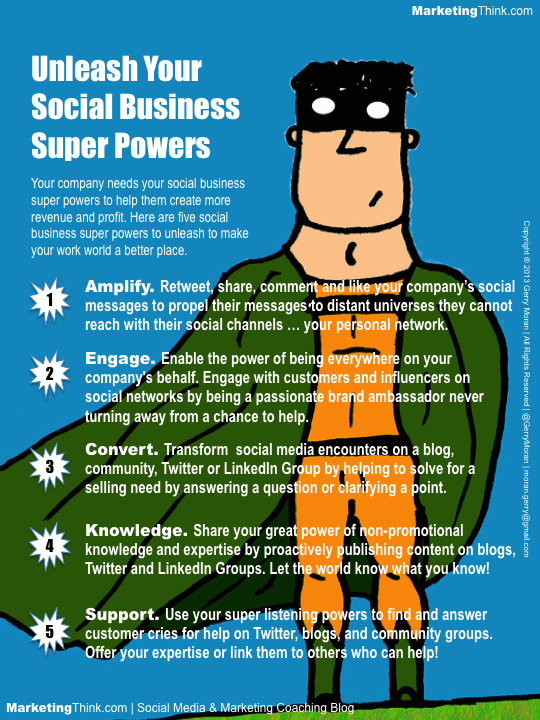 We are in the "infancy", "just beginning" and "early days" of social business says a recent MIT Sloan study. This 2012 research study reports that 52% believe a social business is essential to their operations today, with 86% of managers believing the importance of a social business will increase over the next three years.
Sandy Carter, VP of Social Business Sales and Evangelism at IBM, stated in a 2011 Forbes interview, "A Social Business isn't a company that just has a Facebook page and a Twitter account. Social Business means that every department, from HR to marketing to product development to customer service to sales, uses social media the way it uses any other tool and channel to do its job. It's an organization that uses social networking tools fluently to communicate with people inside and outside the company. It's a strategic approach to shaping a business culture, highly dependent upon executive leadership and corporate strategy, including business process design, risk management, leadership development, financial controls and use of business analytics. Becoming a Social Business can help an organization deepen customer relationships, generate new ideas faster, identify expertise and enable a more effective workforce."
Whether you are trying to empower your employees, or you are an employee looking to harness your social media super powers, it is vital to understand where to start to develop these powers so you and others can be effective internally and externally with your company.
5 Ways To Harness Your Social Business Super Powers
Your company needs your social business super powers to help them create more revenue and profit. Here are five social business super powers to unleash to make your work world a better place.
Amplify. Retweet, share, comment and like your company's social messages to propel their messages to distant universes they cannot reach with their social channels… your personal network.
Engage. Enable the power of being everywhere on your company's behalf. Engage with customers and influencers on social networks by being a passionate brand ambassador never turning away from a chance to help.
Convert. Transform social media encounters on a blog, community, Twitter or LinkedIn Group by helping to solve for a selling need by answering a question or clarifying a point.
Knowledge. Share your keen power of non-promotional knowledge and expertise by proactively publishing content on blogs, Twitter and LinkedIn Groups. Let the world know what you know!
Support. Use your super listening powers to find and answer customer cries for help on Twitter, blogs, and community groups. Offer your expertise or link them to others who can help!
Have you developed another social business super power? Please share your social media power below so we can make the world a better place! Want to keep your identity a secret?  Then please contact me directly at MarketingThink.com or tweet me @GerryMoran.
If you enjoyed this post, check out these other ideas to help you further develop your social business super powers:
Building a tribe of social business super heroes is the key to business success over the upcoming years. Understanding how to use social media is a start, but using your powers to help your business answer prospect questions, solve customer problems, amplify their messages and to leverage your knowledge to help others is they key to being a social business super hero and putting a little WHAM, POW and BAM into your results!
PS. Unleash the roadmap to develop social business super powers to your tribe and pass on this post, Unleash Your Social Business Super Powers