If Twitter was available to our favorite Game Of Thrones characters, we might still be enjoying Ned Stark and his family! Twitter is THE choice when it comes to delivering your messaging, especially if the other choice is a messenger-raven of Westeros. Twitter has reach, the ability to interject personality and can even be used for private and direct messaging. Unlike the messenger-ravens of Westoros, whom only the likes of Lannisters have access, Twitter is available to everyone who makes a choice to learn how to use it.
It's always important to use the right social platform to get your message to the right audience at the right time. That's is a heads-up choice. Otherwise, you might end up like Rob Stark and his mom being in the wrong place at the wrong time … and more of a heads-off result.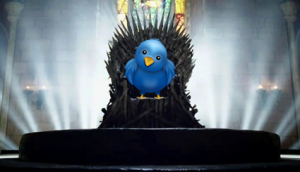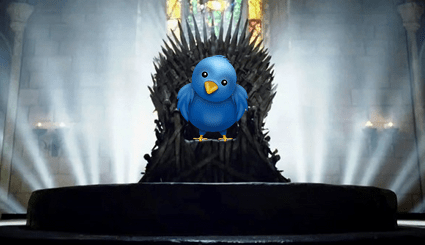 8 Reasons Why Twitter Is Better Than The Game Of Thrones Ravens
Here is why I strongly suggest against using a communication alternative, like the messenger-ravens, to deliver your news. Move toward adopting Twitter as a key platform for your business voice, communication and content delivery.
Twitter Is A Smart Choice To Help Your Message Cut Through The Clutter.

It is true that the ravens of Westeros are uncommonly intelligent animals that can be trained to serve as messengers. A message can help conquer your communication goals if you learn the basics and advanced tips and tricks of Twitter.
Twitter Has Unbound Geographic Reach.

Yes, these messenger-ravens fly great distances across the seven kingdoms. However, Tweets can have unbound geographic and reader-reach with the right structure, tone and wording.
Twitter Can Target Your Audience With Private Messages.

The Game Of Thrones ravens pass messages between a select amount of castles and cities, such as Kings Landing and Dragonstone. However, Twitter can be used to send private and direct messages. A feature Ned Stark could have used. 
Twitter Only Requires A Small Amount Of Training.

Ravens of Westeros require complex training to help deliver messages from almost any castle to another. Getting a Twitter account up and going is as simple as opening an account and starting to Tweet.
Twitter Does a Great Job of Communicating Your Tone With Short Messages.

Most messages delivered by Westeros ravens are standard and innocuous. Many Tweets are like this too, but they are perfect for delivering news and content. I'd expect Tyrion Lannister would have been a great Tweeter … for obvious 140-character reasons!
Twitter Uses Links To Connect Readers With Additional Information.

Some raven-delivered messages are linked to more messages while other messages are linked to bad news. Theon Greyjoy could have used a message to forewarn him about his bad news. Like the messages from the Game Of Thrones ravens, many Tweets contain links. Twitter links readers to key information immediately and not having to wait for other messages.
Twitter Lets You Get A Targeted Message To A Reader Even If They Don't Follow You.

Most ravens of Westeros can only be trained to fly back to a specific castle when they are released. A Twitter Reply or Mention, on the other hand, can reach your intended target even if they are not following you. Also, select ravens can be trained to travel across many castles, which means that Jamie Lannister can get his message to two or more kingdoms at one time. However the properly trained Twitter user can use hashtags and keywords to make sure their message reaches the targeted masses!
Twitter Lets You Use Your Own Voice.

The messenger-ravens of Westeros often replicate simple human speech, which may seem very powerful. Twitter, on the other hand, lets a user's voice be heard to make sure their intended point is made. Unless of course, we consider Twitter users who retweet and do not add their own twist to their message.
Can you think of another way that Twitter could have saved your favorite Game Of Thrones character? If so, please share below or contact me directly at MarketingThink.com or on Twitter @GerryMoran
Here are some Twitter tips that will help you from losing your head:
Choosing Twitter to communicate is a "heads-on" move and will help you be the master of your digital domain! Yes, Twitter if for the birds. Just pick the right one!
Follow @GerryMoran