Who's ever been covered in confetti – like the aftermath of the New Year's celebration?
A ton of confetti dropped from the roof-top and spread over a block of people has a much different effect than unloading a pallet of paper in the middle of that one block.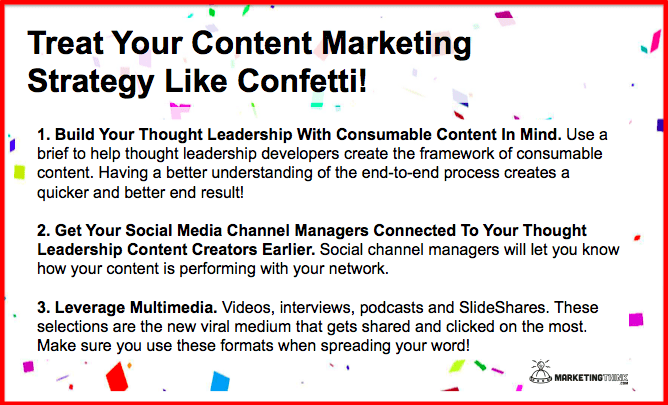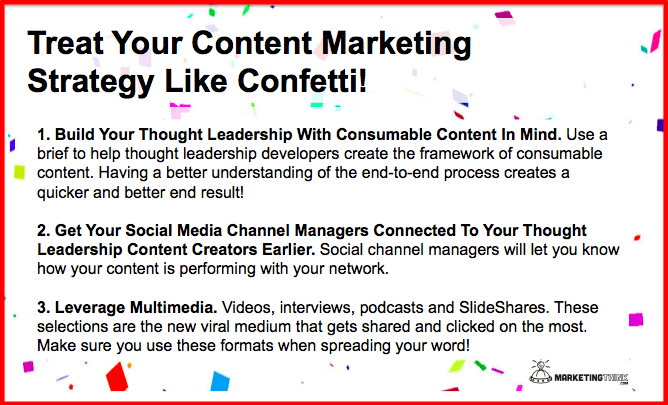 The same effect goes for thought leadership content. No one enjoys one big source of hard-to-consume content.
One 18-page white paper placed on your company website can only be so effective. However, the same content chunked up into infographics, videos, Tweets, LinkedIn posts, short blog posts and other short-form consumables will reach more people over a wider network.
The challenge for the typical business is to find a way to repurpose efficiently and multi-purpose thought leadership content. Content marketing professionals need to meet the needs of the multiple members of the team over the course of the buying process.
The Reams Of Research Tell Us More Customers Are Looking For Shreds Of Content
IT decision makers typically consume an average of 10 pieces of content during their buying process, so you need multiple sources of content that support your same value proposition. (Source: IDG)
It costs up to 7 times more to acquire a new client than retain an existing one, so your thought leadership needs to help sustain that long-term customer relationship. (Source: Bain & Company)
B2B decision makers find their content from multiple sources. 68% find from search engines. 40% discover directly from your website. And, 25% from clicking on social media or emails, indicating the need to distribute your content in multiple ways (Source: CMO Council)
This research suggests the need for companies to map their content marketing strategy to the decision makers' native behavior.
3 Ways To Treat Your Content Marketing Like It's Confetti
1. Build Your Thought Leadership With Consumable Content In Mind. Use a brief to help thought leadership developers create the framework of consumable content. Having a better understanding of the end-to-end process creates a quicker and better end result!
2. Get Your Social Media Channel Managers Connected To Your Thought Leadership Content Creators Earlier. Social channel managers will let you know how your content is performing with your network.
3. Leverage Multimedia. Videos, interviews, podcasts and SlideShares. These selections are the new viral medium that gets shared and clicked on the most. Make sure you use these formats when spreading your word!
Do you have another way to leverage your content? If so, please share below!
The Big Lesson With The Confetti Content Approach
Companies need to think about how to leverage their thought leadership by separating it into multiple formats like video, LinkedIn posts, blogs and infographics – to win at the social selling, social business or content marketing.
So, start shredding that thought leadership into a strategy that reaches across your network. If you do it the right way, then there will certainly be something to celebrate!
P.S. Your Next Steps! I am the author of MarketingThink.com, a social media and social selling coaching blog. Please sign up for email delivery of my posts and pass this sign-up link to your friends and co-workers, who you think might benefit from reading these ideas.
P.P.S. If you want to get hold of me directly, please send me an email to moran.gerry@gmail.com or contact me directly on MarketingThink.com. I read every email.