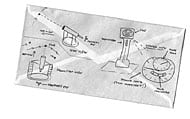 How can you easily measure social media ROI or social media metrics?  Call me old school, but I love the envelope when it comes to that question. The envelope is so versatile. Use your envelope to mail a birthday card (and I need to mail more birthday cards), serve as a temporary coaster for your coffee or beverage of choice, or to scribble a quick calculation!  I am sure that you have heard the phrase, "back of the envelope calculation.". I have used an envelope to make this type of quick multiplication, division and, yes, algebraic estimation many times for insurance questions, Costco purchases and even SAP social media marketing campaign performance estimation. The back of the envelope is a great way to calculate basic social media insights.
9 Social Media Metrics Calculations For Twitter and Facebook Marketing Performance
Here are 9 back of the envelope calculations to help you develop quick insight into your social media marketing performance:
1. Are Your Facebook Fans Really Interested In Your The Content You Are Posting?

I like this metric because it answers your followers' question "I've liked your Facebook page, but am I motivated to stay engaged with it"? A Facebook page can be compared to a library. A successful library is not based on the amount of registered membership cards. Success is measured  by the amount of  times the users return to borrow books!  If no one showed up again, then the library would have no reason to be in business. In fact,a study by Rubinson Partners and Compete, examined Facebook activity over 60 brands during a four month period  and found that less 5% of users returns to a brand page within 30 days of having 'liked' it.
This people are talking percentage, which should be between 2-5% for your brand or page, indicates if you are giving a reason for your followers to engage with you outside of returning to your page!
2. Is Your Twitter Content Relevant Enough to Maintain Interest With Your Followers?

Content is king. If your content is 'royally relevant', then you will keep your followers engaged and returning for more! With more returning followers your will you will grow the size of your networks due to the content pass-along effect. The question in back of your followers' heads is "I've decided to follow your analytics page, but are you really giving me relevant content?" Make sure that your percentage of your Twitter and Facebook unfollowers is decreasing on a month-over-month basis, vs. overall number unfollowers. This decrease lets you know your content marketing strategy is headed in the right direction.
3. How Sharable (and super relevant) Is Your Twitter Content?


Sharing social media content is the biggest vote of confidence that you are creating relevant information! It's like the icing on the content cake! You want your followers to say to themselves "I value your retail content enough to pass it on to my own network. It's my vote of confidence!". You will want to target your monthly RT total to increase.
4. Is Some Of Your Twitter Content More Interesting And Valued Than Other Types Of Your Twitter Content?

You want to be able to compare the relevancy and value of your content on a relative basis vs. a gross-number basis. After all … fair is fair. This calculation will help you rate how your followers value your editorial vs. other brands editorial, so you can then decide how to optimize your messaging. Your goal should be to increase retweet per tweet your month-over-month ratio.
5. How Much Of Your Facebook Messaging Is Actually Being Seen By Your Followers?

If you build it (your Facebook page) and they come does not mean the will ever come back again to your Facebook page. 95% of Facebook Likers never return to a brand's page. This low revisit-number means that you have to make your content work harder to break through into your followers' newsfeed. This activate is never easy. Only 15% of your Facebook messaging, a statistic directly reported by Facebook, ever makes it through to your followers' news feeds. Make sure to leverages video, graphics and other ways to break through to at least 25% of your followers feeds.
6. Are Your Tweets Really Interesting?

Your followers see your tweets. They see a lot of tweets. So, how do they place their vote for the most valuable and engaging? With clicks. At SAP,  we measure Twitter engagement in two ways – by those who click curated-content (i.e., clicks to Wall Street Journal, Business Innovation content) and those that click with a call-to-action in a campaign. For both types of campaigns we can determine how engaging these tweets are and if they are performing well against our 105 clicks per tweet benchmark.
7. Is Your Following Strategy Too Needy?

Why is it that you when follow someone in your industry but they do not follow you back? You can't start to improve on this challenge until you know how many are not following you back. It's not that you want everyone to follow you back. However, you do want the potential influencers to follow you. Take this percentage and move toward a smaller percentage month over month by employing an influencer outreach strategy.
8. Are You A Follower And Not A Thought Leader?

Perception is a reality and your position as a thought leader needs to be managed! How can a ratio help you with that "what people think of you" management? By having ratio between 2 and 3 you are moving toward the right amount of people that you follow. For instance, the @SAPNorthAmerica account has a ratio of 6, so it is certainly perceived to be a thought leader and a resource that adds value to the B2B social conversation. You want to avoid being too unattached (i.e., all followers and no one that you follow) since that is not supporting the 'dialog' or 'two-way conversation strategy. Someone who looks at your follow-to-follower ratio and sees a nice balance of the two will think that there is the potential for a great relationship vs. being just tweeted to.
9. Are You Paying Attention To The Faceook Posts That Your Followers Like Best?

Yes, the people are talking number is a great indicator if your collective content is engaging. However, what do you do if you want to start to maximize that engagement? Start by bucketing your content into 3-4 types: video, graphics, pictures, polls and text. By following the above formula, you can determine what type of content is driving interaction among your Likers. With this insight, you can answer your followers need for a particular type of content and requests to "give me more".
Please leave a comment below or contact me directly on MarketingThink.com if you need help with some of these back of the envelope social media performance calculation! Or, you may have some more of your own!
Good luck on turning your Twitter and Facebook marketing around and giving a second life to that envelope on your kitchen table! However, for the meatier and more in-depth decisions, I rely on professionals and deeper discovery.
Follow @GerryMoran