You have graduated college and started your job search, but do you know what social media super powers today's hiring managers expect? The pressure is on for college graduates and Millennials. Hiring managers over the age of 32 expect you are a social media expert and can immediately help their business because of this "super power".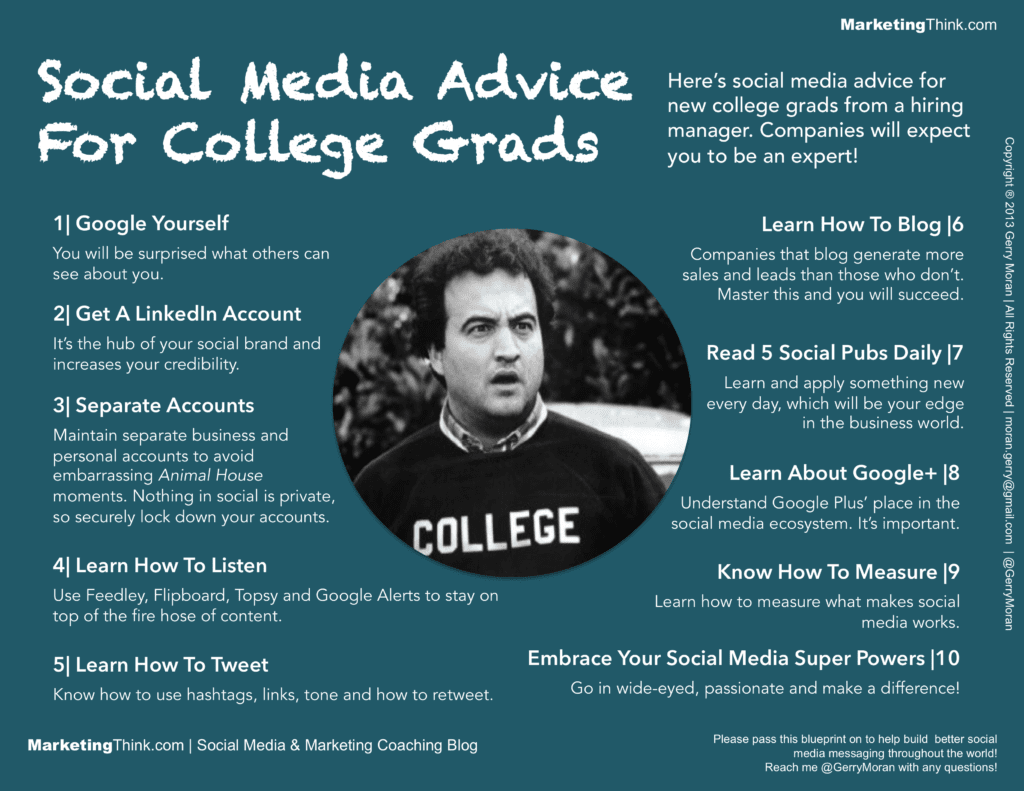 Is this expectation scary? Even if you are not applying for a social media job, the expectation is still there. Do you know how to write a Tweet? Can you connect a business problem with a social media campaign? Have you even ever read a blog? Of course, it is. scary. Your Marketing 101 teacher only taught you (or knew) so much. Now it's time to connect your social media savvy with the job at hand .. or at least the job soon to be in hand.
I've been a hiring manager for over 20 years in the advertising agency work, for IKEA, for HBO and most recently for SAP. In my current role I lead social media marketing for SAP in North America, so I speak with hands-on experience. I just hired 3 social media savvy Millennials in the last 12 months.
Consider my advice to help you fulfill future company expectation's of your social media skill set. It's time to move beyond Facebooking, Tweeting and Instagramming with your friends.
10 Pieces Of Social Media Advice For College Grads From A Hiring Manager
Do Google Search Of Yourself. After checking out your LinkedIn profile, every hiring manager does a Google search. Are you happy with your Google search results? If not, make some changes!
Get A LinkedIn Account … Today! LinkedIn is your digital hub and the center of your networking universe. When you interviewed for your internship or job I checked out your unimpressive or non-existant profile. Communicate your value and show your great undergraduate work to move to the head of the social media class.
Separate Your Business and Personal Social Media Accounts. I checked out your frat party pics from last semester and loved that skimpy outfit you had on! Fitting into a company's culture is a critical and an unwritten rule. Hiring managers search every social site available to find you before they hire you. They want to understand if you will fit in with the team and greater company culture. You need to create two separate Twitter accounts and keep up your Facebook and Instagram privacy. However, remember that everything you create ends up being dangerously released to the public domain. And, don't reach out to your boss on Facebook. Nothing good ever comes from that. M

ake sure you closely you manage your privacy settings. Coworkers and customers will be checking your 'cred' on all of your social channels.
Learn How to Tweet. Tweeting for business is not the same as checking in with the girls (or guys). Learn about hashtags, links, Tweet-length and tone to help you write the perfect Tweet!
Learn How To Blog. If you know how to blog, then you are telling people who you know how to write (in most cases). Blogging is one key to success in today's business world. It will increase your chances to be hired and succeed on the job. Blogging indicates that you have good communication skills, basic design skills and the ability to tell a story. It's very impressive to a hiring manager that you know how to blog.
Know The Basics Of Social Media Measurement. Understand how you measure reach (how many followers you have), engagement (how many times people visit a page, like a comment, share a message, click on something) and covert (sign up for something as a result of social media. I always ask an interviewee, "How do you measure if something works?"
Learn The Importance Of Google Plus. Understand Google Plus' place in the social media ecosystem, because hiring managers will ask and expect your POV. It's one of my favorite questions to ask.
Read Five Social Media Business Publications. I love to question new hires on "What are your three favorite social media reads?" Besides being able to answer this question, you will also learn and apply something new every day, which will be your edge in the business world.
Learn How To Listen. Learn how to use Feedley, Flipboard, Topsy and Google Alerts to help you stay on top of trends and help you find content to Tweet or put on your LinkedIn status updates. There is a fire hose of content you need to consume, process and use. Master this rush of information to move ahead.
Apply Your Super Powers With Passion. Harness your energy, wide eyes and digital native skills to build your social brand and help to take your company to the next level.
Here are some links that can help you with your post-graduate work:
Do you or your new graduate need a social media tune-up to help equip them for the interviews ahead? I'd be happy to help! Please reach out to me on MarketingThink.com, at 215-817-4085, via email at moran.gerry@gmail.com or on Twitter at @GerryMoran.
Follow @GerryMoran