I found myself at a neighborhood Harvest Party last night in Drexel Hill, PA that was well-attended by many people that I had not previously met. It was a great venue held in a cool little court area in backyard. However, with the right combination of cider, bonfires and live music, we all became friends very quickly. As I have experienced over the years when meeting new people, a great icebreaker is "what do you do for work?" I asked that question first this time, like many other times, and found myself surrounded by attorneys, most of whom were in one- to five person firms. Like most small business owners, this group of attorneys appeared that they were better at their craft than they were at marketing. Thank goodness, since I am a better marketer than an attorney!
This challenge of skills became even more apparent as the conversation spun on. I found that each attorney had some degree of a digital and social marketing presence, but it seemed disjointed causing underperformance by all.  Some had a blog, while others had a web site and a few others had both marketing properties. When the question was posed to me and I answered that I worked with SAP help drive our awareness to help businesses run better, they were intrigued. They wanted to know how to use social media to help THEM run their practices better. I had their collective ear!
What Good Are Keywords And Blogging To Marketing A Law Practice?
Now, I was holding court! (I have been waiting to use that line for such a long time!). Someone asked, "what good are keywords and blogging to marketing a law practice?" I noted that the common denominator across all business was that content is king. 60% of customers and clients are searching for content to help them make a decision on what business to choose … before they make the first phone call to that business.  That searching applies to whether you are a law firm or a software sales company! This statement intrigued each attorney. I think they realized that if they could get their content in front of their potential clients at an earlier place in time, then they could have more prospects. But, how? Now, the discovery begins!
The social media conversation moved from dismissing the use of tweets to promote a law firm to how to create great content to be found by clients searching for a solution to a legal problem!  I was not prepared to go too much deeper into the conversation, given the time that was needed. And hey, time is money, right? And I figured that this was my "free consultation". However, I told them I was happy to demonstrate a few easy ways to make sure their web and blog content for their your can work  harder for them! The idea was to show them how to use a tool to get an understanding what potential clients where searching for on Google, so they can use the same terms to be found easier!
5 Steps To Finding Your Best Keywords
Here are the 5 simple steps that I advised to help create content that will be found easier. You too can use this advice, substituting your relevant words:
Step 1. Open Up A Google AdWords Account. Google AdWords lets you get under the hood to find the best words to get you found! It's easy to set up a free Google AdWords account. If you have a Gmail account now, you are even closer to doing it!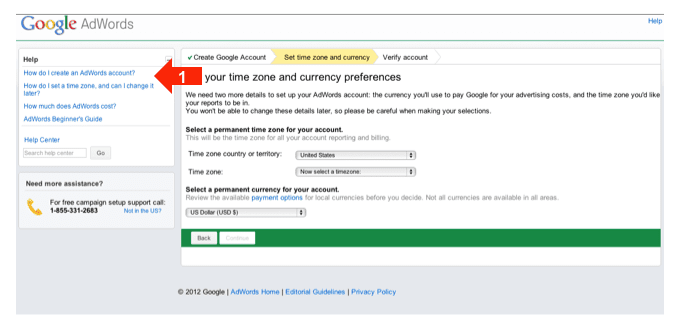 Step 2. Find the Keyword Tool Under Tools and Analytics. After you open your account go to the Tools and Analytics tab to the drop down for Keyword Tool. This choice will put the engine at your fingertips!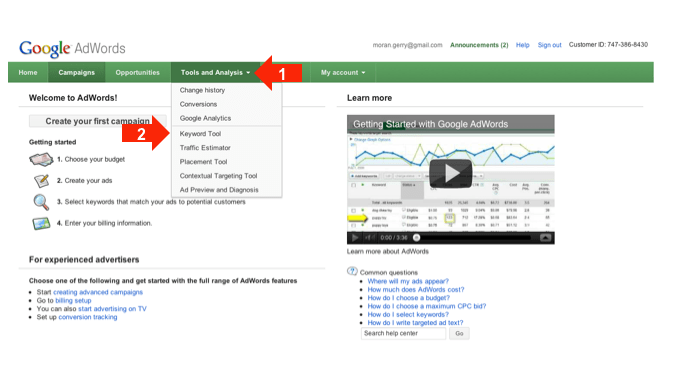 Step 3. Enter your relevant terms. For instance if you are an attorney, like my new set of friends, enter works like "family law" and "Philadelphia Attorneys" and then click "Search" to generate words in the "Keyword Ideas" tab. These are the start of a collection of words that you should consider strategically placing in your web content, blogs and social media to be found … since there are the words that your prospects are searching.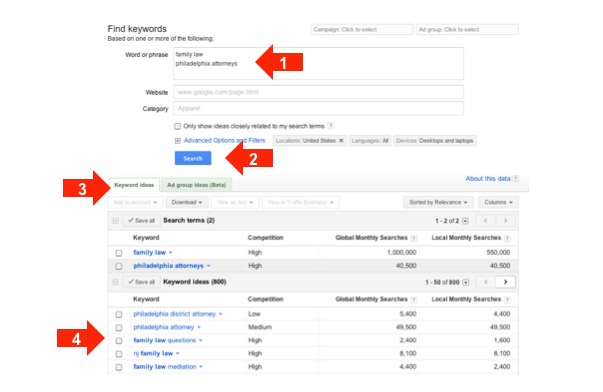 Step 4. Investigate more relevant terms around your niche. You can go deeper into you research my using Google's Ad group ideas tab, which will group key words around more refined niche areas.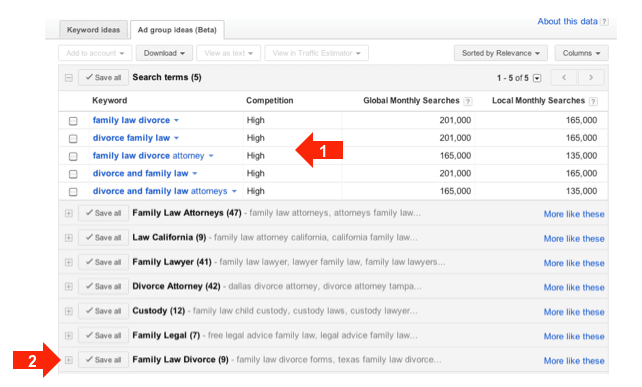 Step 5. Download your words to begin to think about how to integrate them into your marketing. Create a ranked (by local monthly search counts), ensuring you have a mix of popular and less popular words.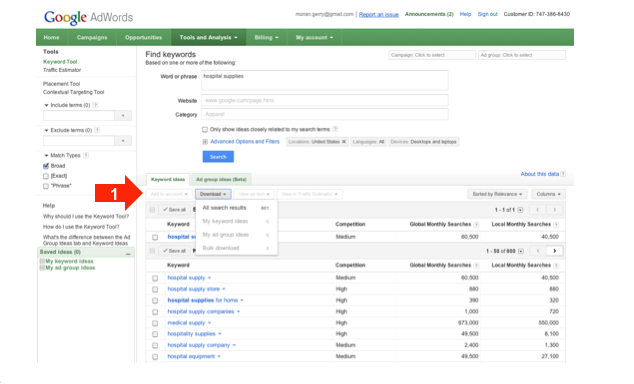 Now that you have found how to find the keywords to incorporate into your content and messaging, think of some key ways to do it:
Incorporate into blog posts with SEO-driven headlines and copy woven into the body. For instance, 3 Things To Consider When Hiring A Family Law Divorce Attorney In Pennsylvania
Website design by working a designer to optimize your site for search. For example use "Family Law Services" as a page title instead of "Services"
I am glad that I attended that Harvest party! As I got back to my party after the marketing lesson I was out of my favorite beverage and wanted to refresh, that is, order (my beer) in the court!
Follow @GerryMoran