Is your marketing plan a turkey? Whether you are a small business planning for Small Business Saturday or a big brand planning for holiday sales, there is always a chance that your customers might not gobble up your marketing plan.What if you had a marketing emergency line to call to help you save the day?
I had my first turkey emergency on Thanksgiving day in 2011. After planning my dinner party for months, I was expecting a full house at this fowl soiree. I had never cooked a turkey before, so I relied on my own self-taught cooking skills and a combination of eight DIY YouTube videos to deliver a mouth-watering result. However, the turkey emergency kicked in about an hour before the "doorbell moment" with my turkey still frozen! Argh, as Charlie Brown said to Lucy on A Charlie Brown Thanksgiving!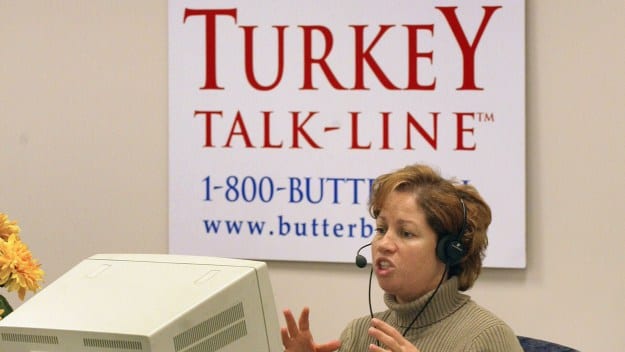 How did I solve my last-minute problem? I found the Butterball Turkey Talk-line®! My turkey emergency was solved!
After dinner, while I was cleaning up my successful feast, I wondered if this Turkey Talk-line® concept could solve the marketing challenges presented to small- and mid-sized businesses (SMBs). Since most SMBs don't have at Turkey Talk-line, they don't have an expert to call to help them make the best marketing decision. During a marketing emergency, SMBs are left guessing at what they should do with their pricing, social media or another marketing problem. They might search the internet or even call a friend's college-aged son, whose only experience is creating a Facebook page or recently graduating with a marketing degree, for marketing help. Using one's network or community can crowd-source a solution to any problem. However, it's more productive to have a proven go-to resource and support system in place to counter the emergency!
So, how do SMBs or any other company, make sure their marketing plan is not a turkey? Here are some ideas to gobble up.
4 Ideas To Gobble Up From The Turkey Talk-line To Help Your Marketing Emergency
Allow Time To Thaw = Planning Time For Your Marketing Event. The more thawing time you allow for a turkey, the more time you have to execute the perfect dinner. As the thawing time varies with the size of the bird, so should your planning time vary with the size of your marketing promotion. The more time that you allow to plan for a marketing promotion, the more chance you have for success! However, there are always ways to fix the troubles connected with the lack of planning, which is when the Turkey Talk-line concept works!
Food Prep 101 = Marketing Prep 101. You need more than time to cook a tasty turkey. You need to know what to do with that time. You need to do the right things to get the right results, whether it's a turkey or marketing. When it comes to your SMB marketing plan, you want to ensure all of your customer touchpoints are coordinated to support your event! – Twitter, Facebook, store signage, sales associated scripting, website, email, phone messages, etc.
It's All About How You Cook It = It's All About How You Execute Your Plan. You may have the greatest turkey recipe in the world, but if you don't know how to mix the ingredients to cook a turkey, then your meal will be a disaster! The same goes for your marketing planning. Each tactic in your marketing plan is like an ingredient in a recipe. All ingredients need to work together to win the palates of guests, your customers. If someone comes into your store and is underwhelmed with your store signage or sales associates' skills, then you have cooked up a turkey of an event!
Don't Break the Bank = Spend Your Time, Resources and Budget Effectively. An SMB business owner needs to plan their marketing as if they were preparing for their Thanksgiving meal. They need to coordinate the event and look for ways to effectively budget. This planning does NOT mean to source everything on the cheap. It means finding the best support items at the most acceptable cost to get the job done!
Do you have a tip on how to handle an emergency? If so, please leave a response to this MarketingThink blog post, message me @GerryMoran or email me at moran.gerry@gmail.com with your emergency question!
There are a number of ways to cook a turkey to achieve the highest reward of "mmmmmmmmm." Remember the four ways to avoid your social media plan or marketing plan being a turkey and you will avoid needing to make an emergency call. If you do need to make a call, please avoid calling 1-800-Butterball since YOU will then look like a turkey. Have a great holiday and think about creating your planning network or emergency response plan for 2015!
Image source: Butterball
Follow @GerryMoran