Are you in touch with your LinkedIn personal branding strategy?
My great grandmother used to tell me, "Gerry Moran, you need to take advantage of every LinkedIn opportunity to reach out and touch your contacts. Build and nurture solid relationships by paying attention to the relationship triggers, authentically messaging and paying attention to the little things."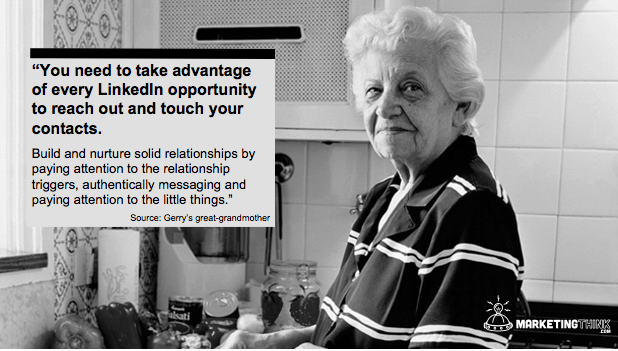 These B2B relationship-building tools and touchpoints are at your fingertips in your LinkedIn account. You just have to understand how to participate actively!
LinkedIn gives us the opportunity to combine good connections and good 'manners' to increase your relationship currency.
You can be in control of your perception and enhance the value of your relationship currency on LinkedIn by doing these little things.
8 Nice Touches To Make With Your LinkedIn Strategy
1. People Who Know People Are The Luckiest People In The World. Sharing your interests and needs, whether you are a marketer or sales person, with your network will increase your chances of connecting with their network. Many of my posts shared by my contacts reach people who are not in my direct line of networking site – but they will be soon.
2. Customized Invitations. My great-grandmother would never have sent out an invitation without a personalized message. As old-school sending personalized invitations might sound, it goes a long way in making an impact on the early stages of a relationship. It's a great way to make a solid first impression – especially since about 95% of Linkedin invitations come with a default message.
3. It Takes Two To Play Tag. Tag you are it! The responsibility of conversation and relationship-buillding with social interation lies with the last person touched. Benefit from this relationship sustaining strategy by sending a customized note including invitations links to your blogs, reading content, etc.
4. Get Outside Your Comfort Zone. Connecting with 2nd and- and 3rd-level contacts is an excellent way to build a larger network resembling your current network. Introduce yourself to 2nd- and 3rd-level contacts, referencing the 1st-level contact you have in common. Ask a smart question or share so content you think they might find helpful based on what you know from your relevant contact. It's human nature that people like to help, so put yourself in the position to be helped!
5. Contribute To The Greater Good Of The Community. Birds of a feather flock together. Add insight and valuable conversation to 2-3 LinkedIn groups to meet new connections and sustain relationships. Join groups where your target audience hangs out, answering questions and contacting people who have issues with which you can help.
6. Pay Attention To Who's Checking You Out! Someone who checked you out must be interested in you, right? You need a quick and relevant response to help spark what might be the beginning of a relationship. Have 2-3 ready-to-send responses customized for each type of opportunity.
7. Pay Attention To Current Relationships. People love and need to be acknowledged for their birthday, work anniversary, press mention or any other business-related event. Take the time to use the Stay In Touch feature (in the Connections drop-down menu). Congratulate 1st-level contacts who have updated their profiles – especially if they've changed jobs and/or companies – to learn about new opportunities for doing business together.
8. Add Value Every Day To Your Relationship. Move from spammy me-centric messaging to relationship-building and value-add content. Sharing meaningful content with your network encourages them to share with their network, so you continually have the opportunity to meet new people.
Do you have a nuance or a nice touch you use to be successful with your relationship building on LinkedIn? If so, please share below. Or, contact me directly on MarketingThink.com or LinkedIn and start building our relationship! I can also be reached on Twitter and Google+.
As my great-grandmother always said – "it's the little things that count up to the right relationships and big sales results."
Follow @GerryMoran