Nothing like a mini-vacation at Rehoboth Beach this weekend to relax and to help me see clearly! The weather was 70-degrees in November and there was no damage from Hurricane Sandy – NICE! I love strolling the beach AND I love ending up most strolls at Dogfish Head Brewery!
I love taking photos of where I have been and great moments in marketing. And, I have been using Instagram more recently, since I really am a closet iPhone photographer (you should see the pictures of closets I have taken!). As I was strolling through Rehoboth and sitting in Dogfish Head Brew Pub I realized that not too many of these Rehoboth businesses seem to be embracing Instagram(social media either for that matter), with no one suggesting that customers should follow them on Instagram!
I have been evangelizing Instragram for it's ease of use, high-engagement with customers and simple and visual way of communicating. The adoption rate of this "new" social media platform are huge!
Over the past sixty days, I have had many of my small business friends ask me about Instagram and how and if they should use it. I feel it is this silent tidal way of a social media platform, since it now has 100 million users (according to Zuckerberg) that are sharing over 4 billion photos! What a picture-perfect opportunity for them! In fact, Instagram now has 10 times the engagement of Facebook, so with all of those facts combined, then, yes! Instagram should be on their and every other business' radar!
Developing a way for your business to use Instagram is important to you because:
Awareness. It will increase you brand's or store's awareness given the viral effect of the sharing and commenting
Community. Build community for your brand or store given the interaction opportunities and sharing
Sales. Drive traffic to your store or purchases for your product given the inclusions of the right types of pictures~
Unfortunately, with the advent of another social media tool like Instagram, many marketing minds think "how do I use this to generate more sales" and then use advertisements as the content. BAD MOVE with Instagram. There are so many subtle, nuanced and creative ways to drive sales through awareness that advertising-based content should never be used. In fact, Instagram strongly suggests that you avoid it too! Since visualization is always a great way to explain "how do I use this Instagram thing", I decided to use my getaway to Dogfish Head as a field trip for show and tell to my readers!
5 Ways To Use Instagram
Here are five ways to use Instragram to help amplify the story of your brand, get people to engage with your content when not at your store, get people to visit your store or site!
1. Let your customers and fans know about product availability! Since all products and some services are visual, what a great place to show off the availability of a a product! For example, this Instagram photo of a much sought after beverage like this 2010 World Wide Stout, or the introduction of a new product like the I'll Brew For You You Brew For Me with the right hashtag will be engaged with, commented on and even drive a store visit without asking for the sale! If I knew that this was on tap since last Wayback Wednesday, I would have come to Reboboth a day earlier! Lesson be learned Dogfish!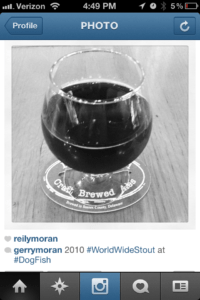 2. Tie into trends, events or holidays to drive awareness! Trends and events that fit nicely into a store or product are great messaging opportunities to leverage! As an example, I was sitting on the Dogfish Head Brew Pub porch on Veteran's Day and snapped this great shot of the flag! I wanted to help my favorite brewery support an important US holiday! Cheers!
3. Let people know you are open (and the weather is great!). Weather (yes, i did spell this incorrectly for the effect) your store is decorated for the holidays or it's an unexpected 70-degrees and your outdoor deck is open for business, what better way to capture the real-time ambiance than getting the perfect picture and hashtagging with your brand or store name! Paint a great picture of why people should come to visit you!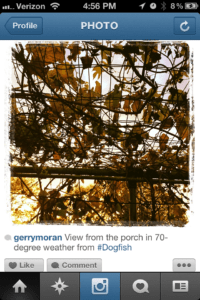 4. Run a contest and pick the winning hashtagged photograph. What better way to drive brand awareness and community by running a weekly or monthly Instagram contest for the best pic and caption! Photo contests for a brand or store community, so think of something fun to activate your customer base and increase your exposure!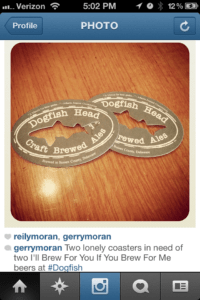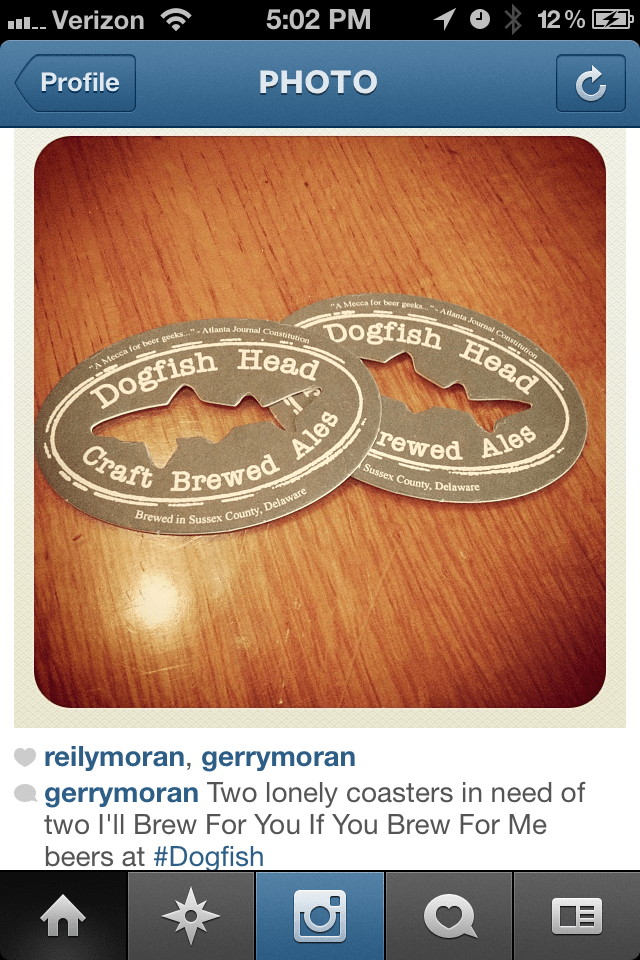 5. Encourage the collection of happy onsite or offsite customers! What better way show that you have a great brand or store than encouraging pictures to be taken of them with a hashtag of your brand or store! Yes, that's me on the right!
So, whether you are Dogfish Head or any other brand or small business, you need to hop to it and brew up some great Instagram marketing. It's low-cost, high impact and everyone is doing it! Sounds like the beer I drank back in college! Yikes!
If you need help getting started on using Instagram please reach out to me at @GerryMoran , moran.gerry@gmail.com or 215-817-0485.
Cheers!