Only 27% of companies report employees at all levels are truly aware and trained on how to use and not use social media, reports Altimeter. This low percentage indicates that most who makes strategic decisions for their company do not know how to really use it.  So, let's start with one of the basics and learn how to tweet.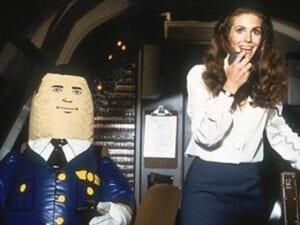 We all know that we need to tweet for our personal branding, our work's social business agenda, or making our personal business and social selling more successful. But, how to you actually use Twitter to connect and communicate with your 'peeps'? It's not as hard as you think. However, as Rex Kramer (Robert Stack's character) said in the famous 1980's Airplane movie, "flying a plane is no different from riding a bicycle, just a lot harder to put baseball cards in the spokes." And so is Twitter no different than having a regular conversation, if you know where to put the RT's, DM's, MT's, #'s and @'s!
By mastering these three success goals, you can continually be nurturing your sales pipeline or just increasing the value of your social currency. Knowing the rules of engagement and how the controls work will help you be successful to:
Build your personal brand
Get on your customer's radar
Have the right conversation, with the right person at the right time and in the right way
How To Tweet. The Basics.
Here are the four ways to talk the Twitter talk and make a difference with your communication.
When To Use A Regular Tweet. Regular TWEETS reach your followers AND non-followers. Non-followers find you by following a keyword or hashtag referenced in your message. Typically these messages are relevant for everyone and help to build your visibility, followers and social brand.
When To Use A Mention Tweet. A MENTION reaches a contact in their Twitter timeline feed if they follow you. If they don't follow you, your message shows up in their in-box, better known as their Mentions & Interactions tabs. Many Twitter users have email and pop-up alerts set up to be notified when they are mentioned. Oh, and others will always see these tweets!
When To Use A Reply Tweet. Use a REPLY to reach someone who does not follow you. A REPLY lands in a person's Mentions & Interactions tabs if they don't follow you. People who follow both of you can see your semi-private exchanges. And, you can use a REPLY to make the first contact, so you don't have to wait to 'reply'.
When To Use A Direct Message Tweet. A DIRECT MESSAGE is a private Tweet between you and your contact. You can send a DM to someone who follows you, even if you don't follow them. You can only have a private 2-way conversation when you both follow each other.
Do you have a Twitter tip or trick with which you had some marketing or social selling success? If so, please pass on in the comment section below! Or, contact me directly at MarketingThink.com or on Twitter @GerryMoran.
If you still need some help with your Twitter skills, please check out these resources to:
As Elaine Dickinson (Julie Hagerty's character) said "There's no reason to become alarmed, and we hope you'll enjoy the rest of your flight. By the way, is there anyone on board who knows how to fly a plane?" Just don't be THAT guy and not know how to send the right tweet at the right time to the right audience for your brand, company or social media marketing or social selling communication.