The Daily Show can teach us a lot about how to do B2B content marketing.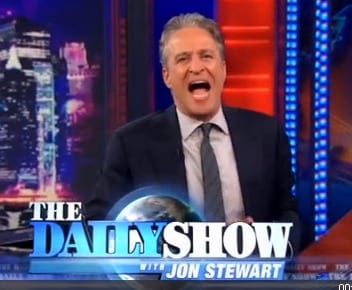 Now who doesn't like The Daily Show?!?! There is no better alternative to the 11PM network news than Jon Stewart! I have seen a lot of content in my years. All kinds including direct mail, television, radio, email and social media have passed across my desk over the years and I can see how The Daily Show are great examples of content marketing recommendation:
Develop the Best B2B Content Possible! At one point in Jon Stewart's Daily Show development, he addressed his killer content need by hiring writers from the Onion to hit his audience's sweet spot. Are you doing the same for your content development;  are you training your in-house resources with the "right stuff" or are you hiring the external talent? Don't think you can do it yourself and skimp on a resource. Like my grandfather always said, you don't want to build a house with 2 x 2s when you need 2 x 8s! If you do, then your castle will come crashing down! The same goes for using the wrong in-house resource to do a task. So, don't cringe at any of those alternatives.  Content is king and if you don't put out the best content you will surely be uncrowned and lose your kingdom of followers – which is not a good thing in the sales world.
Laser Focus B2B Content Marketing And Editorial Strategy. The Daily Show primarily focuses on news satire from yesterday's stories. Stewart has a fluid, yet formulaic, approach in developing and proving content. In a brand like SAP, where I lead the social media strategy for North America, part of the social media strategy is to provide content to promote events and white papers to an expanded customer audience. Likewise, each industry, line of business, service and solution has a similar focus – for their efforts and their content! Be focused with your content strategy and you will hit your target and be very successful, since you are delivering against customer expectations.
Find Your Outside Inspiration For Your B2B Marketing. This one is easy! Jon Stewart has Steven Colbert! I personally have just started to work much more closely with my SAP coworkers at SCN and the Business Innovation blog to develop my personal brand. This team is working to ensure we get inspired by the blog-based conversations around our demand generation events. This is a great recommendation and lesson. Also, what are the influencers saying? What do they think? How do we word our content to get maximum value for a community like SCN community and our own demand generation priorities? If you need an angle for an event, article or idea reach out to a world-class community like SCN or a B2B influencer like an SAP Mentor or someone that follows you on your blog!
Become a Trusted Resource With Your Content Marketing. The Daily Show has become THE news source for many a Millennial. Stewart has become their trusted resource. Your B2B content needs to keep emerging and enterprise prospects engaged and in a ready-to-act state – ready to attend a big event or even ready to convert to a customer.  We all need to do become a trusted resource to the group with whom we have earned the right to call prospects. This trusted content approach is especially important, since not every customer follows down the same conversion funnel. Create content that establishes you as a trusted resource and it is likely that conversion will be easier and faster!
If you are interested in developing the best B2B content, you may be interested in these other blogs:
So, let's forget about Jon Stewart for a second and put on our Bill Mahr hat – new rule … let's put out the best content possible in 2013 and beyond!
Follow @GerryMoran