Why do you need a blueprint to create your personal or company SlideShare profile? It's like anything else that you build, whether it's a house or an inbound marketing strategy. You need to build the foundation correctly, so all other activity is smooth, working and excels.
With nearly 60% of businesses practicing inbound marketing and inbound marketing growing by 50% for the third year in a row (Source: HubSpot), you might be able to infer that inbound marketing 'thing' is not going away! There are many ways to activate an inbound marketing strategy. In my opinion, SlideShare is the next 'big platform' that will drive inbound marketing success for B2B and B2C. My opinion is based on the research and statements from ComScore (May, 2013), where they report that over 50 million unique people visit SlideShare monthly. These visitors include more small business owners and C-level executives on average than any other social network!
My old Uncle George, a successful Realtor and builder always says, "It is important to be fishing where the fish are" and I can see that the fish are biting on SlideShare! However, before you start to post your slides and marketing materials on this inbound marketing tool, let's get you set up with the best SlideShare profile, so you have the foundation on which to build your inbound marketing program.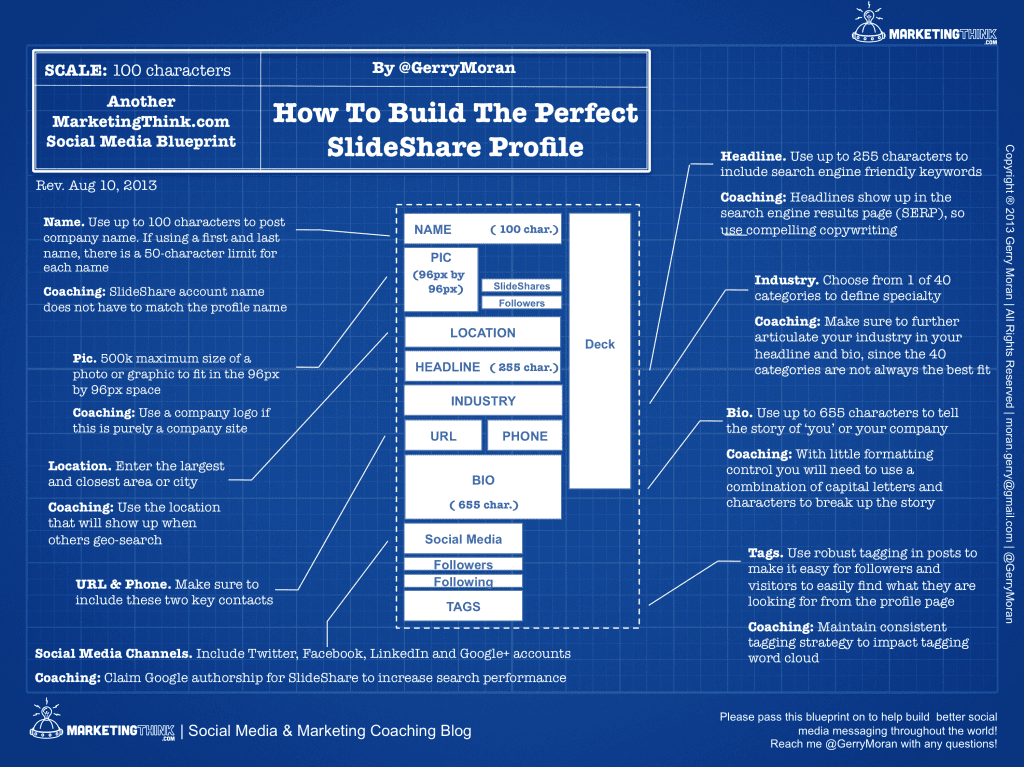 How To Create The Perfect SlidesShare Profile For Your Inbound Marketing Strategy
Here are key considerations when building the perfect SlideShare profile for your account.
Name.

Use up to 100 characters to post you company name. If using your first and last name, there is a 50-character limit for each of them. Also, your SlideShare account name does not have to match the profile name, which lets you combine your 'corporate' with your 'personal'.
Pic.

You can place up to a 500k photo or graphic to fit in the 96px by 96px space. If you are a company, then use a company logo instead of your smiling head shot!
Location.

Enter the largest and closest area or city so you will be found by those who are geo-searching for you.
Headline.

Use up to 255 characters to include search engine friendly keywords. Since headlines show up in the search engine results page (SERP), use compelling copywriting to catch the eye of those using Google, Bing and other search engines.
Industry.

Choose from 1 of 40 categories to define your specialty. However, since the 40 categories are not always the best fit make sure to articulate your industry in your headline and bio to make sure people know what you do.
URL & Phone.

Make sure to include these two key contacts.
Bio.

Use up to 655 characters to tell the story of 'you' or your company. With little formatting control, such as bullets or indenting, you will need to use a combination of capital letters and characters to break up the story and make it easy on the readers' eyes.
Social Media Channels.

Include Twitter, Facebook, LinkedIn and Google+ accounts to drive viewers deeper into your social media network. Make sure to claim Google authorship for SlideShare to increase search performance and add to the legitimacy of your SlideShare profile and posts.
Tags.

Use robust tagging in your posts to make it easy for followers and visitors to find what they are looking for from the profile page. By maintaining a consistent tagging strategy, you can make a visual impact with the tagging word cloud to drive relevant presentation readership.
Do you have any additional ideas to make your SlideShare profile more effective? If so, please share the below! Or, contact me directly at MarketingThink.com or on Twitter @GerryMoran.
Do you need help setting up other social media profiles for your inbound marketing strategy? Take a look at these other blueprints to help you set up the perfect profiles for:
Good luck building your SlideShare profile and account. And like my Uncle George always says, "you can't sell your house without great curbside appeal". This advice means you can't be successful selling your ideas or business with SlideShare marketing unless your SlideShare profile, or curbside appeal, is picture perfect!
Follow @GerryMoran