Retweeting sounds easy enough to do. Heck, that is what the RT  button on Twitter, Hootsuite or whatever client you use for tweeting is for, right? You see a tweet that you want to pass on and then you click the RT button, or should you add something to the tweet to make it your own? And if you do retweet, what next?
From a recent blog post, 4 Reasons Why Retweeting Needs To Be Part Of Your Content Marketing Strategy, make retweeting about 15-20% of your social media content. That is our target editorial strategy our @SAPNorthAmerica account and it performs nicely for us as a great way to add to our content sourcing. This is especially true with tweets that are "built for retweeting" (say that 5 times fast, why don't you?).
Sysomos' recent research reports:
71% of all tweets are not retweeted or responded to

6% of tweets get retweeted, indicating that may tweets are not built for retweeting

92.4% of the retweets happen in the first hour, indicating that if a tweet 

is not retweeted in the first hour, it is likely that it won;t be retweeted



This research is very important since retweeting extends and amplifies a your awareness, the author's awareness and to build bridges with those not in your network.  Retweeting is a source of content that you cannot pass up. My experience at SAP and with other big brands and small businesses is that many marketers do not understand the power of the retweet.
Typical "How Do I Retweet?" Questions
As I have helped to grow the SAP social media Center of Excellence in North America and have connected with many on my MarketingThink.com blog I have met many typical retweeting questions like:
"How many characters should be in my retweets?"
"How exactly do I retweet?"
"Where do I put my message in the retweet?"
"Will the author know that I retweeted her?"
"Can I add a hashtag to a retweet?"
"Can I change the original message by the author in a retweet?"
"Can I use my link instead of the author's original link?"
There are all great questions! And, there are certainly more than the ones I have listed. Be comfortable with the "how" to master the messaging and make the biggest impact. To help you build the perfect retweet (and Facebook post, tweet, YouTube post and blog post) I have created a series of infographics on How To Build The Perfect [insert social media messaging activity here] to help build the best social media messaging to amplify your own messaging.
How To Build The Perfect Retweet Infographic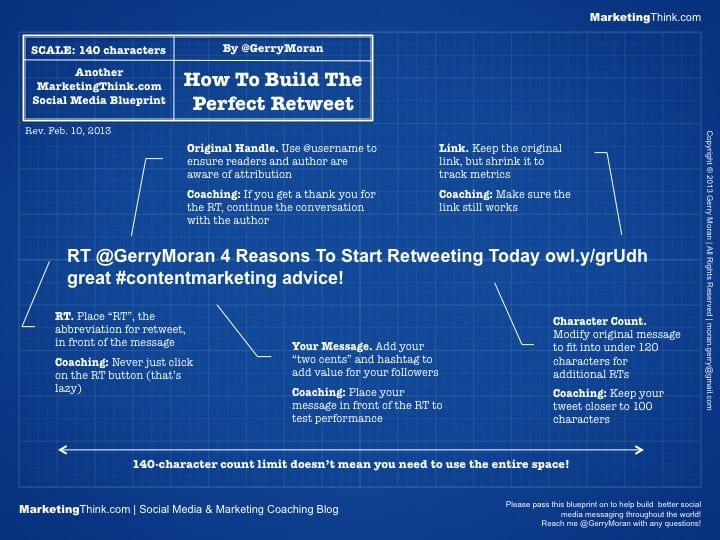 Do you have other ideas or coaching tips to add to this How To Build The Perfect Retweet Blueprint? Is so, please comment below or contact me on this blog. You can also find me on Twitter @GerryMoran.
If you are looking to hone your Twitter skills, please check out these posts:
Take the time and post this How To Build The Perfect Tweet Blueprint to your desktop and give it a try when you are retweeting your next tweet! Remember, people do not retweet to drive clicks or consumption of content. People retweet since they believe the content will resonate with their followers, sort of combining a thought leader and curator role. If you are going to assume that role of a thought leader or curator, then it behooves you to retweet in the most effective way!
Follow @GerryMoran