Use Pinterest for business as a picture-perfect addition to your digital and social media strategy. The Pinterest user base, which has recently reached 12M, continues to grow, and it has become the fourth-largest web traffic referral source behind Google, direct and Facebook. However, small businesses and enterprise software companies continue to challenge the utility of using Pinterest for business outside of promoting crafting and food to women.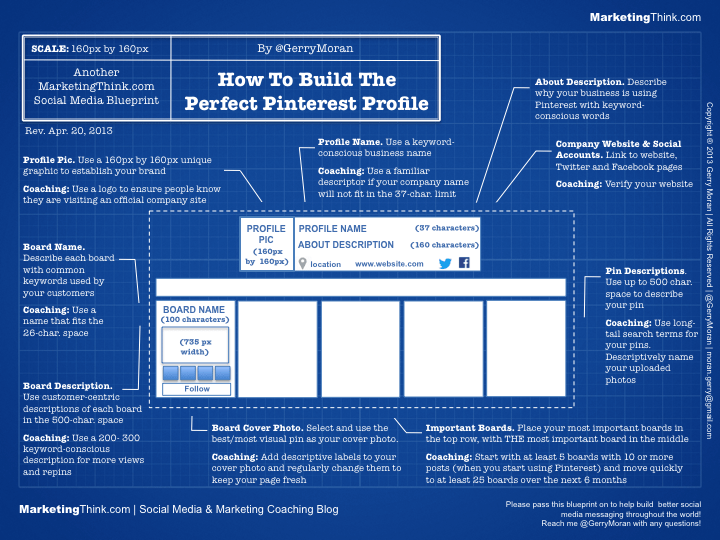 Hmm. More businesses are truly becoming crafty with their use of by Pinterest for business … and I do not mean the crafty use of yarn and baskets. 25% of the Fortune Global 100 companies leverage Pinterest for business, the 3rd most popular social network in the US, because of the 98 minutes per month those users spend browsing and engaging with the platform and their brands.
This high adoption rate of using Pinterest for business is key for your company, no matter what industry you are in. The platform drives traffic to your website, blog or e-commerce site, which is key to company's success. So, if Pinterest has the potential to drive critical traffic to your site, then plan to co-opt this native behavior to take advantage of the incremental site traffic to help increase your sales and leads!
How To Build The Perfect Pinterest For Business Profile
Before you get started with using Pinterest, you need to set up your Pinterest profile. Here's a simple list (and blueprint) to help you build the perfect Pinterest profile for your business!
Your Business Profile Name. Make sure to use a keyword-conscious business name with which your customers and prospects will be familiar. Although you do not have a limit your Profile Name, there is a 37-character cut-off. If you have trouble working within the constraints, think of a using a memorable abbreviation.
Description Of Why You Are Using Pinterest For Business. Note why you are using Pinterest for business with a collection of keyword-conscious words. You are limited to 160 characters to be interesting and to the point with your description.
Business Profile Pic. Whether you upload your smiling face, a person using your product of service or just a logo, make sure to use a 160px by 160px unique graphic or photo to humanize your brand.
Company Website & Social Accounts. There are only three places that you can list on your Pinterest profile site that will link to your business: your website, Twitter and Facebook pages, so make sure to use them! Make sure to engage the website verification process to receive a check next to your site, adding to your company's legitimacy.
Board Name. Describe each board with keywords searched for by your customers. You can use up to 100 characters to name your board; however, your visual limit is capped at 26-characters.
Board Description. Use customer-centric descriptions of each Pinterest board in the 500-character space provided. Research indicates that a 200- 300 keyword-conscious description for more views and repins.
Board Cover Photo. Select and use the best/most visual pin as your cover photo. Update your cover photos regularly to keep makes your content feel more 'fresh' than it really is.
Important Boards. Drag and drop your most important boards to the top row of your page to make sure your readers see them. Place THE most important board in the middle. If you are just staring with Pinterest for business, make sure to have at least 5 boards with at least 10 pins on each board. Look to increase your board count to over 25 boards over the next 6 months. If you are not sure you can populate that amount of boards, then create an editorial calendar to help you plan your content strategy.
Do you have an extra idea to make your profile for Pinterest business more effective? Please comment below. Or reach out to me directly at MarketingThink.com or tweet me at @GerryMoran.
While you are fine-tuning your Pinterest for business profile, you may want to improve some of your other social brand platforms:
Take the first step to improve traffic to your blog, website or e-commerce site today by using Pinterest for business and setting up your profile. Please tweet me @GerryMoran and let me know when you change your profile, and I'll be happy to let you know what I think!
Follow @GerryMoran