Get out your umbrella, because it's going to "Rain" social selling content. Now, the question is how big of an umbrella will you need? Are you going to be the "Rain King"? Or, are you going to figure out what to do with "Purple Rain", which is pretty much useless. That answer depends on how big of a rainmaker that you can be using social selling content! Are you going to make it drizzle or are you going to make it pour?
Just like a good harvest of crops depends on healthy doses of rain, your ability to find, nurture and harvest leads and deals depend on how much you make it rain on your with your social selling skills.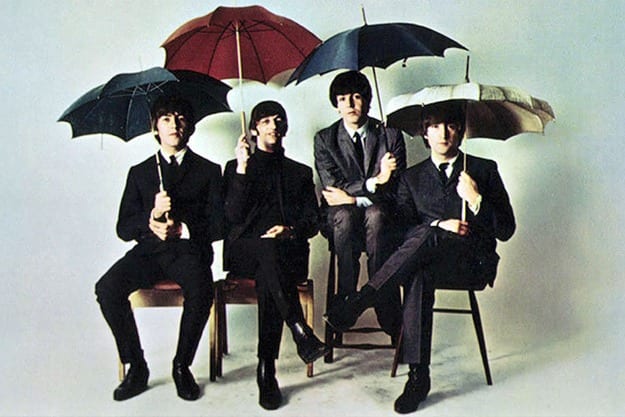 5 Ways To Make Your Social Selling Content Strategy Rock
Make It Rain Steadily With Your Content Instead Of Making It Flood.

Don't be a "Fool In The Rain"! Too much of a good thing can actually be a bad thing, whether it's rain or content. If it rains too much, then the crops die. If you provide too much content in one burst to your customers or followers, then you can 'kill the crops' by being perceived as SPAM! Schedule your 2 daily LinkedIn updates once around 6:30AM and the other around 5PM. If you have a third that just cannot wait, then 11PM is a nice late-night sweet spot!
Don't Let It Ever Stop Raining Social Selling Content That Helps Your Customers.

"Let It Rain" because a growing crop will stop thriving without a steady dose of water. The crops won't die if there is no rain (for a while); growth will just be delayed. The same goes with your social selling content. And, since you don't know when you will connect with what customer at what part of the sales cycle, you need to be constantly providing persona-based and sales cycle-based content to ensure you are covering all of the touch points. Blogging and LinkedIn Group updates are a great way to ensure this coverage.
When It Does Have To Stop Raining Content, Make Sure To Use A Social Selling Content Irrigation System.

"Have You Ever Seen The Rain" stop? Yes, there are droughts or seasons that rain less for farmers. And in those times, they have to use irrigation systems to get water to the crops, so they prosper. My irrigation system is HootSuite because it lets me schedule my targeted content on individual channels days and weeks in advance, so I am always feeding my follower base with great content, even when I'm not there to do it in real-time.
It's OK To Recycle The Rain And Content. "No Rain"?

Then it's OK to recycle water AND content when it comes to growing crops and customers. Not all customers and followers are going to read your blogging, Twitter or LinkedIn content, so it's OK to repurpose or repeat it. If you tweet social selling content on Monday, why not repeat the same tweet on Wednesday? You are not going to break your selling strategy or 'kill any of your customer crops'. Remember posts, like the ones on Twitter, only last about an hour.
Sometimes You Have To Buy The Rain To Water The Crops, The Same Goes For Content And Platforms.

"Who'll Stop The Rain?" Well, sometimes we've all seen the rain stop and then farmers have to find an alternative source, like water trucks feeding distribution systems that help keep the crops safe. Sometimes you just have to buy the water, too! The same goes for social selling content. Sometimes you have to purchase the content or platform on which it's delivered to make your selling strategy work. For instance, you may want to purchase a digital subscription to the Wall Street Journal or the Pro version of HootSuite to help your social selling content distribution.
Do you have another social selling content watering tip? If so, then sprinkle it in the comment section below. Or contact me directly at MarketingThink.com or @GerryMoran on Twitter.
If you are looking for other social selling content idea for your selling strategy, then you might enjoy these links that will let you:
Follow this social selling content 'watering' and your plan will "Rock You Like A Hurricane" so your new theme song will be "It's Raining Customers"!
PS. Email me at gerry.moran@marketingthink.com if you know the artists of the songs with the rain references in this blog post!
Follow @GerryMoran