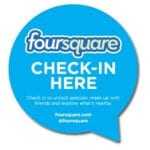 You know the old story of David and Goliath … and how David used social media, specifically Foursquare, to knock Goliath down, right? Well, the story really did not go that way, however, it's the same strategy that small- and mid-sized businesses can use today to counter the big box brands like Wegmans, Best Buy and Walmart!
This is the year of the mobile-enabled shopper! In fact, a recent research indicates  that when inside a store, 66 percent of shoppers will use their mobile device to compare prices with another physical store, while 60 percent will use them to check the prices of online retailers. Also 50 percent will use a smart phone or tablet to read reviews to help decide between products.
One of my favorite ways to advise small businesses to knock the big brands down like David did to Goliath is to use Foursquare. It's not the killer application, however, it's a great tool to have in your marketing toolkit to help you counter your competition. Here are 7 ways that small businesses are crafting offers to drive business to their brick and mortar locations:
If your goal is to get customers to your door to try or to buy from you, then the Foursquare deals are:
1. The Flash Special: Use this deal to inspire ways to get people to your door early to kick-start your business in a particular time period. This is a great deal for key shopping seasons to get customers to visit you first instead of the competition!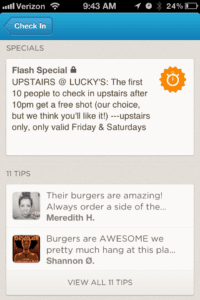 2. The Friends Special: Nothing is more powerful, at times, than peer pressure, so why not use it to your advantage to get people to visit your store instead of a competitor? Combine a low-cost item with an incentive to drive incremental customers to your business!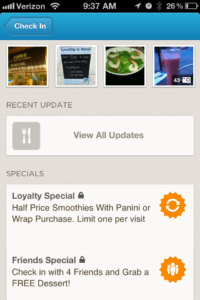 3. The Swarm Special: Do you need a lot of customers in your store or restaurant at one time, then use this offer strategy!  You are in control of the parameters, so you can set the minimum number of users that check in, the time frame (e.g., a 3-hour window) and the payout! This is a great ongoing special to get the business rocking early in the shopping day!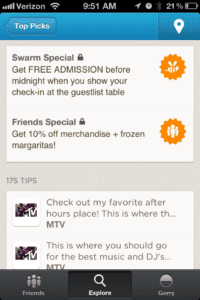 4. The Newbie Special: What better way to start off a great relationship with your new customer than to give them something unexpectedly! You will want to use the Newbie special to set a great first impression and to jumpstart word of mouth marketing. Can you imagine your new customer saying to her friend, "You should Dos Gringos, since they give you a free taco for checking in the first time"? Maybe they will visit you and NOT Subway if that is the case!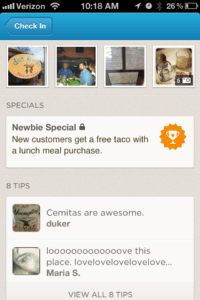 5. The Check-in Special. The Check-in special is the old "stand-buy" offer to get a customer to choose you over another competitor if they are in the area. Use this offer to get people to walk into your store when they ordinarily would not!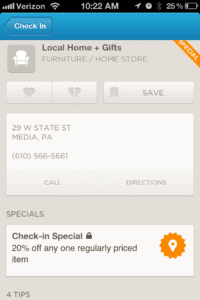 If your goal is repeat business then the two Foursquare deal mechanisms are:
6. The Loyalty Special: A typical business goal is to get people to buy once, then buy more and make the time between purchases shorter and shorter. Some call it RFM (recency, frequency, and money) The Loyalty Special helps your reach this goal!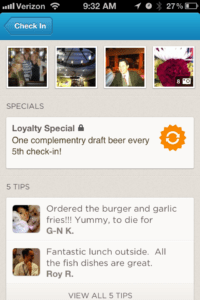 7. The Mayor Special: This special is the worst idea going! The idea is to reward the most loyal customer, which in and of itself is a great idea! However, this special can be gamed by coworkers, people walking by the store every day and others. Also, it's exclusionary and inspiring! Stay away from this one and concentrate on the Loyalty Special.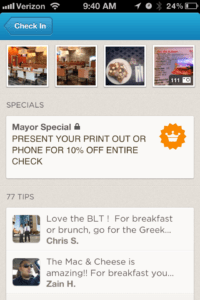 Check out these related blog posts that might be of interest:
Foursquare has done an excellent job of taking a simple offer strategy and integrating it into a mobile experience. There are at least 15 other ways to present an offer in other ways that I will discuss in another blog post. If you need help to understand which offer strategy might be good for your business, please reach out to me via a comment to this
MarketingThink
blog post, via Twitter
@GerryMoran
or via email at
moran.gerry@gmail.com
.
So, take out your marketing sling (that weapon that David used) and get to work on knocking down your competition so you can get customers coming through your front door!
Gerry Moran
MarketingThink 
Follow @GerryMoran