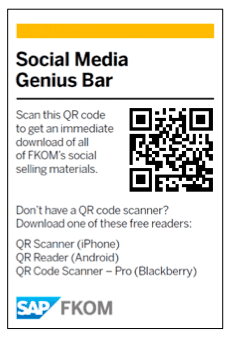 QR codes connect a customer opportunity with social-local-mobile (SoLoMo) experience to help you build a relationship or make a sale. QR codes are 2-dimensional (2D) encoded bar code images that resemble maze-like square. Getting their start in Japan a few years back, they continue to gain traction and are the most popular of today's 2D options.This SoLoMo marketing strategy makes it easy for (some) consumers to quick access content and information on their terms … a win-win situation. While not for everyone is adopting this tactic, as eMarketer reports that only 19% of U.S. adults have scanned a QR code, they are sought after and used by a growing amount of consumer. This growth is especially occurring with smartphone proliferation!
With my work at SAP, we have tested, and integrated QR codes to maximize this SoLoMo event experience to deliver content to attendees quickly. Most recently we used a QR code at our FKOM event's Social Media Genius Bar. Over 2,300 attendees were exposed to this signage that called out sales teams to download the event's social selling materials from the event. Also, for our past Tech Ed, World Tour and SAP Forum events, we used these codes to provide video content to add to the on-site experience. Using a QR code and its "hyperlink power" tees up many creative ideas that are native behavior of customers and prospects. It's always best to connect a brand message with a customer's native behavior, that is what they are used to doing, to be successful. For example, native behavior might be viewing a mobile video, updating a Twitter status, "Like" the SAP North America Facebook page, and more! QR codes can make everyone's marketing run better!
15 Ways To Use QR Codes For Your Next Event SoLoMo Strategy
I've listed 15 ideas on how to use QR codes, mostly inspired by driving a measurable cut-to-the-chase SoLoMo user experience.
Place QR codes on the walk-in screen at the beginning and end of a seminar. While attendees are walking into a conference session, use the screen to display a QR code to drive users to a mobile download center to use your presentation materials immediately!
Drive to social channel opt-ins with QR Codes. Place codes in printed guides, posters, and event materials to drive users to like you on Facebook, follow you on Twitter or follow you on LinkedIn immediately. Pay off the Like or Follow with a chance to win a prize or get access to valued content such as an infographic. Make sure you deliver on the back-end value proposition of providing great content!
Use a QR code to gamify the event experience. Engage seminar or event attendees with a game, like a scavenger-like hunt, to drive session attendance or vendor booth visits.
Place QR Codes on event banners and signs. A quick QR scan furnishes real-time information on what's happening at an event like SAPPHIRE NOW or SAP TECH ED.
Integrate QR codes into your event's product and service posters and advertising materials. Integrate codes at this customer touch point to connect your  customer to your services via immediate video demonstrations on a smart phone! You could also include links to other support materials and registration-based assets!
Deliver a QR code on an event mailer. Send each recipient to their own personalized URL (PURL) to make a personal pitch to your event.
Extend a video kiosks experience with a QR code. Attach a QR code on the kiosk or in the video with a call to action to scan it!
Opt-in email newsletter signups with a QR code call to action. Build up your in-house email list at each event with a QR code. Clearly explanation what the subscriber will receive by scanning and signing up for email.
Make your event's eating experience a little more social with a QR code. I've seen many cookies, napkins and beer bottles QR-coded to make a delicious brand connection.
Use a QR code on anything that references a customer story. Provide quick access to a customer video interview or case study that goes a little deeper than the printed material.
Leverage session signage with QR codes to add to provide key information. Place a QR code next to the name of the upcoming sessions in each room to link to a full description, speaker bios.
Include a QR code on conference name tags. Stop trading business cards and use QR codes to connect with other with business card-like activities.
Use a QR code to inspire people to sign an event-relevant petition or social statement. For example, SAP could use such a code to "Vote here to show your business runs better with SAP!"
Use a QR code scan instead of collecting business cards in a fish bowl. Use this technique to give away prizes and immediately enter information into your database for immediate post-event follow-up.
Collect event or session feedback from a QR code. Instead of handing out surveys, immediately collect and record feedback with a QR code feedback process
A piece of critical advice is to send the QR code to a selection inside and outside of your company to make sure they can access whatever it is you are connecting them to. Too many times I have seen a QR linked to content behind a corporate firewall, rendering the SoLoMo experience useless.
Please share any additional ways you have used QR codes at your event or marketing campaign. Or contact me directly at MarketingThink.com or on Twitter @GerryMoran.
Here are some other ideas to help your marketing events be more successful:
So, cut to the chase with our event and marketing strategy and connect your customer with the next step in the user experience with a QR code.
PS. Please share this blog post with others you think could benefit from know more about QR codes, SoLoMo strategy and event strategy!
Follow @GerryMoran