Can you believe it? People are already putting up their holiday decorations this year! Thanksgiving is early, so THIS is the weekend that the shopping really starts! I am hoping that that red-suited guy stops by MY house this year, I thought about his list and hoping that I am making it loud and clear since he is going to be checking it twice!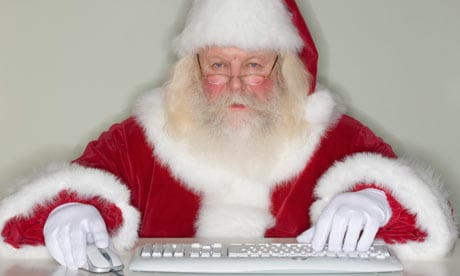 If you are a business of any size, you need to make sure that you are on the good list of your customers since there is likely no forgiveness this holiday season, given the showrooming, mobile apps and sales that seem to have already started!
So take heed of this list to stay on top of your customers' minds. Check it TWICE so you will hear that retail sleigh bell ring!
Smart Shoppers. Make it easy for your customers to make them a smart shopper. Find a way to tell them through social media or a blog!
Thank You! Say thank you everywhere you can; in person, on social media and with a phone call now and then. Thank you is a big brand equalizer. Reward. Find a way to acknowledge and reward those that are loyal to your brand
Be Relevant. Validate your credibility and relevancy in your brand or business by being a part of the social conversation. Your customers are there, so you should be too.
Good News. Be the curator of good news and let your customers know when there is something worth sharing that is related to your relationship with them!
Review. Give your customers a place to provide reviews! And if you don't, carve out a space, make sure you are paying attention to Yelp and Foursquare because your customers are there!
Help! Always find interesting ways to ask if you can help!
Mea Culpa. If you messed up, acknowledge your mistakes, especially if you found out about it on social media!
Add Value. Consider using each possible in-store and social media channel to inform your customers about your company's value proposition. This is GREAT customer service!
First Timers. Make sure to connect with first-time customers and let them know of all the ways that you can help them by phone, email or social media!
If you don't pay attention to this list, Santa won't be the one that will be scalding you this holiday season! It will be you saying "Duh, I should have done something different sooner!"
Well, it's never too late! Have a question or need an idea? Connect with me at @GerryMoran or moran.gerry@gmail.com
Good luck with the sales this holiday season! Ho ho ho ….
Follow @GerryMoran