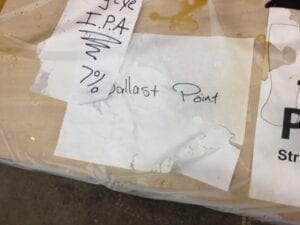 When I walked into the annual Valley Forge Craft Beer Festival by Starfish Productions last night I was not greeted as if I was walking into Cheers, but there was a great sense of craft beer camaraderie. There always is comaraderie when craft beer is involved. What a great common denominator and a very social environment beer creates! Everyone wants to share about the latest find … from the brewers to the attendees!
These beer festivals are classic blocking and tackling strategy by brewers and distributer to drive product sampling. And, what a great product sampling strategy these beer tastings are. With the goal of driving beer awareness, staff engagement and some conversion activity; like buying beer after sampling new-found favorites. With conversion to buy beer as the goal, you'd think that craft brewers and event organizers would make it easy to extend the beer drinker-to-craft brewer conversation after the event! I was surprised how much social media and digital marketing was NOT a part of the event's and brewers' marketing plan, for the most part. This under-delivery of a social media connection was a key missed opportunity, that I am sure is repeated across many festivals from knitting to food events.
Social media is key for the close to 2,700 craft brewers, since there are little funds to promote and this strategy ignites the word of mouth marketing, which is so critical for success. But, because a brewer "does social media" does not mean it's always done effectively!
There are three key reasons why integrating social media into events, like the Valley Forge Craft Beer Festival, to extend the post-event conversation is important:
Drives More Purchases. Tell me where I can buy your beer or services once I leave the event. I would have loved to known how to buy an EVO t-shirt, my new favorite IPA that I discovered this year!
Amplifies The Word Of Mouth. Give me a way to tell my friends that I attended a a great event and found a new IPA in the area with a tasting room, like Free Will Brewing in Perkasie, PA!
Delivers Updates. Just like your brewery sales guy delivers new beer samples to your distributors, it's key to keep the drinkers updated 0n seasonal brews, product announcements and any other relevant news. Keep us updated and we will seek and find you!
When it comes to drinking great new craft beer, I never have trouble mixing business with pleasure. Here are 5 ways that craft brewers that use beer festivals as part of their sampling strategy to use social media to have a more successful event!
Spread The Hoppiness With Hashtags. Hashtags are a great way to spread the word of an event or a great beer at an event to those that are not following you … yet! Combining great hashtags like  "#WishYourWereBeer with @3HeadsBrewing at the #VFBeerFest. Loving the #TheKind!" is a great way to socialize your message. Doing this will expand your awareness AND grow your social media followers! I should have done this for my new favorites brewers!
Make It Easy To Like You. If someone likes your beer, then make it easy for them to like you on social media! Aside from a few sub-par QR code executions, no one had a clear and compelling  call-out that made it easy to follow the brewer on social media. Waiting in line, engaging with the representative and taking that first sip of beer is the first date of a potentially long-time relationship with your beer. If I like you, then make it easy for me to follow up with you! Great information from Round Guys, but it's missing on the water-proof execution!
Use Social App-etizers To Make It Easy To Keep Track Of What I Like. My favorite home-grown way to remember what beers I like when I go to an event is to take a photo from my iPhone! For instance, here is one of my new favorite beers of this event. Event organizers should embrace smartphone apps like Beer Vault to help make it easy to remember what beers samplers like! Now, THAT would be an appetizing tool!
Use Gamification To Break Through The Clutter Of Other Brands. People love to play games! Whether it's with location-based services apps like Foursquare or photo-based apps like Instagram there are numerous opportunities that beer festival and craft brewers can use for their measurable social media tactics and program to launch ongoing relationships with beer imbibers! Here's a great example of someone (actually, my significant other) using Foursquare taking a picture of me and my daughter! This native behavior of social app usage is happening whether or not you embrace it!
Get Samplers To Bounce Back And Buy. Going into a trade show or festival with a strategy to incentivize attendees to return to your store or buy more from you is key to the event's overall success. The amount of samples you provide is not a key indicator to success, rather, how many sales or social media engagements created by the samples IS the key. For instance, Boxcar Brewing Co. handed out coupons for a free beer tasting and brewery tour with the hope that I will buy a few cases after the tour and McKENZIE's Brew House handed out a coupon good for a free pint hoping they collect my email address and I spend more on food when I stop by their pub!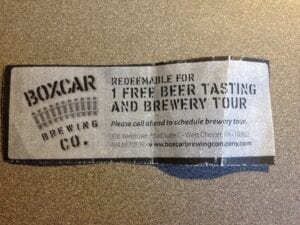 Whether you are a craft brewer, a beer bar or just a marketer. I hope that you are inspired by some easy-to-implement ideas to make your sampling strategy more effective. Beers to you!
Gerry Moran.
Follow @GerryMoran