Why do we talk so much about the new buyer journey and avoid pointing out how the new selling journey is also changing? It's true many customers are moving as much as 70% of the way through the sales funnel before directly engaging with sales executives. To establish a relationship before you, your competition is also trying to engage with your customer earlier. And, many times beating you to the punch because you have not embraced a social selling strategy.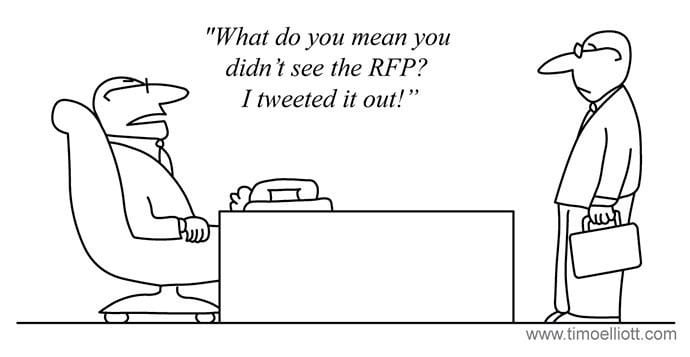 LinkedIn is one of the key social selling tools for you and your competition to build a solid customer relationship. It's important for you to know how others, including your competition, use LinkedIn to become a valued stop on the buyer's journey.
Your Competition Is Out Social Selling You On LinkedIn
1. Social Selling Forensics. 15.1% of LinkedIn users are paying for advanced contact and searching features. You might be using a 'hand saw' (i.e., the free version) to build your relationships while your competition is using a 'power saw' (i.e., LinkedIn Premium) to get the job done more quickly.
2. Who's Checking You Out? Improving your profile and personal branding on LinkedIn can help you to be found more easily. 70.6% of LinkedIn users are using the Who Has Viewed Your Profile feature to prioritize their social selling follow-up strategy.
3. Do You Know Whom You May Know? 65.2% of users check out the People You May Know feature to help make connections and build a bigger network. A bigger network is always better since it provides you access to an even larger second- and third-level group of contacts!
4. Participating In Communities. 60.6% of members are using the LinkedIn Groups feature to build their reputation as an expert. Your successful competition is building their reputation by being a consultant and not a seller in these Groups.
5. Participating In Very Targeted Discussions. With 2.1 million Linkedin Groups, (8,000 new ones created daily) there are many opportunities to find niche communities and discussions to be an earlier stop on the buyer's journey.
6. Getting To Know Your Customer. 75.8% of users research people and companies. Corporate Executive Board (CEB)  research also shows that successful social selling reps spend 15% less time in front of customers than not-so-successful ones. This feature is a great way to get to know your customer better, prior to your competition.
7. Rekindling The Customer Fire. 70.6% of people use LinkedIn to find and renew relationships with past customers, associates and colleagues. It behooves you to have a daily, weekly and monthly plan to stay on top of your expanding network.
8. Building Influencer Relationships. Influencing the influencer is a new way to connect with you customer. Your competition is part of the 45% who are using LinkedIn to build a new relationship with people who influence potential customers. Do you even know who your influencers are? If not, then you should.
9. The Softer First Touch. Gone are the days of using the phone to make the first touch. 41.2% of users are increasing the effectiveness of their face-to-face connections by leveraging LinkedIn touch points. Make the soft first touch on LinkedIn, before your competition, to increase your chances for success.
Do you have a competitive story to share? Perhaps one where you jumped ahead of the competition? If so, please share it below. Or, reach out to me directly on MarketingThink.com, Twitter, LinkedIn or Google+.
Looking to school up on LinkedIn so your competition stops taking you to school? Check out these links:
If these LinkedIn usage figures scare you because you are part of the group who is NOT using these features, then let this be a lesson learned. Stop being taken to school, and start to teach the lesson on the new selling journey.
Follow @GerryMoran