I am just back from a short Fall vacation in Phoenix, Arizona where I climbed a mountain, Piestewa Peak, for the first time! Well, at least part of the mountain. But once I was a high as I was going to get on this mountain (now, now, this was NOT a Colorado mountain) I "got" why people love climbing AND that training is key to excel. The view above the city and surroundings is amazing! Once you understand the "why", the "how" is easier to activate. And once you are good at it and it becomes a positive part of your life, good things happen!
There is a great analogy with mountain climbing and business blogging. First, many marketers don't try it because it is hard. When they do try it, it is sometimes with the wrong blogging resources, kind of like trying to hike in flip flops, and never try it again. And you have to get back on that mountain time and time again to conquer it. Just like blogging, you need to work at it to get into a groove and find your angle. However, once you do conquer it, you can guide others. Again, like business blogging, when you create great blogs you can guide your customers along their journey.
Why is this blogging activity important for you? There are three key reasons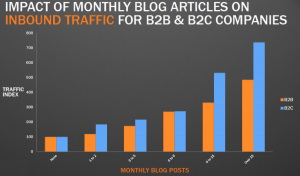 Competitive Advantage. Many businesses and thought leaders do not integrate blogging into their marketing mix and this is a gap opportunity. Why wouldn't you if, as HubSpot reports, that blogging companies get 97% more inbound links (vs. non-blogging companies). Web pages are also indexed 434% more, so these are two ways to create a competitive advantage. For instance, when I was planning for our Phoenix vacation I did several Google searches on "What to do in Phoenix in November" and "what to do in Phoenix if I only have 2 days". All that I found was several old posts! Whether you are part of a B2B or B2C company, blogging can drive more visits to your web or social media site than your competition, giving you an edge.
Native Buying Behavior. People are changing how they buy, relying partly on online search. A recent Fleishman-Hillard report notes that 89% of all customers turn to a search engine to find information on products, services or businesses prior to making purchases. Another report by the DAC Group indicates that 71% of enterprise purchase decisions in the United States begin with research conducted on a search engine. Blogs are a key content destination that these search results can point to!
Always On Connection. Since there is downtime time to do buyimg research a blog is a critical way to be always on. Hubspot states that more people in 2011 found blogging to be a critical part of their marketing tool kit than in 2010. Blogging enables you to to have an always on connection with your customers and prospect, proving them focused and customer centric content in stead of salesy information.
I propose there are five ways to leverage blogging for your business:
1. Rise above the clutter. With the percentage of businesses using blogging diminishing (due to scaling and resources) it's a great way rise above the bombarding emails that have a decreasing clicks-through rate, non-relevant promotional tweets and unsearchable Facebook posts that do not break through your customers news feeds.
2. Become a trusted resource. By focusing single customer-focused issues with each blog post and avoiding overt selling, you can build yourself up as a trusted resource. For instance, my opportunities for two of my favorite new finds in Phoenix, Papagos Brewing Company and Chelsea's Kitchen would be to write a series of So You Are New To Phoenix blogs that give people like me a some great advice always grounded in a last stop of the day at their restaurant or brew pup.This would would have been a great find while I was vacationing in Phoenix!
3. Articulate your differentiation or relevance. Blogs are a critical tool if your business needs to articulate a key point, since it allows you to lay out your ideas in very simple, graphically appealing ways (perhaps like this blog post?) Articulation does not mean spelling out why YOU are better than THEM. Rather it allows you to point out the key differences of big considerations that indirectly point to your business as a solution. For instance, while in Phoenix I stopped at DeluxBurger, a great burger and craft beer joint, where they served phenomenal organic beef burgers! What a great opportunity for them to blog about the key benefits of organic beef without flashing the blinking red light …. Eat At Delux Burgers!
4. Access to online reviews or tribal input. Yelp! And Foursquare are the big brand and small business competion equalizers. However, it appears that very few businesses encourage posting, hoping that it just happens! Of all places during my trip, it was going home when the TSA wants to,know how hey are doing. Businesses like Angels Trumpet Alehouse should be encouraging checking in, Yelping! and using blog posts to get the tribe to share. Even if its bad sharing, it lets you authentically engage.
5. Invite conversation. The commenting component of blogging is the key to enabling g customer conversation. When you keep your blogs simple and informative and inviting, you can seed the conversation. For example a blog by the Arizona Biltmore, where I stayed while in Phoenix could cover a range of topics of corporate meeting planning and romantic getaway ideas to how to get your exercise workout in while staying on property. I can imagine many questions being asked and the answers are … Conversation! And, this is a great source of ongoing sustainable content!
I am happy to answer your questions and start a conversation with you about how to leverage a blog for your business. Please contact me directly or comment below. I am always tweet able too at
@GerryMoran
Other blog posts you might enjoy about blogging are:
So, don't get discouraged about blogging. It's an interesting climb up that mountain that will take some time to master. Once there, you will break through te clutter at the peak, provide a relevant focal point for your customers and always be there as a resource. And when you succeed, you can sit back and enjoy a Tequila sunrise from the mountain top. (No, the view! But we did enjoy an awesome Tequila Sunrise at the Arizona Biltmore, the originating home of the drink in the 1930s.
Follow @GerryMoran