Effective social media content is a lot like a great cup of coffee. People read great content or drink the cup of coffee and go "mmmmmm". Like a great cup of coffee, that requires great ingredients, a great piece of content requires … well, great content! For my coffee, I prefer freshly ground beans from Trader Joes. To brew the best tasting cup of coffee I use my favorite filters to make sure I get the taste just right! With my social media content, I use great sources of information and I also put all this content through this 9-step filter process to make sure it delivers maximum value to the reader. I want every reader of my content to say mmmmm-more!
MarketingSherpa reports that content marketing can convert 30% more organic traffic into high quality sales leads than advertising. Also, 60% of consumers in another survey believe content marketing helped them make better purchasing decisions.
When I worked as a digital strategist on the agency side, we created a similar filter to the one presented below when it came to idea presentation to the clients. This filtered approach proved to be very successful with our ideas, even helping use to win awards.
During my time at SAP, leading the social media strategy in North America, we adjusted this filter-approach to help develop great content to our B2B customers and prospects. The Content Marketing Institute reports that 87% of B2B companies like SAP, use social media to distribute their content (an increase from 74% from 2011).  I'd like to share with you a simple infographic to help you deliver your content with social media.
9 Filters To Brew Up Some Tasty Social Media Content!
Before you press that send button with your next set of messages, make sure it passes each of these 9 filters!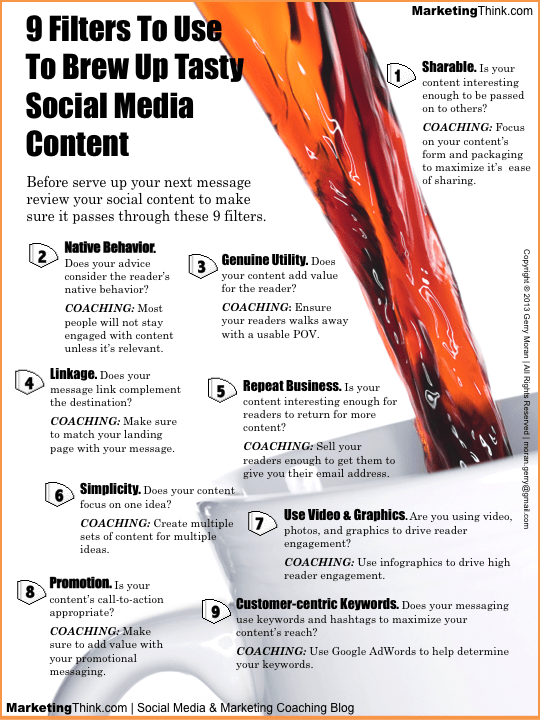 Do you have a tip or trick that you use to make sure you are putting out the best content? If so please leave a comment below. Or, contact me directly at MarketingThink.com or on Twitter @GerryMoran.
Are you looking for other tools to help you brew up some great content? Check out these other blog posts
Sit back and pour that great cup of coffee and put your messages through these filters. Remember, your readers run on great content (Dunkin Donuts reference for my readers in Europe, Latin America and Asia!).
Follow @GerryMoran