We need to end the love affair we have with the social media engagement metric. It's time to break off the engagement and begin to ask the hard questions to understand how to measure the meaningful triggers that convert customers into long-term relationships.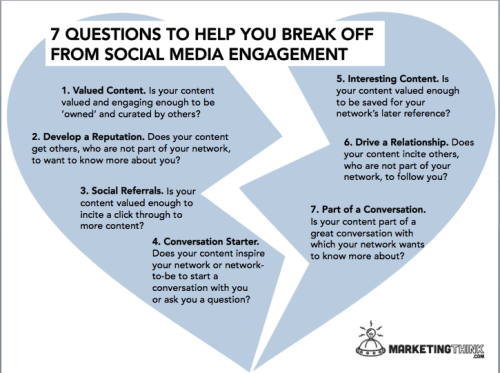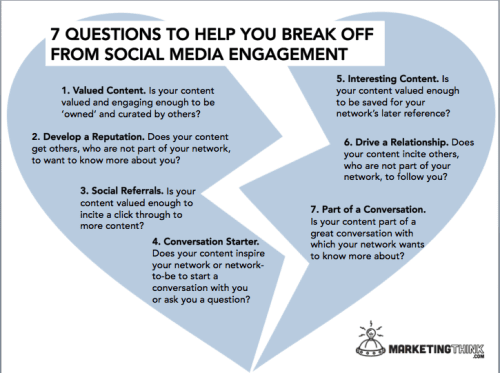 How many times have you heard a marketer who sets a business goal to drive 'engagement?' What does that metric really mean, anyway? The definition of social media engagement is so broad that it's almost meaningless in the context with the ability to impact business.
The Definition of Twitter Engagement
According to Twitter, engagement is the total number of times a user has interacted with a Tweet. This interaction includes clicks anywhere on the Tweet – including hashtags, links, avatars, username, and Tweet expansion – retweets, replies, follows and favorites. This collection of measurements does not help identify the business impact – however individual engagement activities, such as link clicks, do.
Just like the marriage experience, engagement is the time that a couple spends before they get married – the ultimate conversion. With content, there are many nuances that marketers need to measure to get a discrete read on how the customer courtship is developing. Adding a catch-all 'engagement' metric blurs the lines of business impact. Marketers need to have clear metrics to support articulated goals!
7 Ways To Break Up The Social Media Engagement Metric To Focus On Business Impact
1. Valued Content. Is your content valued and engaging enough to be 'owned' and curated by others? When your content is shared (e.g., retweet) the key insight you gain is its relevancy to the reader and the credibility it has to be shared with an incremental audience.
Tip: Take a look at the audience of your retweeters to understand your content's true value and impact on your business.
2. Interesting Content. Is your content valued enough to be saved for your network's later reference? If so, then pay attention to Twitter's Favorite engagement!
3. Social Referrals. Is your content valued enough to incite a click through to more content? The best marketers track referral metrics. A social media post with a link (e.g., bit.ly links) that gets clicked is a solid way to determine if your messaging is inspiring enough to drive customer action – and deepen their relationship with your brand.
Tip: Think about offering up a key fact or statistic in your social media post to get your readers to want to learn more about your value proposition. You need to give great information first, so your readers will click through to the next destination.
4. Part Of The Conversation. Is your content part of a great conversation with which your network wants to know more about? Many people search for hashtags, however fewer customers click on them. Clicking on a hashtag highlights the past week's Tweets with the same hashtag. When someone clicks on a hashtag, it indicates their interest in a greater conversation and underlines your ability to contribute to a potentially trending topic.
Tip: Reach out to Tweeters, who use a particular hashtag, with question or comment to develop a conversation that will help your research or relationship development.
5. Develop A Reputation. Does your content get others, who are not part of your network, to want to know more about you? When your content 'clicks' with others, readers click your profile or avatar to find out more about you. If you want to build your reputation with a relevant and incremental audience, create more content that incites others to click your Twitter profile.
Tip: Optimize your Twitter profile to shine the best light on your reputation when others check you out!
6. Drive A Relationship. Does your content incite others, who are not part of your network, to follow you? If your goal is to increase the size of your relevant network, then measure the content that picks up new followers.
7. Conversation Starter. Does your content inspire your network or network-to-be to start a conversation with you or ask you a question? If you want to understand the type of messaging that inspires a discussion with your network, then measure the amount of replies (or mentions) that your Tweets receive.
Tip: Make sure you respond to all of your Twitter mentions and blog comments to do your part in the conversation.
Do you have another way to map social media engagement to business impact? If so, please share below. Or reach out to me directly at MarketingThink.com.
Just like a marriage and the engagement, we use content and social media interaction as a way to see how activities support the end-game goals. If you pay attention to the right metrics, then your customer relationship can be a marriage made in heaven!