Question. Should I use Facebook as a tactic for my B2B marketing campaigns?
Answer. Sgt. Joe Friday from Dragnet used to say "All we know are the facts, ma'am." And the facts tell us that Facebook is a bad place to execute your B2B marketing strategy. Facebook is a great social media platform to the message and engage fans. However, mostly for B2C brands. Many B2B brands and their marketing managers are getting a very low ROFI – Return On Facebook Investment because they do not know all the facts!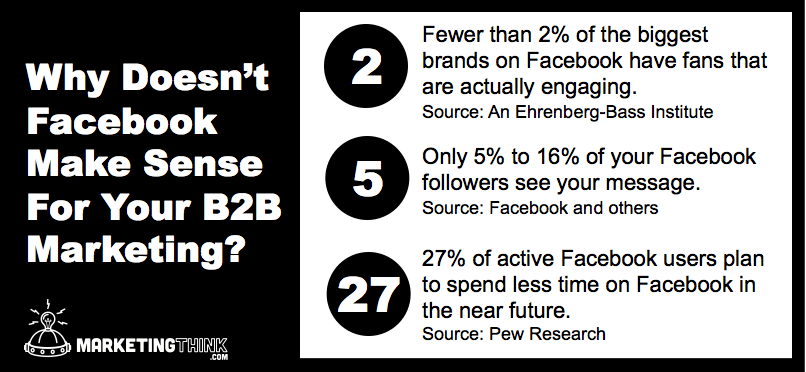 3 Reasons Why Facebook Is Not A Winning B2B  Marketing Messaging Platform
Many B2B organizations spend thousands of dollars building up their Facebook likes, developing Facebook applications and paying advertising agencies to manage their messaging and feeds. However three key things B2B marketers forget, or are not informed by their agency are:
Your Facebook will not likely engage with big brands on Facebook. An Ehrenberg-Bass Institute study states that fewer than 2% of the biggest brands on Facebook have fans that are actually engaging with them.
Very few of your Facebook fans will not see your message. 5% to 16% of your followers see your message. Since most Facebook followers only visit a brand's Facebook page once, most experience a brand through their feed. And since Facebook has monetized feed messaging, only 5% or so (shared with me by a Facebook sales exec) ever get to see an organic message. If you want more to see your message, then you need to pay more!
Fewer of your customers will be using Facebook in the upcoming years. Pew Research reports, 27% of active Facebook users plan to spend less time on Facebook in the near future than in recent years. Active users, who are decision makers, do not want to register for your webinar after they have shared their family pictures on-line. Certain social media platforms have certain native buying behaviors associated with them, and Facebook book does not drive B2B demand.
I'd recommend focusing your efforts on blogging, Twitter, LinkedIn and SlideShare for your B2B marketing!
Do you have social media or social selling question? I'd love to answer it for you! Please submit your question to Gerry Moran and Ask MarketingThink.com.
Follow @GerryMoran