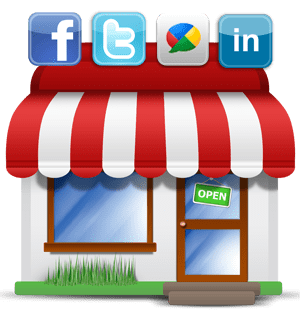 Who says direct mail is dead? Many small businesses are spending their hard-earned money on direct mail campaigns to help drive traffic through their doors. But, with social media being where the "fish are", I expected most small businesses use social media with their direct mail marketing. To dig a little deeper into this hypothesis this weekend, I opened up one of my hometown coupon packages that I found in my mailbox. I wanted to see how local small businesses, such as the ones in the Collegeville, PA area, were using social media to meet their business goals. I expected that every small business was using social media and making sure it was integrated into everything they did make sure their business was successful.
My findings showed:
9 of the 51 small businesses integrated social media with their shared mailer tactic

20 of the 51 advertising businesses DID NOT include their social media channels

11 had no social channels at all (i.e., exterminator, children's dentist, window, roof, gutters, moon bounce and an auto parts store)
I fell off my chair from reading these results. I suspect that most small businesses across the US that use shared direct mail have the same experience of little or no integration of social media into their direct mail marketing.
Social Media Advice For Small Business When Using Direct Mail
My advice to most small businesses is:
Promote Your Social Media Channels.

If you have social media channels, include them on your direct mailer to make sure you are connecting with customers on their terms.
Always Link To Your Business' Social Media Channels.

Make sure you are not linking to a personal social media account to make sure are delivering an experience that supports your business.
Use More Than Social Media Logos.

All businesses need more than a Facebook or Twitter logo. Make sure to include your Twitter handle (e.g., @JoesGarage) and Facebook (e.g., Facebook/JoesGarage) name, so customers do not have to search for your account.
Keep Your Social Media Pages Updated.

Don't waste your time listing Facebook and Twitter pages if you are not going to update them daily – twice a day for Facebook and 4-5 times a day for Twitter. And, if you are a food business, you really need to be on Pinterest!
Tell Me Why I Need To Scan A QR Code.

Make sure to tell your customers why they need to scan these codes. Make sure to give the proper real estate to the offer vs. the QR codes.
Add More Contact Information On Your Mailer.

Place your website and social platforms prominently along with your phone numbers, since you need to connect with the customer on their terms.
Use Google Plus To Make It Easier To Be Found.

If you are not using Google Plus, your small business is suffering from underperforming search engine optimization (SEO). That means your customers are not finding you! If you don't know what this means or understand the importance of Google+, then you need some help!
Find A Part-time Marketing Coach To Add To Your Team.

Do not rely on your direct mailer sales staff as a social media or marketing consultant. When working with them, ask about their social media and integrated marketing experience.
8 Quick Case Studies From One Direct Mailer Envelope Package
You can see from the following examples that there are many small businesses hoping to use social media to grow their business. However, they are not setting themselves up for success by making their direct mail and social media channels work as hard as possible for them!
1. PV Express Lube & Wash. There is no call out to their handles and even with a search of "Twitter Perkiomen Valley Express Lube and Wash" nothing shows up for Twitter or Facebook. When I go to their website, there is no reference to social media channels.
2. Franco's Pizza. I love Franco's Pizza. It's one of the two great pizza shops within a half-mile of my home. When this coupon advises a customer to "Find Us On Facebook", it should not mean, to actually, try to find them. Do you know how many Franco's Pizza's there are? Even when I use the URL, myfrancospizza (which should be listed as MyFrancosPizza.com) I still cannot find anyone. Also, this coupon has a nice big URL code (too big for this coupon) with no reason I should scan it. I did scan it and found that there is a very cool app! Someone should give business advice, to properly, call out the value propositions that each business has. I finally found Franco's Facebook page by logging on to their website. Once I clicked to follow them, I say that their page was not updated 1-2 times every day, which is a key reason to call out a Facebook page on a direct mailer or on a website.
3. Chiccarines. This wonderful jeweler could make their marketing work harder if they used their social media channels to connect with their customers. When I reviewed their social media sites, I found their Twitter account appeared to be more of a personal account. Also, it was not updated in 5 months! My search for this Collegeville jeweler turned up a restaurant, and my attention was lost after not finding it on the first page of my Google search results.
4. Rightway Waterproofing Co.. Rightway was very easy to find by searching on Google, but I still want it to be easier. Small businesses need to take a cue from big brands and start to list their Facebook URLs on their print and other materials. Again this brand had great content, but needs to update their content more regularly to help leverage the channel as a sales and marketing tool.
5. Horizon Services. Horizon hit the home run for integrating the social experience with their direct mailer. Their Facebook, Twitter and YouTube channels are all engaging, update to date and easily "findable" from Google. Aside from being the small visuals on eh direct mailer, this is a model small business.
6. CP Rankin, Inc. pushes me to find them on Facebook. Their activity seems to be very active recently, but there are no followers or following at all! This is a great opportunity to of how your customers whom you follow and even tweet out maintenance advice! Now, I really like that this company listed their company on LinkedIn Profile, too.
7. Limerick Gift & Garden. This business was very easy to find on Facebook and was "unfindable" on Google or on Twitter. In fact, when I resorted to visiting their website, there was no mention of any social media platform. This type of business needs to be active on Pinterest, in addition to Twitter and Facebook!
8. Closets By Design. When searching Closets By Design on Google, I find Facebook.com/ClosetByDesign, which connects me to a Virginia franchise site, whose page has not been updated in over a year. Hmmm. After further research, I found that each franchisee maintains an individual Facebook page. Without this franchisee's noting what their channel ownership, it's too hard to look for this business' page. Their Twitter page appears to be the corporate page. However, not too much activity going on there and there are not photos posted! And THIS is a visual product, right? Hmmm.
What do you think about my advice? Do you have something more to share? If so, please note it below, or reach out to me directly at MarketingThink.com or on Twitter @GerryMoran.
With margins tighter than ever, every small business needs to make their marketing work as hard as possible. How is yours working? Please contact me at gerry.moran@marketingthink.com with any questions!
Follow @GerryMoran