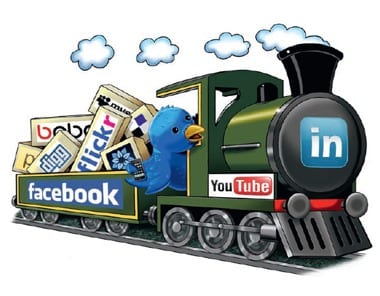 A well-run social media strategy and program at your company is like running a passenger rail system. To be successful, you need a set of social media rails on which to plan, launch, measure and, deliver your message to your target audience. For some smaller businesses, this engine may mean using a free tool, like Hootsuite. At SAP, we use an enterprise deployment tool called Sprinklr, to execute and measure our social media strategy. We've been able to leverage the power of an enterprise deployment tool as THE engine on our infrastructure (the rails) to power our B2B social media strategy.
Having a well-built set of rails and an engine to distribute your content social media can set you up for success to plan, deploy, measure and optimize your content marketing. This system will let you efficiently and effectively reach your target and drive your business goals.
5 Stops You Need To Make When Building Your B2B Social Media Strategy
Consider these five key things to get going in the right direction when building your social media program:
1. Social Media Goals. The Society for Human Resource Management (SHRM) reports 72 percent of organizations do not have a clear strategy or set of goals for their social media activities. At SAP, where I lead social media strategy in North America, we have three simple social media goals: amplify the SAP story, engage people with great SAP content and convert interest in SAP into a deeper conversation with our brand. A clear set of goals aligns you with the job that needs to be completed!
2. Measuring Social Media Strategy Execution Performance. Samtrix reports 75% of B2B companies do not measure or quantify their social media performance. Companies that measure performance mostly (56%) count comments and followers. Large B2B brands, like SAP, use enterprise channel management tools to help measure:
Amplify. Impressions to help us to amplify our story
Engage. Content performance, like retweets, Facebook shares and clicks to consume content, to help understand how content marketing strategy performs
Convert. Conversion performance, by measuring clicks to a registration page or brand property, to see how social media messaging related to demand generation
At SAP, we use our enterprise deployment tool, Sprinklr, to manage real-time performance of single campaigns and aggregated performance of specific solution areas, like analytics. At the press of a button, we can deliver execution-level performance and high-level leadership reports to show our social media success.
3. Social Media Strategy. When planning a trip, you need to be clear of your priorities to make your trip a success. If you don't know where you are going and the best approach to get there, then you won't be successful. Spherion reports about 30% of companies say they struggle with social media strategy execution to drive results. Social-successful companies, like SAP, have a clear social media strategy to articulate what we should be doing vs. what is distracting. This strategy helps filter every presented idea that . We can turn"We should do this" into "We should do this because it fits our strategy that helps us reach our clear goals! For instance, the six key things that we focus on are a building community with great content, best-practice execution of a channel management system, using blogging to drive pull-messaging, connecting with influencers, activating individual employees and using listening.
4. Governing Your Social Media Program. A successful rail system requires a conductor to make sure that everyone arrives at the station as expected. Mission accomplished. Recent Spherion research shows that only 45 percent of companies have a formal social media policy for social and digital media initiatives. At SAP, our robust program includes an approval process that includes a formal application to launch a channel, including one-year support plan for resourcing and content development. This process ensures a sustainable life of a channel and strategy. Your program needs to have a similar program.
5. Social Media Center of Excellence. Give a man a fish and he will eat well for a day. Teach a man to fish and he eats well for a lifetime. At SAP, we have built the social media center of excellence to lead our 25+ marketing areas to drive their train on the track to success. For instance, we use our weekly SAP best-practice Social Media Office Hours, to show how to use social media to activate each strategy (e.g., 10 Ways To Use Twitter To Get More Registration). Every serious-about-social B2B and B2C company needs a center of excellence program to empower and enable your social business stakeholders! You can't do it all yourself and this hub and spoke model get help you move in the right direction.
Do you have a success story to share with your set of social media rails or your engine, like we use our tools at SAP? If so, please share below, directly to me on MarketingThink.com or via Twitter @GerryMoran.
Other B2B Social Media Strategy Sources:
If you enjoyed this review of B2B social media strategy execution, then you might enjoy these other blog posts:
These five key stops on a company's social media journey can only be activated on a solid set of rails with a strong engine. Please let me know if you have a question on how to build your rails or choose your engine to deliver your content! I'd love to share the success that we have had with our social media program at SAP.
Follow @GerryMoran