Aberdeen research states that 67% of sales teams that use social selling techniques achieve quota vs. 49% that do not – an impressive statistic.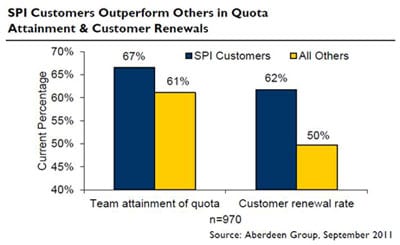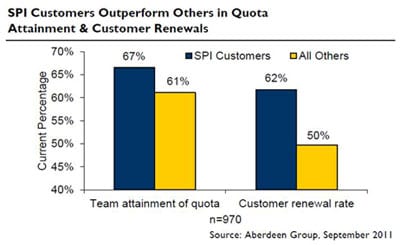 LinkedIn is one of the biggest tools in the social-selling tool box to help teams achieve this differential. Sometimes we just need to 'think different' about the possibilities of how to use these tools to build great results.
5 Different Ways To Think About LinkedIn To Reach Your Social Selling Goals
1. Use LinkedIn as your reputation destination instead of your resume and your customers will be open to your solving services instead of your selling ones. Strong social selling reps use their profile a springboard to building great relationships.
Make LinkedIn Your Reputation Destination http://t.co/fFV3XsXkj1 #socsales #socialselling pic.twitter.com/9X2TufHD5v

— Gerry Moran (@GerryMoran) July 17, 2014
 2. Customers are using LinkedIn to learn and self-educate, so give them what they want with your daily updates and group posts.
78% of customers use #LinkedIn to learn. Are teaching them? #socialselling http://t.co/5uUip7Op7E pic.twitter.com/jTqJsyw5cD — Gerry Moran (@GerryMoran) July 17, 2014
3. Small businesses are selling seven days a week. LinkedIn needs to be a part of the small biz tool kit to get more people to walk through the door.
10 Ways To Use LinkedIn For #SmallBusiness http://t.co/RnRFV5Ace1 #smallbiz pic.twitter.com/uNG5ur6rZO

— Gerry Moran (@GerryMoran) July 16, 2014
 4. Your competition has access to the same LinkedIn tools as you. Are they using them more effectively to outsell you?
Is Your Competition Out Social Selling You On #LinkedIn? http://t.co/ay3L3PStE5 #socialselling pic.twitter.com/ESDSljV5Xq — Gerry Moran (@GerryMoran) July 15, 2014
 5. Scary LinkedIn profiles can scare your customers away. Remember, you can't sell yourself unless you work on your LinkedIn curbside appeal. It's the easiest way not to blow the sale!
I see people with no #LinkedIn profiles and really scary ones. How's yours? http://t.co/6JCtdvE55w #socialselling pic.twitter.com/vqpmqyQoZb

— Gerry Moran (@GerryMoran) July 10, 2014
Have you seen a recent tweet that gets you to think about using LinkedIn differently to sell? If so, please share or contact me directly on MarketingThink.com, LinkedIn, Twitter, or Google+.
Good luck adding to your team's quota success by using LinkedIn! If you are looking for more ideas, please contact me directly at gerry@marketingthink.com.