There is nothing better than a 5-ingredient recipe, especially with it's a recipe to make your tweets last longer. My great-grandmother Antoinette used to make this awesome 6-ingredient cake that would be gone in minutes after it was served. Contrary to her delicious recipe, I want to give you a 6-ingredient recipe to make your tweets last longer than her cake did!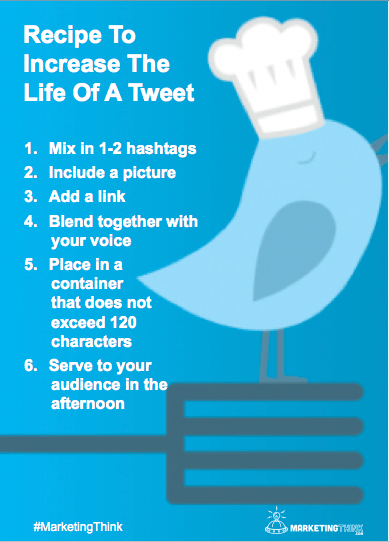 There is no 'Twitter Timer" to let you know the beginning and end of your tweet. Yes, you know when you send it; however, you can't really know when it expires. There isn't even a grand gatekeeper at Twitter that can tell us. Various research sources help us to get a better handle on the life of a tweet by observing retweets and clicks. So, retweets and clicks are our indicators, or ingredients, to help us extend the life of a tweet.
We do know that he mean life of a tweet is about 18 minutes. The Moz.com blog reports that an average tweet takes 18 minutes for a retweet to occur. GaggleAmp also reports:
73.8% of the clicks occurred in the first hour

85.0% of the clicks occurred in the first 12 hours

92.5% of the clicks occurred in the first 48 hours
Why is it important for you to make your tweets last as long as possible? So you can deliver your message to more people over a longer stretch of time.
The 6 Key Ingredients To Extend The Life Of A Tweet
Use 1 -2 Hashtags In Each Of Your Tweets.

Buffer reports that tweets with 1 or 2 hashtags get 21% more engagement, which means it will get retweeted and last longer.
Include A Link In Your Tweets.

Dan Zarrella's research indicates that tweets with links are 86% more likely to be retweeted.
Get More Twitter Followers.

Tweets from accounts with more followers get retweeted more than those accounts with fewer followers reports research from Moz.com.
Blend In Your Voice. Sometimes facts and figures are great ingredients for a Tweet. However, if you blend in your voice, then you make it your own so your readers will keep coming back for more!
Place In A 120-Character Container. Tweets can fit 140 characters, but why fill up the container. You need to keep some room 'at the table' so people can easily share it with others!
Serve In The Afternoon. Many studies indicate Tweeting in the afternoon drives the most retweets. So, serve up your hot ones in the afternoon to increase the life of your Tweets!
Do you have a success story to share that demonstrates longer lasting tweets? If so, please share below. Or, contact me directly at MarketingThink.com or on Twitter @GerryMoran.
If you are looking for more recipe ingredients to fine-tune your Twitter skills to make your messaging last a little longer, you might be interested in these posts to help you to:
Good luck with this 6-ingredient recipe to make your tweets last a bit longer. And as my great-grandmother Antoinette says "yes, you truly can have your Twitter cake and eat it too."
Follow @GerryMoran