I just returned from my monthly acupuncture appointment with Dr. Schell Ng. She always points out to me that different parts of my body have different acupuncture points that stimulate different reactions to make me feel better and reduce my stress. I got to thinking that there was a social selling lesson pointing right at me! Socially active customers and buyers have social selling touch points that can help you solve relationship hurts, deepen customer bonds and build up the value of your social currency.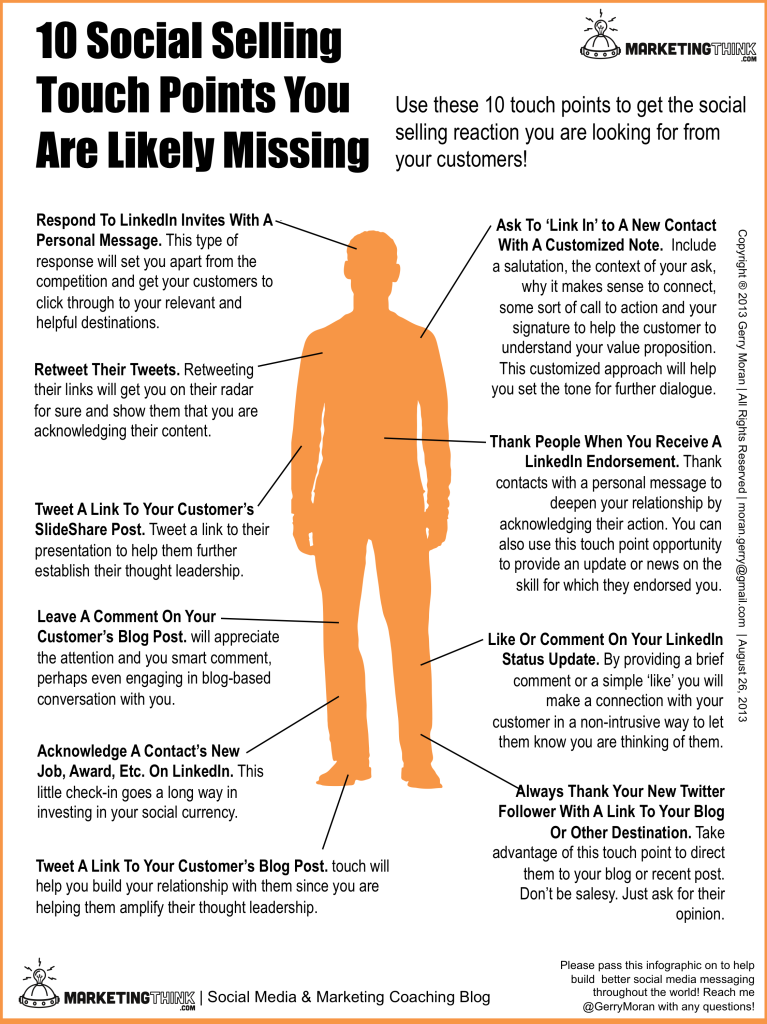 Much like an acupuncture appointment, there are different social selling activities that you can perform to generation different customer relationship results. It's important for you to know all places that you can 'touch' your customer. Like an acupuncturist, there is no one activity that cures every hurt or improves every situation.
10 Social Selling Touch Points To Build Up Your Social Currency
Respond To LinkedIn Invites With A Personal Message. Never respond to a LinkedIn request to invite with a simple acceptance! Always respond with a customized response with links to your blog or other destination. This type of response will set you apart from the competition and get your customers to click-through to your relevant and helpful destinations.
Ask To 'Link In' to A New Contact With A Customized Note.

When looking to make a connection with someone on LinkedIn, never use the stock invite. Instead of the 'vanilla' approach, make sure to include a salutation, the context of your ask, why it makes sense to connect, some sort of call to action and your signature to help the customer to understand your value proposition. This customized approach will help you set the tone for further dialogue.
Thank People When You Receive A LinkedIn Endorsement.

LinkedIn does a great job of getting your contacts to endorse you. So, when they do, thank your contacts with a personal message, to deepen your relationship by acknowledging their action. You can also use this touch point opportunity to offer an update or news on the skill for which they endorsed you.
Like Or Comment On Your LinkedIn Status Update.

By providing a brief comment or a simple 'like' you will make a connection with your customer in a non-intrusive way to let them know you are thinking of them.
Acknowledge A Contact's New Job, Award, Etc. On LinkedIn.

When you see a LinkedIn update on the platform, Feedley, Flipboard or HootSuite, make sure you send a quick "Congrats on the new gig" type of message. This little check-in goes a long way in investing in your social currency.
Always Thank Your New Twitter Follower With A Link To Your Blog Or Other Destination.

Respond to every new Twitter follower with a direct message noting that it is great to connect with them. Take advantage of this touch point to direct them to your blog or recent post. Don't be salesy. Just ask for their opinion.
Tweet A Link To Your Customer's Blog Post.

If your customer, prospect, or influencer is a blogger, then send out links to their blog with attribution to their Twitter handle. This touch will help you build your relationship with them since you are helping them amplify their thought leadership.
Leave A Comment On Your Customer's Blog Post.

Leave a comment or question on your blogging customer's post to show them that you

have read it and have a POV to offer. They will appreciate the attention and you smart comment, perhaps even engaging in blog-based conversation with you.
Tweet A Link To Your Customer's SlideShare Post.

Many people post their SlideShare presentations after a meeting or speaking engagement. Tweet a link to their presentation to help them further establish their thought leadership.
Retweet Their Tweets.

Create a Twitter list of your customers to use their tweets as part of your content marketing strategy. Retweeting their links will get you on their radar for sure and show them that you are acknowledging their content.
Do you have another customer touch point to help you cause a relevant reaction from your customer? If so, please do share below! If not, please contact me directly at MarketingThink.com or on Twitter @GerryMoran.
Here are other recent MarketingThink.com posts to help you drive positive reaction from your customers:
Your customers' social selling touch points are not as complex as Dr. Schell Ng's, my acupuncturist's. However, they do operate in a very similar way. You cannot successfully cure your under-performing relationship with just one touch. You need multiple touches to build up your social currency and cash in on the rewards!
Follow @GerryMoran