The foundation of a social business-strategy needs to be built on connecting with the customer's native buying behavior.
My great-grandmother, Michelena, used to say, "I can't make a great meal unless I know who I am cooking for". A great social selling, marketing and business lesson from a Polish cook!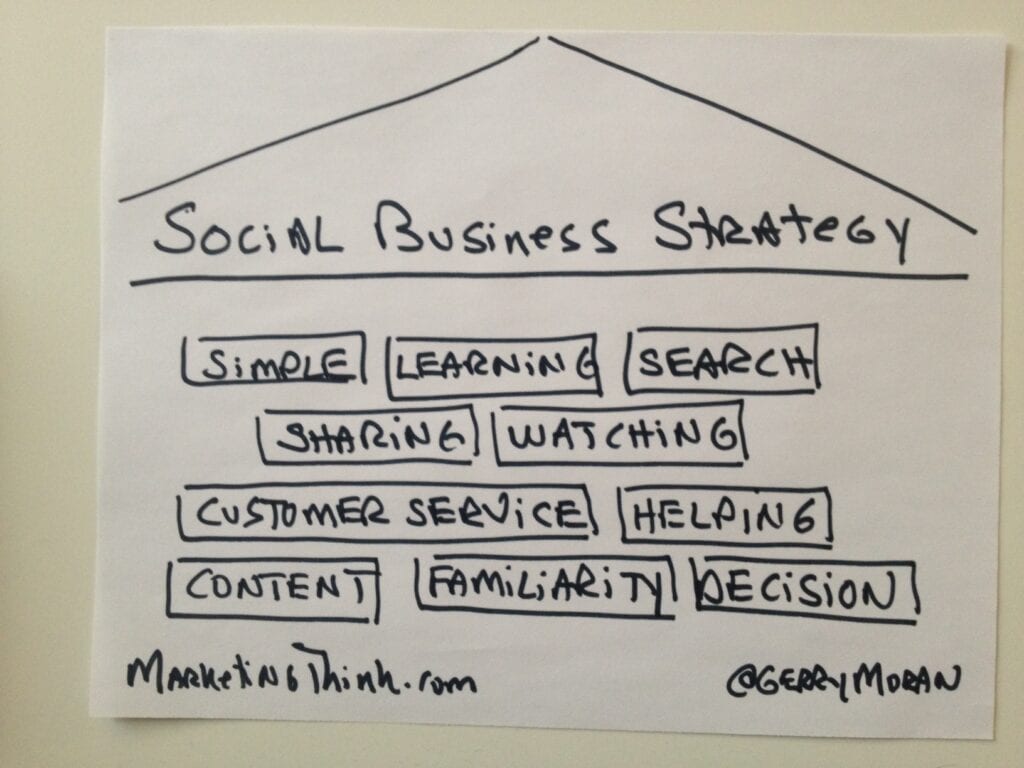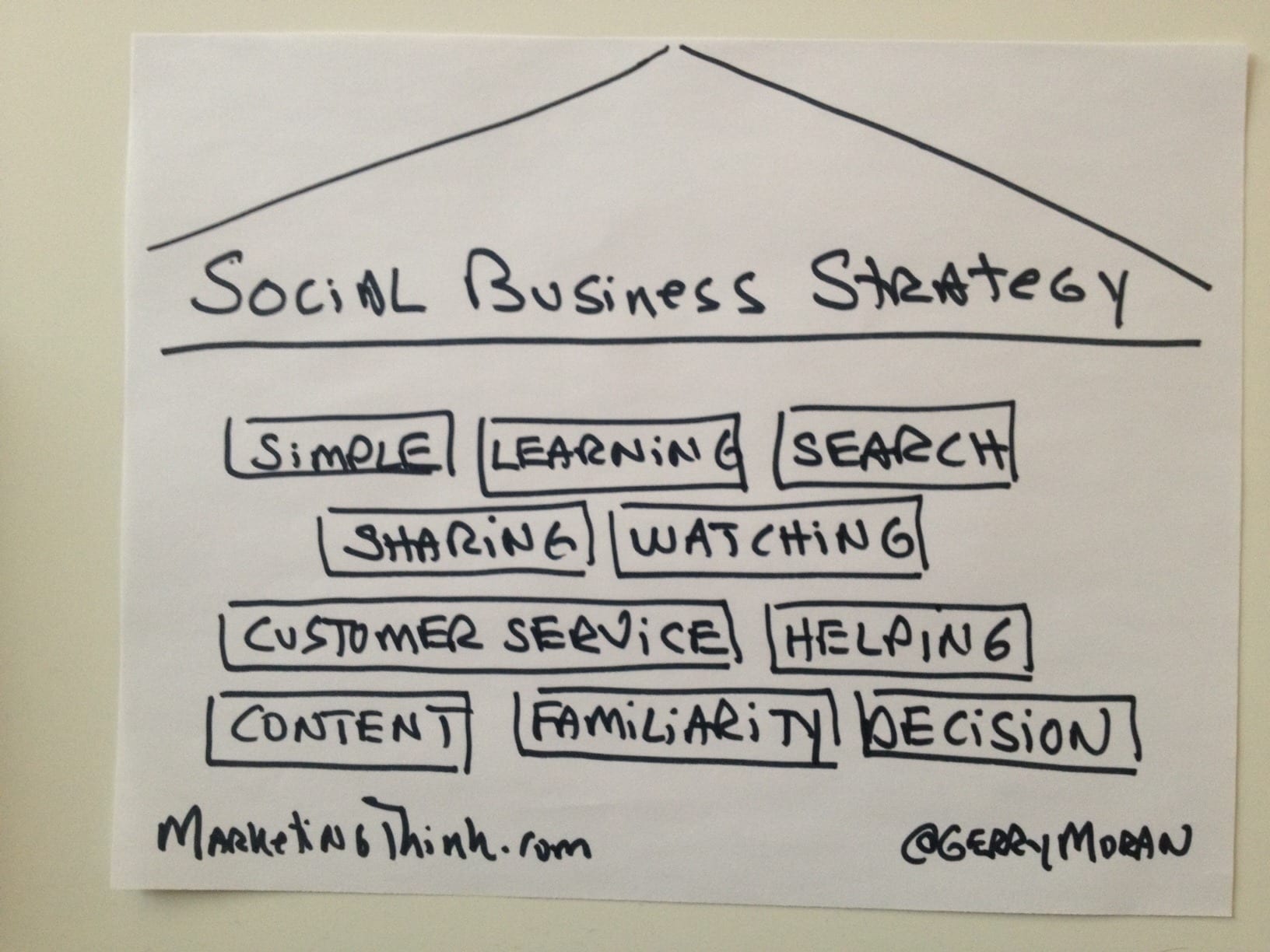 Why is this lesson important? If we know how customers natively act, then we will have a better chance to meet business goals; especially if their behavior is leveraged instead of asking them to change. Brands that figure out how to connect the dots among native behaviors and social business-strategy will win the relationship building and sales game.
 10 Native Behaviors On Which To Build Your Social Business
1. The Desire For Simplicity. KISS – Keep It Simple Seller! Customers tend to do what is simple and is the shortest distance between point A and point B. Complex systems and processes never get a second look. Whatever social business-strategy employed, you will be more successful if it is as simple. A Corporate Executive Board (CEB) study found that the simpler it was for the consumer to engage with a brand, the easier it was for them to trust; making it easier to make a purchase or solve the problem. The CEB found that brands who scored in the top 25% of a "simplicity index" were 86% more likely than those in the bottom quarter to be purchased by the consumers. With 78% of B2B buyers having less time to devote to reading and research (source: DemandGen Report), companies who make it easier will be better off.
2. Always-on Learning. SiriusDecisions states that 67% of the buying journey is done digitally. Forrester states the 70% of the B2B purchase decision is completed before the customer contacts the vendor. And, the 2013 DemandGen Report research indicates that 68% of buyers rely more on content than they did from last year. So, the take-away is the consumer is self-educating and seeking to learn more. So, your social-business strategy should focus on making it easier for your customers to learn with the most relevant information possible.
3. Start Everything Off With Search. Consumers now refer to Google as a noun and a verb; even though Google is unhappy with its transformation into a generic term (a la Xerox or Kleenex!). Whether a noun or verb, companies count on it as a strategy. Many consumers do not make any move until they 'Google' it. In fact, 89% of consumers start their buying process with a search engine, says Flieshman-Hillard.  Since customers take the first step of their buying process with a search, your social-business strategy needs to enable messaging and content to be easily found.
4. Sharing With Others. We live in a world of sharing buyers and sellers.   Think about it, we retweet tweets, share LinkedIn posts, post links on communities and even share our coupon codes in line at Kohls and Victoria's Secret!  Consumers are sharing twice as many videos in 2013 as they did in 2009, reports a Pew Internet & American Life study. Sharing content and knowledge with internal stakeholders and customers is native behavior. 77% of IT and business leaders say their organizations use enterprise social collaboration tools, too. When building a social-business strategy, brands should create a community to facilitate sharing.
5. Watching and Viewing. Some people learn by reading while others by watching and viewing. The Institute for the Advancement of Research in Education (IARE) study indicates that more than 40% of students are visual learners; preferring to be taught through videos, pictures, etc. A recent IDG Research Services' study makes a compelling case on why video creation needs to be a part of everyone's social-business strategy. Their findings indicate 23% of IT buyers use a video-sharing channel like YouTube to stay up-to-date on key trends. Also, 42% of B2B buyers have made a purchase after watching tech-related videos online, which makes using videos as part of a social-business strategy, very enticing. Including consumable and bite-sized video and graphics is a must-have when developing your end-to-end strategy.
Looking to learn more about the impact of native consumer behavior on building your social business? I invite you to a the SAP Conversations In New York City on Tuesday, March 25th at The Plaza! I'll be showing you how to leverage native consumer behavior to create your own social business strategy. Register for this free all-day seminar by clicking this link
6. Voicing Opinions And Problems. 55% of customers share a bad customer-service experience on social media. And, those who request a 'social service call' expect a response in under 60 minutes! Including a listening or social intelligence plan, complete with rules of engagement for responding, is a key inclusion in a brand's strategy. By listening and responding to customer outreach, and using social intelligence tools, a company can turn on-the-fence customers into evangelists.
7. Helping Others. Dimensional Research reports that 88% of customers are influenced by an online product or service review. Given the native behavior of people leaving Yelp reviews, Foursquare check-ins, and community-based reviews (e.g., Amazon, Oyster.com) customers love to help others. Companies incorporating 'helping' at the enterprise- or employee-level into their strategy, will have a greater likelihood to succeed in connecting with and truly aiding the customer.
8. Consuming Content. Customers have turned the digital and social landscape into a broadcast channel to consume content. Social media is a pathway to news and educations. Pew Research reports half of Facebook users leverage the channel to consume news. Close to one in ten adults secure their news from Twitter. Social-media channels are not always for engagement. Brands should think about building their social-business strategy around that behavior. Customers use blogs, RSS feeds, Twitter lists and other resources to stay informed. Companies should build out their social-business strategy to broadcast relevant content on the consumer-used social and digital channels.
9. Functional Familiarity. Consumers refer to trusted sources of information and advisors. 40% of LinkedIn members use this networking platform daily. They follow companies on social media whom they think will add value with either a deal or key information. Buyers also bookmark key influencers, sign up for niche newsletters, and use Feedly, or Flipboard to read targeted RSS feeds. A winning social-business strategy will look to become a familiar watering hole for their customers.
10. Making A Decision. People do like to purchase, whether it's a new outfit or a big data analytics solution! SiriusDecisions reports the average sales cycle has increased by 22% over the past 5 years, attributed to more decision makers involved in the buying process than in previous years. With more people involved in deciding to sign on the dotted line, there are varying agendas and requirements to consider. Paying attention to the first 9 native buying behaviors will help you close the deal more quickly in your favor.
I'd love for you to share an additional native behavior you feel is worth mapping to. If not below, please contact me directly at MarketingThink.com, on Twitter, on LinkedIn or on Google+.
It makes sense to connect native customer behavior with your social-business strategy instead of trying to get your customers to connect with you on your terms, doesn't it? Place the things you know they will like on the menu and deliver a great buying experience when they order. You'll make my great-grandmother Michelena proud!