YouTube marketing needs to be a key tool in your marketing tool kit. 58% of B2B marketers rate videos as the most effective content marketing tactic.  One of the reasons is probably because 700 YouTube video links are shared on Twitter every minute. I am going to explain to you how to use this Perfect YouTube Post Blueprint to create a video that will get found sooner (than if you did not follow the suggestions)! Being found before the competition is an enormous win in today's competitive environment to help you own the pres-sales touch and conversation!
With more than 85% of the US Population having watched a YouTube video at one time it seems to be the place where your customers are meeting whether you are present. Add to those viewing habits that 71% of males between 45-54 have watched a YouTube video, it's then critical to use video to connect with your potential customers as they make their early funnel decisions – because they are there!
YouTube is the 2nd largest search engine in the world and likely one of the largest and most utilitarian social media sites in the world! YouTube is the best medium to explain your value proposition. And as a bonus to connecting with customers with engaging content, company sites containing video are 50X more likely to appear on the first page of Google search results! Like blogging, video posting success starts with great content creation and then great SEO details to help you get found! With best-practice titling, tagging and video description you can help others find your video post!
How To Build the Perfect YouTube Marketing Post Blueprint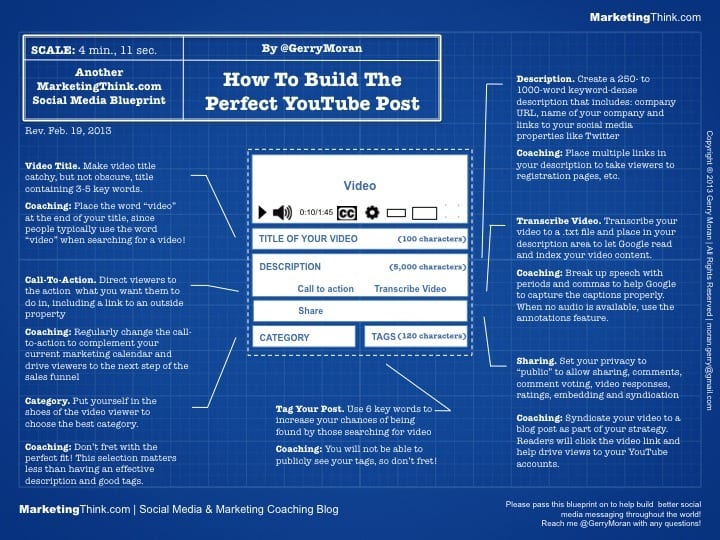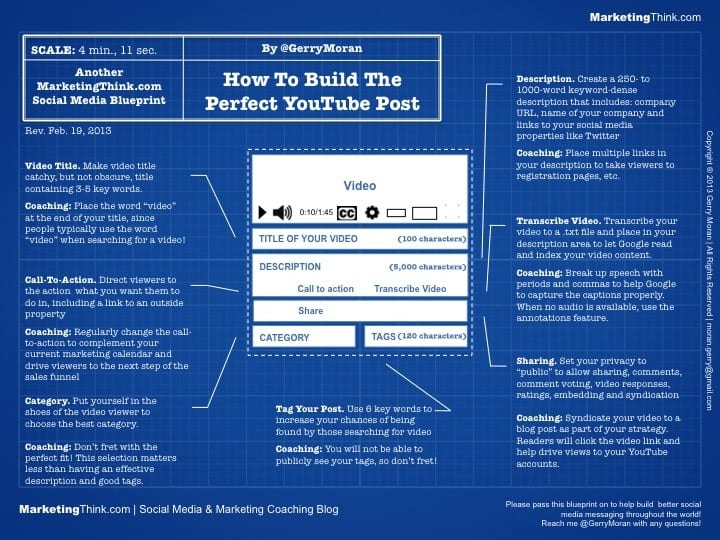 Do you have a tip that you can share to create a better YouTube marketing post? If so, please comment below or contact me directly at MarketingThink.com! You can also follow me on Twitter @GerryMoran!
Social Media Marketing Blueprints
If you enjoyed this straight-forward way of presenting a how-to way of making your social media messaging better, please check out these other posts!
If you use these YouTube marketing steps correctly others will have a better chance to see your videos so you can start to become of the pre-sales conversation earlier. Or, they can pass on your videos to help you build your viewership and following!
Gerry Moran
PS. Looking for a social media or digital marketing speaker? Please me know, since I'd love to help!