As Ferris Bueller said "Life moves pretty fast. If you don't stop and look around once in a while, you could miss it." And if you are not paying attention to your customers use of social media get customers service issues resolved, then you could be caught with your corporate pants down! 42% of consumers who complain on social media expect a response in under sixty minutes. (Source: Edison Research)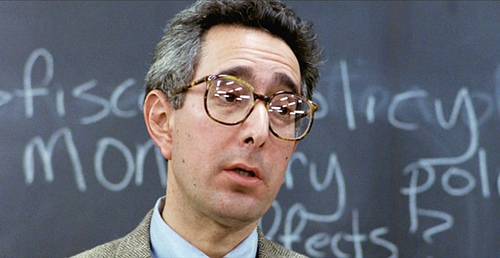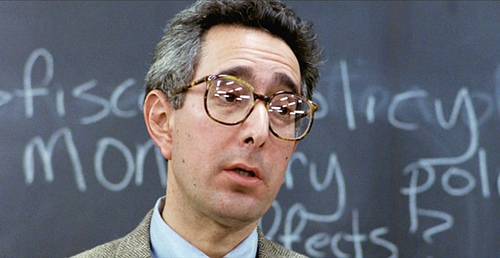 So, do you really need to worry about using social media for your company's customer service program? Why staff a socially savvy group of service reps when you already have a web site, email and a phone? Well, if your customer service program is like Cameron's (from Ferris Bueller's Day Off) home ""The place is like a museum. It's very beautiful and very cold, and you're not allowed to touch anything", then you need to reconsider your strategy.
Your customers are on a changing customer service-seeking journey and are abandoning the old-school waiting for the "customer-service desk" experience. They are tweeting themselves to the front of the virtual customer service line. And, with 95% of people commiserating with others about their sub-par customer-service experiences, then that would mean a resounding … you need to do something about it! Zendesk, a cloud-based customer service software platform, thought that finding out this information was so important that they commissioned Dimensional Research. Customers also share great experiences too, with 87% sharing good interactions with others. So, it's not all bad news.
Part of the "customer has the power" arsenal is social media. 45% of people say they share bad customer service experiences via Facebook, Twitter, and other platforms. They are also reaching out to brands on social media before they complain! The way with which a brand handles the customer service experience before a customer shares it to others is critical. Your prompt, or not so prompt, call-handling will decide if that relationship is deepened or broken. And that broken relationship will last for anywhere from two years to forever, reports Dimensional Research. Both experiences have a high percentage of likelihood to be shared on social media, too, which begs for the need for a brand to Twitter-up and figure out a way to listen and respond in under 60 minutes! Did you just fall off your chair? Yes, 42% of consumers who complain on social media expect a response in 60 minutes.
Handling a customer service experience the right way has a long-term business impact!
Social Media-Based Customer Service 101
What is your best strategy to resolve a complaining customer? Since 42% of consumers who complain on social media expect a response in under 60 minutes, then haste is the best strategy. Here are four ideas to get you started.
You Need To Be Listening. Every big brand needs to be listening on social media for customer-service triggers and direct service reach-outs by customers. At least you need to direct your social media channel managers to set up listening streams for variations of your company handles and #customerservice triggers. As you can see from my reach out to AirTran, returning from a recent trip from Miami, I am still waiting on a response two weeks later.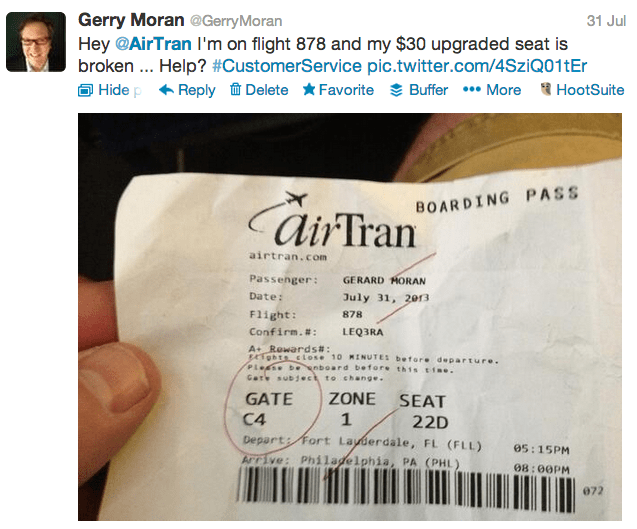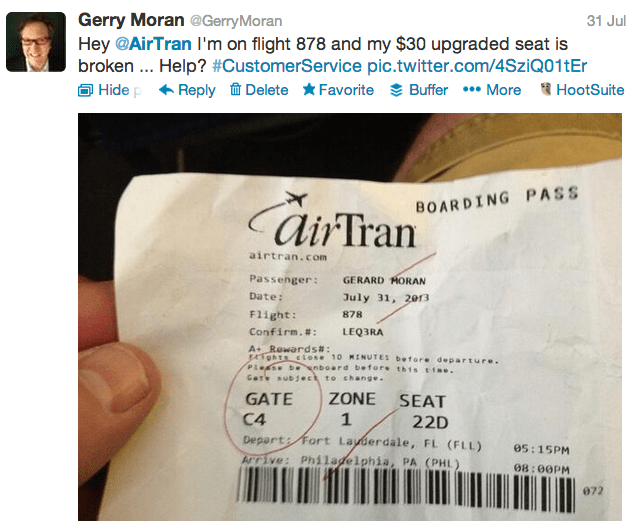 You Need To Have Timely Response. The most important factor required by customers is a quick resolution of their problem (69%). Create an internal service level agreement to respond to all inquiries within the best time that you can. With many customers expecting a below 60-minute response time, that may be tough, especially if you do not have an answer to their inquiry. Props to Verizon for under 60-minute response to a service outage in my area!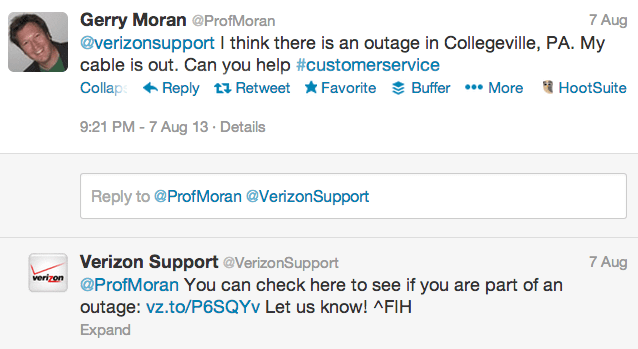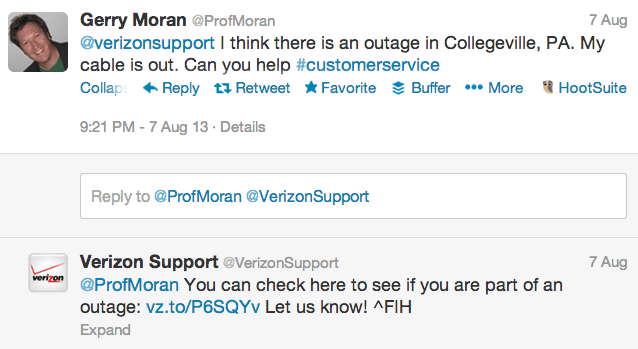 You Need To Have A Response Plan. Once you have found someone you need to acknowledge and direct them to a resource to help solve their problem. Props to Comcast too! Although their response was twice as long when compared to Verizon, they did respond with a directive action. Please know I reached out to both companies since I was trying to understand what was going on in my neighborhood.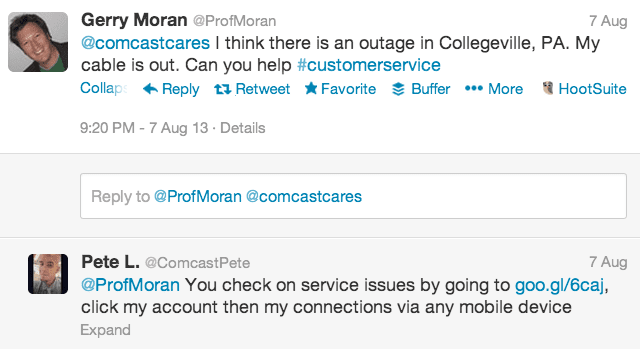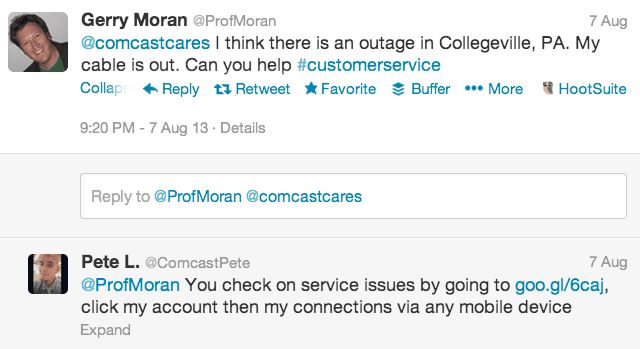 You Need To Use This Interaction. You have a great opportunity to deepen you love with your customers. Be positive, virtually smile and be very supportive!
You Need To Finesse. After the speed of response as being a customer service requirement, being the primary customer service need, 65% require a pleasant person. So you need to be smiling through your tweets and Facebook posts to make an impact. A simple response is not good enough. Also, the final outcome of the problem was not as important as you think it should be. 47% of people attached a good customer service interaction as part of their 'good outcome.' I don't think Beth Johnson (@thebkj) will be going back to AirTran anytime soon!


Are you a brand or a customer with a socially handled customer service experience? If so, please share below in the comment area. Or, contact me directly at MarketingThink.com or on Twitter @GerryMoran.
If your company is not on social media and you have a customer named Cameron, then "this is the part where Cameron goes berserk" … when you don't respond to his request. But this time he is screaming on Twitter and Facebook!