I was recently interviewed for a research study on the topic of B2B social media measurement. Social media metrics and analytics are hot topics today.  Many companies need to make a decision to invest in a social practice or a center of excellence and social media measurement helps to support their decision. Listening tools like Netbase, enterprise deployment platforms like Sprinklr and a team of channel managers and strategists can impact a company's bottom line. It can also be an investment that takes a company to the next level!
At SAP, where I lead the social media program for North America, we focus on the three key areas for social media measurement: Amplify, Engage and Convert. Many other big brands likely do the same thing. Like television and airport signage, social media does not fall into the direct response marketing bucket. However, it does plays a key role to help build sales pipeline in B2B companies. Social media is an important cog in the lead generation machine and the three things that all B2B brands need to do with social media are:
Amplify: Increase the awareness of the brand story and solutions.
Engage: Drive customer and prospect engagement with related content.
Convert: Provide a way for the customer to convert interest after they become aware and have consumed enough content to move to the next step in the buying journey.
To help you understand if you are reaching your goal, it is important for you to understand the right questions to ask to get the right social media measurement. Marketers need to map key social metrics to strategic questions vs. just measuring and blindly reporting how a channel performs.
9 Back Of The Envelope Calculations To Help You With Your Social Media Measurement
I created the following infographic to help you ask the right questions and use the right calculation for the right social media measurement.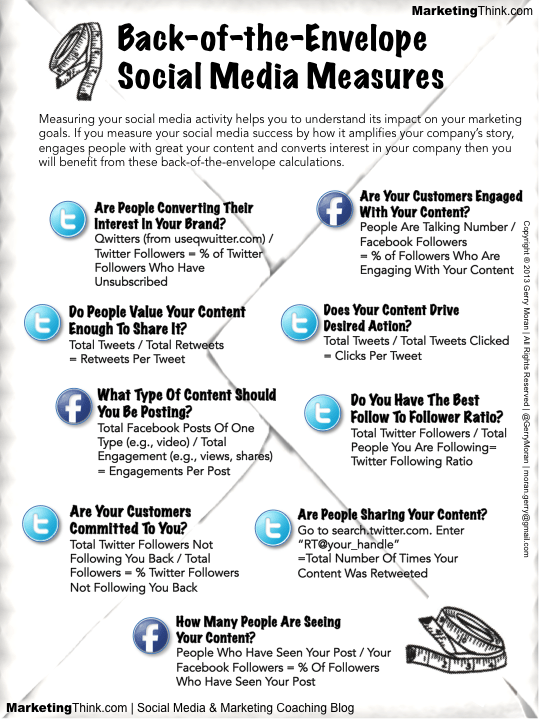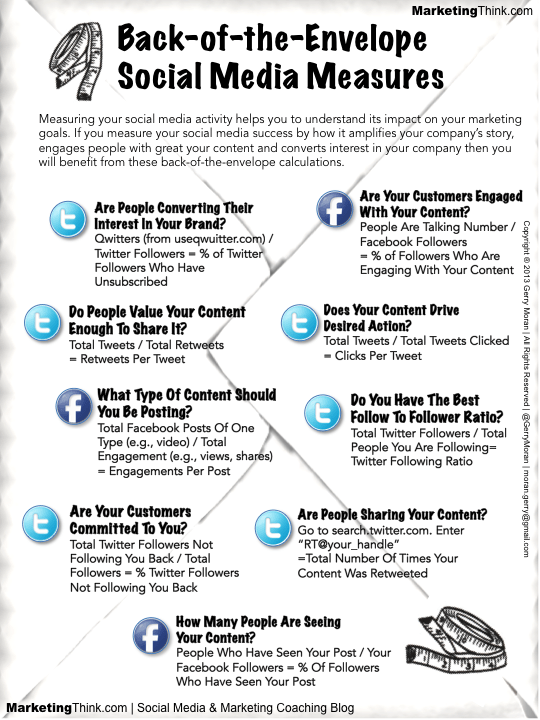 Do you have another metric that you can share with MarketingThink.com's readers? If so, please share it below or contact me directly on this blog or on Twitter @GerryMoran.
I urge you to find the nearest envelope and test out these easy social media measurement calculations that answer these 9 key strategic questions. And if you have any more questions, please reach out to me directly! No envelope needed.