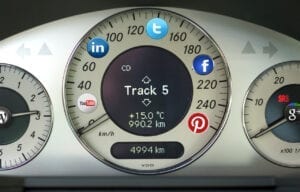 My great-grandmother used to say about her blogging success, "Blogging success is a lot like managing highway traffic. You can always get to where you need to go no matter the traffic. Just, some traffic is better than other traffic. So, you need to pay attention to the kind of traffic that is driving views to your blog."
Counting the amount of your blog visits is a great indicator of your success. I look at my site MarketingThink.com site traffic every day to check on its daily health. However, I know that this aggregated count is not the best way to measure success. Measuring blogging success is less like kicking the tires, and more like looking under the hood to see if the car is hitting on the cylinders, though you can do both to help determine your car and your blog's success.
5 Ways To Help Measure And Impact Your Blog Traffic
The five dials on your blogging traffic dashboard to measure your traffic are:
Paid Traffic.

When you use Google Adwords, Facebook ads, targeted Ezine and offline classified ads to drive people directly to your blog, then you are managing paid traffic. Using paid media is an "instant on" approach to managing your blog traffic. However, you need to pay attention to your investment since every visitor and click have its price. You can manage this dial by setting budget limits to your reach, clicks and overall return on investment.
Referral Traffic:

When your blog or blog post is noted on another website as link back to your site, count the amount of traffic that is driven. Sometimes this traffic is free while other times you may have to pay for the click or the closed sale. Like paid traffic, you can manage the paid type of this traffic based on your reach, clicks and ROI. For free referrals, you can increase its effectiveness by establishing more relationships with other sites and blogs. However, these relationships take an investment of your time.
Organic Traffic:

When a visitor arrives at your blog by way of a search engine, from a Google or Yahoo search term (e.g., social media marketing coaching), this is organic traffic. This earned traffic is typically driven by high-quality content. You can impact the effectiveness of organic traffic but making sure your blog and blog posts are search engine-optimized.
Direct Traffic:

Direct traffic is when a someone lands on your blog as a result of typing in your URL. You can impact this traffic by having an easy-to-remember URL (e.g, like MarketingThink.com vs. MarketingThink.Wordpress.com) and including your URL on your blog post graphics and other parts of your digital footprint.
Social Traffic:

If your blog is the hub of your content wheel, then the social media channels are the spokes. When you create a blog post, you need to make sure all of your social media channels are used to spread the word. As your posts reach your followers, their followers (via retweets and shares) and others (who are searching on keywords and hashtags) you can drive more visits to your blog. Make sure to optimize every social media post to rank highly for each obscure long-tail key phrase.
Do you have another way that you measure your blogging traffic? If so, please do share below! Or, please contact me directly at MarketingThink.com or via Twitter at @GerryMoran.
Please check out these suggestions, if you are looking for other ways to make your blogging successful:
There is no one right way to manage you blog site traffic. However, by getting under the hood of your blog and understanding the traffic dashboards, you can optimize your performance. And in the words of my great-grandmother, who is a grand old blogger, you have to understand and manage the traffic patterns to get where you are going.
PS. Please share this blog post with anyone you know who has a blog or is thinking about starting a blog!