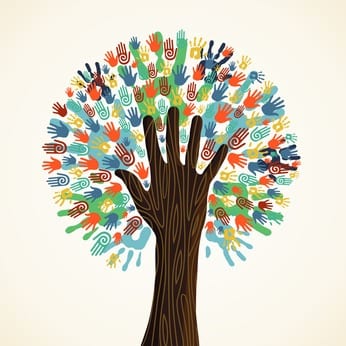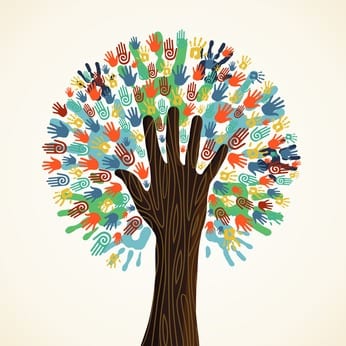 Social community building  means different things to different people. To some people and brands, a social community is a formal large-c community, like SAP's SAP Community Network (SCN). Others may think of a social community as an unstructured place to consumer trustworthy content. While others may think of a community as a small group of powerful influencers. No matter the definition, each community needs to  have content, a context for the members and counting (ROI … I needed 3 C's!) for  successful!
I recently was a panelist on Social Media Today's webinar, How to Cultivate Your Community: Your Customers Are Talking – Are You Part of the Conversation ? Where I provided my view of SAP's use of community to help us meet our social media goals of amplifying the SAP story, engaging people with SAP content and converting people by getting them to raise their hand to connect with SAP at a deeper leve.l. I paneled  alongside Henry Min (@HenryMin), President and Founder of Nestivity and Erika Napoletano (@RedheadWriting), the person behind Red Head Writing to a registered group of over 900 social media. Based on the event's Twitter stream, there were many things that made the 300 or so participants say "hmmm" when it comes to cultivating a social community.
Top 20 Things To Make You Go "Hmmm" When Cultivating Your Social Community
1. No Spamming! Stop spamming your twitter fans. Build community by engaging them-Begin building your community  @HenryMin
2. The New Measurement Fo r Social Communities. ROA = Return on Awareness as the new metric ? @GerryMoran
3. Which Comes First – Context or Content? "You can only create CONTENT if you understand the CONTEXT of your COMMUNITY." @RedHeadWriting
4. Content's Royal Status. Love it: "Content is King. It's what makes a community sing." @GerryMoran
5. Value To Community Members. Don't overlook context while blindly cranking out content. Make it count and give value to your community.  @RedheadWriting
6. Understanding Your Community. "You can only create CONTENT if you understand the CONTEXT of your COMMUNITY." @RedheadWriting
7.Audience Wants.  YES! –Content doesn't always matter. What matters is context, engagement and discussion. Identify what your audience wants to hear.  @RedheadWriting
8. Awareness Enables Engagement. I like it. If you value engagement, you value awareness. This is the ROI of social. @GerryMoran
9. Engagement Enables Valuable Customers. Because of engagement, we have higher value customers. @GerryMoran
10. There Is No Right Community Size. Healthy communities come in all sizes. @GerryMoran
11. Engagement Drives Community Success. Measure success of your community by the level of audience engagement.  @HenryMin
12. Targeting Your Community. "Fish where the fish are"…@GerryMoran
13, Adding Community Value. Adding niche communities that serve the greater community.  @GerryMoran
14. Getting The Dialogue Going. Pretty crazy! Only 14% of top brands respond to inbound tweets, 71% of all tweets get no response. @HenryMin
15. Listening Is Key. "key to community is listening and building relationships" Talking about how twitter is commonly a "megaphone. @HenryMin
16. SEO Drives Visibility. Agree . Google+ is SO important for SEO and Page Rank!  @Redheadwriting
17. Native Behavior Of Community Members. Leverage native behavior (of community members). It's natural, authentic, and set up to grow.  @GerryMoran
18. Formality Of Communities? "Big C" and "small c" communities: formal vs real sense of community.  @GerryMoran
19. Communities Amplify. All community platforms have strengths & weaknesses, so choose the 1 with the most amplification. @GerryMoran
20.  First Things First.    Focus on content first and then look to context for success in driving community engagement.  @GerryMoran
Do you have other ways to cultivate a community? Please share in the space below or reach out to me directly on MarketingThink. You can also follow me on Twitter @GerryMoran.
Some other related social community blogs you might enjoy are:
There are certainly more than 20 things that should make you go hmmm when developing your social community. Tune into the recording of this webinar to experience the entire dialogue! Click here to access the webinar replay of How To Cultivate Your Community: Your Customers Are Talking, Are You Part Of The Conversation?